Contemporary fiction
Apples Never Fall
Buy 5 audiobooks to earn a free credit!
Quick take
The latest from the author of Nine Perfect Strangers follows a wealthy family whose matriarch goes missing.
Good to know
400+ pages

Family drama

Buzzy

Marriage issues
Synopsis
The Delaney family love one another dearly—it's just that sometimes they want to murder each other . . .
If your mother was missing, would you tell the police? Even if the most obvious suspect was your father?
This is the dilemma facing the four grown Delaney siblings.
The Delaneys are fixtures in their community. The parents, Stan and Joy, are the envy of all of their friends. They're killers on the tennis court, and off it their chemistry is palpable. But after fifty years of marriage, they've finally sold their famed tennis academy and are ready to start what should be the golden years of their lives. So why are Stan and Joy so miserable?
The four Delaney children—Amy, Logan, Troy, and Brooke—were tennis stars in their own right, yet as their father will tell you, none of them had what it took to go all the way. But that's okay, now that they're all successful grown-ups and there is the wonderful possibility of grandchildren on the horizon.
One night a stranger named Savannah knocks on Stan and Joy's door, bleeding after a fight with her boyfriend. The Delaneys are more than happy to give her the small kindness she sorely needs. If only that was all she wanted.
Later, when Joy goes missing, and Savannah is nowhere to be found, the police question the one person who remains: Stan. But for someone who claims to be innocent, he, like many spouses, seems to have a lot to hide. Two of the Delaney children think their father is innocent, two are not so sure—but as the two sides square off against each other in perhaps their biggest match ever, all of the Delaneys will start to reexamine their shared family history in a very new light.
Why I love it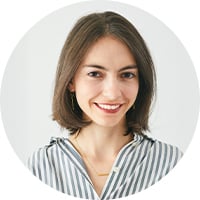 Brianna Goodman
BOTM Editorial Team
If you've spent any time with the sneaky mothers of Big Little Lies, or the wellness retreaters of Nine Perfect Strangers, or any of the other characters that populate Liane Moriarty's novels, then you know by now that Moriarty has a knack for writing about complicated, flawed people in ways that are oh-so-fun to read. And in Apples Never Fall she's done it again with the Delaneys: an outwardly successful family whose dirty laundry comes tumbling out when one of their own goes missing.
Stan and Joy Delaney have retired from their days running a prestigious tennis academy and are looking forward to their years as empty nesters. From the outside, their marriage seems solid. But when Joy abruptly goes missing, the police, the community, and even the Delaneys' own children start to wonder if things weren't as happy as they seemed. Is it possible that Stan could have harmed his wife? And what ever happened to that mysterious stranger that showed up bleeding at the Delaneys' door all those months ago?
In true Moriarty fashion, as the novel unfolds, the pieces of the puzzle fall expertly into place. But what really kept me turning pages is the way Moriarty can turn mundane, often frustrating experiences in life—family feuds, long-held resentments, misunderstandings—into moments of warmth, humor, and compassion. Part mystery, part family drama, this book is a reminder that although things often don't go the way we've planned, we're not alone in trying to figure out the best way to live this thing we call life.