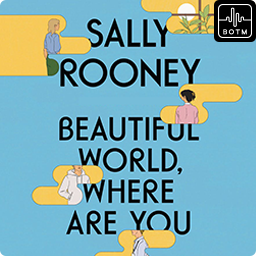 Literary fiction
Beautiful World, Where Are You
Buy 5 audiobooks to earn a free credit!
Quick take
Four friends—young, confused, in search of hope—seek answers to life's biggest questions in & out of each other's arms.
Good to know
Famous author

Female friendships

Writer's life

No quotation marks
Synopsis
Alice, a novelist, meets Felix, who works in a warehouse, and asks him if he'd like to travel to Rome with her. In Dublin, her best friend, Eileen, is getting over a break-up and slips back into flirting with Simon, a man she has known since childhood. Alice, Felix, Eileen, and Simon are still young—but life is catching up with them. They desire each other, they delude each other, they get together, they break apart. They have sex, they worry about sex, they worry about their friendships and the world they live in. Are they standing in the last lighted room before the darkness, bearing witness to something? Will they find a way to believe in a beautiful world?
Why I love it
Jerrod MacFarlane
BOTM Editorial Team
Since bursting onto the literary scene with her debut Conversations with Friends and even more incisive sophomore effort, Normal People, Sally Rooney has dazzled readers and become a global phenomenon. Her whip smart stories of 20-somethings muddling through reach new heights in Beautiful World, Where Are You with its unnerving and witty portrait of relationships that constantly evade sure footing. Friends become lovers, become colleagues, and then sometimes double back. And through it all, the novel grapples with how compelling these elements of our lives can be despite their seeming triviality in the face of a world that just might be on the brink of disaster.
At the center of Beautiful World, Where Are You is the friendship of Alice and Eileen. When the novel begins, Alice is a novelist facing ambivalence about her career's success; so, she picks up her things and promptly heads to Rome with a man she's just met through Tinder. Eileen on the other hand is reconnecting with an ex after a recent breakup. These two women, struggling towards growth and self-understanding, exchange lengthy emails shared throughout the book about topics both personal and political. While these missives give us insights into these characters and their depths, it's their friendship and mercurial romances that drive the narrative along.
There is much to be concerned about in the world right now: an ongoing pandemic, escalating climate crisis, multiple overlapping humanitarian crises. They are too heavy to bear alone. But if there is anything that we may have learned from this past year, and that this sparkling novel deftly highlights, it is that we can handle quite a lot and still find great beauty in the world through our most important and intimate relationships.