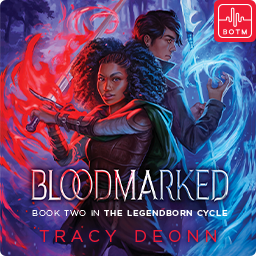 Buy 5 audiobooks to earn a free credit!
Quick take
Pulling a sword from stone feels like child's play compared to facing the demon hoards stalking this Legendborn sequel.
Good to know
400+ pages

Magical

Based on a classic

Second in series
Synopsis
The shadows have risen, and the line is law.
All Bree wanted was to uncover the truth behind her mother's death. So she infiltrated the Legendborn Order, a secret society descended from King Arthur's knights—only to discover her own ancestral power. Now, Bree has become someone new:
A Medium. A Bloodcrafter. A Scion.
But the ancient war between demons and the Order is rising to a deadly peak. And Nick, the Legendborn boy Bree fell in love with, has been kidnapped.
Bree wants to fight, but the Regents who rule the Order won't let her. To them, she is an unknown girl with unheard-of power, and as the living anchor for the spell that preserves the Legendborn cycle, she must be protected.
When the Regents reveal they will do whatever it takes to hide the war, Bree and her friends must go on the run to rescue Nick themselves. But enemies are everywhere, Bree's powers are unpredictable and dangerous, and she can't escape her growing attraction to Selwyn, the mage sworn to protect Nick until death.
If Bree has any hope of saving herself and the people she loves, she must learn to control her powers from the ancestors who wielded them first—without losing herself in the process.
Why I love it
Dhonielle Clayton
Author, The Everlasting Rose
Welcome back to the Legendverse! Tracy Deonn's captivating world grabbed me from page one of Legendborn, a King Arthur reimaging that reinvented the roundtable and braided it with southern folklore and a dash of Black Girl Magic. Returning to this incredible world with its sequel, Bloodmarked, is the highlight of my reading year.
Once again at the center of our story is Bree. Clever. Brilliant. Powerful. She's now a medium, a bloodcrafter, and Arthur's scion. All she wanted was to figure out the truth behind her mother's death but now she's the head of the Legendborn Order and some people really don't want to follow her orders.
This gripping fantasy novel has all the ingredients of transportive fantasy—an ancient war rising to a deadly peak, a tense love triangle, enemies lurking everywhere, dangerous politics, and a new destiny for our heroine. I couldn't put Bloodmarked down because I had to know how Bree would push through all the obstacles put in her path while not losing herself in the process.
An action-packed page-turner that'll make you question how one comes to terms with destiny when chosen. Is there space to choose yourself? Prepare to feel all the feelings and want to start a reread as soon as you finish the last page!