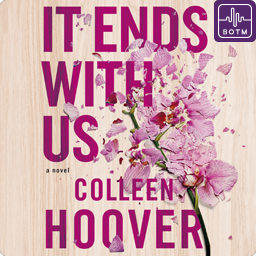 Buy 5 audiobooks to earn a free credit!
Quick take
This Colleen Hoover novel of a love triangle with some very sharp edges reveals how those who love us can also hurt us.
Good to know
Heavy read

Love triangle

Buzzy

Graphic violence
Synopsis
Sometimes it is the one who loves you who hurts you the most.
Lily hasn't always had it easy, but that's never stopped her from working hard for the life she wants. She's come a long way from the small town in Maine where she grew up—she graduated from college, moved to Boston, and started her own business. So when she feels a spark with a gorgeous neurosurgeon named Ryle Kincaid, everything in Lily's life suddenly seems almost too good to be true.
Ryle is assertive, stubborn, maybe even a little arrogant. He's also sensitive, brilliant, and has a total soft spot for Lily. And the way he looks in scrubs certainly doesn't hurt. Lily can't get him out of her head. But Ryle's complete aversion to relationships is disturbing. Even as Lily finds herself becoming the exception to his "no dating" rule, she can't help but wonder what made him that way in the first place.
As questions about her new relationship overwhelm her, so do thoughts of Atlas Corrigan—her first love and a link to the past she left behind. He was her kindred spirit, her protector. When Atlas suddenly reappears, everything Lily has built with Ryle is threatened.
Content warning
This book contains scenes that depict domestic violence.
Why I love it
Years ago, a book publicist slipped me a novel by Colleen Hoover, promising, "She's going to be big."
Publicists aren't known for understatement, but this sure turned out to be one.
The buzz about Hoover is everywhere: Bookstagrammers weep into their cameras as they praise her writing. Hoover is often a triple or quadruple threat on bestseller lists, with her titles dominating the fiction categories. "CoHorts"—as her fans are dubbed—rave about her raw, powerful storylines and relatable characters.
It Ends with Us is arguably Hoover's most powerful, heartfelt book. It contains two love stories entwined together—one from protagonist Lily Bloom's past, and one set in the present day. When a chance encounter brings both men into the same room with Lily, it's impossible to know which guy to root for, at least at first. Someone's heart will surely be broken, but Hoover takes us to such an unexpected place that it is we readers who end up with hearts that are shattered, then slowly mended. Lily's story grips you early on and doesn't let up until the final, bittersweet chapter.
Hoover once wrote on Instagram that she doesn't think of writing as work. Her fluid prose might be evidence of the ease with which she crafts stories, but make no mistake: this is not a lightweight read. It Ends with Us is a vitally important book, one that will make you cry, make you think, and make you a CoHort for life.