Historical fiction
The Christie Affair
Buy 5 audiobooks to earn a free credit!
Quick take
A gripping fictionalized account of the 11 days when the world's greatest mystery writer went missing . . .
Good to know
Forbidden love

Movieish

Buzzy

Real-life characters
Synopsis
"A long time ago, in another country, I nearly killed a woman."
So begins The Christie Affair, told from the point of view of Miss Nan O'Dea, a fictional character but based on someone real. In 1925, she infiltrated the wealthy, rarified world of author Agatha Christie and her husband, Archie. A world of London townhomes, country houses, shooting parties, and tennis matches. Nan O'Dea became Archie's mistress, luring him away from his devoted wife. In every way, she became a part of their world—first, both Christies. Then, just Archie.
The question is, why?
And what did it have to do with the mysterious eleven days that Agatha Christie went missing?
The answer takes you back in time, to Ireland, to a young girl in love, to a time before The Great War. To a star-crossed couple who were destined to be together—until war and pandemic and shameful secrets tore them apart.
What makes a woman desperate enough to destroy another woman's marriage? What makes someone vengeful enough to hatch a plot years in the making? What drives someone to murder?
These questions and more are explored in Nina de Gramont's brilliant, unforgettable, lush, and powerful novel.
Why I love it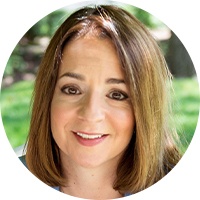 Pam Jenoff
Author, The Woman with the Blue Star
Like many of you, I suspect, I have had a lifelong fondness for Agatha Christie mysteries. But I knew little of the woman who penned them—or the mystery of her own life. It was not until I read an early copy of The Christie Affair by Nina de Gramont that I learned of Ms. Christie's mysterious eleven-day disappearance in the 1920s. I had so many questions: Where had she gone? Why? Who was behind her disappearance and what led to her return?
These mysteries are ably unfurled by de Gramont. Writing from the point of view of the mistress of Christie's husband, we discover a woman with dark and complex motives of her own. Who was Nan O'Dea and why did she set out to destroy Christie? As de Gramont weaves a tale of enigmatic pasts and uncertain futures, she captivates readers with the compelling stories of not one, but two women.
This much-anticipated book manages to be both mystery and thriller, gripping fiction and chronicle of actual events. It is evocative of a bygone era and yet timeless. Readers will be captivated by this little-known story brought to life in a larger-than-life way.
I know you will love it as much as I did. Happy reading!