Literary fiction
The Mars Room
Buy 5 audiobooks to earn a free credit!
Quick take
Romy Hall: dancer, mother, drug user, convict. The Mars Room is the brutal story of her life behind bars.
Good to know
Heavy read

Multiple viewpoints

Social issues

Nonlinear timeline
Synopsis
It's 2003 and Romy Hall is at the start of two consecutive life sentences at Stanville Women's Correctional Facility, deep in California's Central Valley. Outside is the world from which she has been severed: the San Francisco of her youth and her young son, Jackson. Inside is a new reality: thousands of women hustling for the bare essentials needed to survive; the bluffing and pageantry and casual acts of violence by guards and prisoners alike; and the deadpan absurdities of institutional living.
Stunning and unsentimental, The Mars Room demonstrates new levels of mastery and depth in Kushner's work. It is audacious and tragic, propulsive and yet beautifully refined, a spectacularly compelling, heart-stopping novel about a life gone off the rails in contemporary America.
Why I love it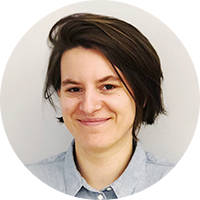 Siobhan Jones
BOTM Editorial Team
Don't read this book if you're looking for a fun escape! I'm serious. Look, the whole team here at BOTM is behind The Mars Room. We think it's gritty, unapologetic, and searingly memorable. The author has burrowed her way into the oft-ignored world of the women's correctional facility and beckoned us in after to bear witness to hell on earth. Not everyone will enjoy this. But I would argue that the book's darkness is what makes it so great.
Romy Hall is 28 years old. She's a mother, a lifetime drug user, and she's facing two back-to-back life sentences. Through her newcomer eyes, we become brusquely acquainted with prison life: its petty squabbles, inedible cafeteria meals, the sharp-elbowed friendships, and a thousand punitive rules. We also learn her backstory—a neglected childhood, a beer-drenched San Francisco upbringing—and how things went off the rails at a seedy club called the Mars Room.
Okay, you're thinking, like Orange is the New Black, but not funny? Not quite. This book contains multitudes (diary entries by the Unabomber, for example, or a chapter relayed by Romy's stalker) that a television show would gloss over. You might not like every narrator. Hell, you might not like a narrative bereft of hope. But The Mars Room offers up one nugget of hard-spun truth after another, dispensed with the snare drum-tight precision of a writer at the height of her craft. It challenges. It dazzles. And yes, it frustrates. Don't say you weren't warned!