Magical realism
Weyward
Debut
We love supporting debut authors. Congrats, Emilia Hart, on your first book!
Buy 5 audiobooks to earn a free credit!
Quick take
An ode to the natural world and female power, this lush, generation-spanning novel is equal parts daring and inspiring.
Good to know
Multiple viewpoints

Feminist

Magical

Nature
Synopsis
I am a Weyward, and wild inside.
2019: Under cover of darkness, Kate flees London for ramshackle Weyward Cottage, inherited from a great aunt she barely remembers. With its tumbling ivy and overgrown garden, the cottage is worlds away from the abusive partner who tormented Kate. But she begins to suspect that her great aunt had a secret. One that lurks in the bones of the cottage, hidden ever since the witch-hunts of the 17th century.
1619: Altha is awaiting trial for the murder of a local farmer who was stampeded to death by his herd. As a girl, Altha's mother taught her their magic, a kind not rooted in spell casting, but in a deep knowledge of the natural world. But unusual women have always been deemed dangerous, and as the evidence for witchcraft is set out against Altha, she knows it will take all of her powers to maintain her freedom.
1942: As World War II rages, Violet is trapped in her family's grand, crumbling estate. Straitjacketed by societal convention, she longs for the robust education her brother receives—and for her mother, long deceased, who was rumored to have gone mad before her death. The only traces Violet has of her are a locket bearing the initial W and the word weyward scratched into the baseboard of her bedroom.
Weaving together the stories of three extraordinary women across five centuries, Emilia Hart's Weyward is an enthralling novel of female resilience and the transformative power of the natural world.
Content warning
This book contains scenes depicting sexual assault.
Why I love it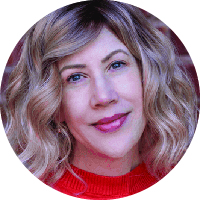 Go ahead. You know you want to. Judge this book by its cover. It's probably one of the best of the year.
And living inside the pages of Weyward are characters just as lovely and vivid: Kate in the present day running from an abusive husband, Violet in the early 20th century with an abusive father, and Altha in the 1600s on trial for witchcraft. These three unconventional green witches show us how connected we are as women to the past, to each other, and to nature.
"There was something about us—the Weyward women—that bonded us more tightly with the natural world . . . The animals, the birds, the plants—they let us in, recognising us as one of their own."
Weyward hits all the right buttons of magical realism done right—that is, magic rooted in the believable. In this case, the world of nature. If you loved Hester and The Lost Apothecary, it vibrates in a similar way, but Emilia Hart's voice is totally original, both gentle and fierce. She takes you on a journey through history, showing the cyclical struggle women had, and continue to have, with men who think they can control their lives, their decisions, and their bodies.
A bold and bewitching debut, Weyward will have you pining for fictional Weyward Cottage. But the big takeaway is that the power and magic found there is already in you, waiting for you to finally embrace it.