Young adult
Wicked Saints
Debut
We love supporting debut authors. Congrats, Emily A. Duncan, on your first book!
Buy 5 audiobooks to earn a free credit!
Quick take
A darkly gothic story of war, magic, and the thin line between good and evil.
Good to know
400+ pages

Multiple viewpoints

Forbidden love

Graphic violence
Synopsis
A girl who can speak to gods must save her people without destroying herself.
A prince in danger must decide who to trust.
A boy with a monstrous secret waits in the wings.
Together, they must assassinate the king and stop the war.
In a centuries-long war where beauty and brutality meet, their three paths entwine in a shadowy world of spilled blood and mysterious saints, where a forbidden romance threatens to tip the scales between dark and light.
Why I love it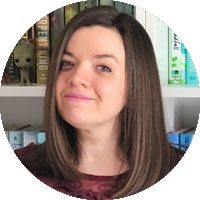 Brittany Lutes
BOTM Ambassador, @bookswrotemystory
Want to know what topic gets my attention every time? Dark magic. Throw in "gothic fantasy" and, well, you have just guaranteed my interest in a book. There was simply no way around finding Emily Duncan's debut novel, Wicked Saints, on the top of my (lengthy!) TBR.
From page one, Wicked Saints sets the stage with some powerful players. There's a young cleric, blessed with unfathomable power. There's a prince and powerful blood magician, trying to escape the plots of his own deadly court. And finally, there's a refugee, harboring a very dark secret. As these characters fight toward their own goals and agendas, their intersecting lives weave a dark and tangled web.
The best part about this book is its gothic setting. It was all too easy for me to get swept into the mystery of the world and to never look back. And have I mentioned how atmospheric and strange it all is? Because that bears repeating. This book is dark, dark, dark and lush with magic, religion, and intrigue. If that's your cup of tea, this needs to be your next read.