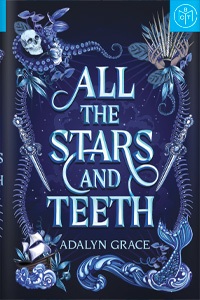 Young adult
All the Stars and Teeth
Debut
We love supporting debut authors. Congrats, Adalyn Grace, on your first book!
Quick take
Dive in to bloody battles as a mermaid and pirate make an unlikely pact to steal some magic and regain a kingdom. Nbd.
Good to know
Fast read

Action-packed

First in series

Quest
Why I love it
Juliann Nelson
Content Producer, Fortune
I'm one of those people who never knows how to describe what kind of music I like because the answer is: basically a little bit of everything. So it's no surprise that I loved the warring elements at play in All the Stars and Teeth—the glam and glitter, the gore and grit, a heroine who embraces both in the same breath without apology. All this and more came together in a multifaceted, refreshingly unique debut that I devoured.
Before she can lead the island kingdom of Visidia, Princess Amora must prove she has what it takes to be High Animancer—master of souls. But when things go amiss, Amora finds herself on the run with a cursed pirate, her betrothed, and a vengeful mermaid. Between fleeing from the kingdom's soldiers and facing down legendary monsters, the crew comes up against a new threat to Visidia that could destroy magic as they know it.
If you've ever found yourself stuck trying to choose between rocking grungy flannels or poofy dresses, this book is for you. Full of messy, fascinating characters and a magic system both dazzling and brutal, All the Stars and Teeth will keep you on your toes with lightning fast pacing and plot twists galore.
Synopsis
As princess of the island kingdom Visidia, Amora Montara has spent her entire life training to be High Animancer—the master of souls. The rest of the realm can choose their magic, but for Amora, it's never been a choice. To secure her place as heir to the throne, she must prove her mastery of the monarchy's dangerous soul magic.
When her demonstration goes awry, Amora is forced to flee. She strikes a deal with Bastian, a mysterious pirate: he'll help her prove she's fit to rule, if she'll help him reclaim his stolen magic.
But sailing the kingdom holds more wonder—and more peril—than Amora anticipated. A destructive new magic is on the rise, and if Amora is to conquer it, she'll need to face legendary monsters, cross paths with vengeful mermaids, and deal with a stow-away she never expected… or risk the fate of Visidia and lose the crown forever.
Preview
Check out a preview of All the Stars and Teeth.
Member thoughts
Arlington, VA

There were some parts that I was like "this is cheesy" but then it would suddenly be 1 AM and I'd still be reading and that's when I remembered...I love a good dose of cheese with a BA female lead.

Longview, TX

An excellent, vibrant new world that successfully combines legends and how we tell our stories to ourselves and to others. ❤️❤️❤️❤️Also, the very predatory mermaid is a welcome change!

Being in love with all things mythical & magical, I loved this book! The main character is a strong young female, it was an inspiring read. The ending could easily result in a 2nd book, I hope it does

PORT ORANGE, FL

Though it's a princess and a pirate instead of the mermaid the blurb mentioned (who's a supporting character to the sassy dynamic of the aforementioned duo), there was no disappointment here; amazing!

San Diego, CA

Cursed Kingdoms, enchanted ships, sea monsters, pirates and mermaids! What is there not to love. Enjoyed every moment of this witty adventure and can't wait to read what happens in the next book.

Dallas, TX

I loved this book so much! It's always exciting to read a debut. You never quite know what you're going to get. This books was exciting and unexpected. Besides, who can say no to mermaids?!

Helena, MT

Pirates, mermaids, sea monsters, enchanted ships, cursed kingdoms, & more! I absolutely loved this action packed, seafaring adventure chock full of magic & danger. Drink up me hearties, yo ho!

Mansfield, TX

Some of the writing was a bit repetitive and predictable, but I realized that I didn't really care since I was enjoying the story. It was a fun read, and I look forward to the second one.

Darlington, MD

Oh my, this was a magical read. It was wonderful seeing the characters grow and bond as the story went on. I am very much looking forward to reading the second book. Beautiful universe!

I thought that this was a fantastic new story that did such a good job with creating an awesome world while also developing great character lines. I cannot wait to read the next book!

Atlanta, GA

Really enjoyed this fantastical journey! The author did an amazing job at creating these unique magical lands and developing characters that you could identify with in some capacity.

Minot, ND

I loved the diversity in the characters, and the magic and world were both fascinating! This is definitely one of my new favorite books of all time! Can't wait to read the sequel!

I mean, what is there not to love about a story with a princess, pirate, and magic?! The adventure, great pacing, and wonderful world building made this book very hard to put down!

This is the best book I've read this year, and it's going to be very, very hard to top it. I have fallen in love with Amora and the world of Visidia that Adalyn Grace has created.

Dayton, OH

Fast paced, gripping depictions of magic in all it's glory and horror! A wild ride that had me turning the pages as fast as I could. Terrific debut! Excited for the follow up!

Tallahassee, FL

This was a great feminist story, and I really enjoyed the different kinds of magic. Somewhat predictable, but there were a few twists. Excited to read the next installment.

Grace's worldbuilding is incredible! So much thought was put into every word in this book, and I wanted to stay with the characters forever. I cannot wait for the sequel!

Was completely hooked into this story and just couldn't put it down once I started it. I liked all the characters. I loved the plot, setting and world building.

Grawn, MI

It was a bit slow to start but once I got into it, it was fast paced and I couldn't put it down. A magical story with a princess, pirate and mermaid!

Durham, NC

Oh my gosh!! I absolutely loved this book—troubled heroine, mysterious pirate, plot twists, magic and mermaids—what more can you want from a book?