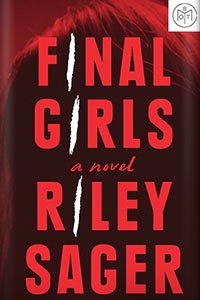 Quick take
A slasher film, a mystery, and a survival story all rolled into one. Think Gone Girl meets American Horror Story.
Why I love it
Have you ever watched a horror movie and yelled, "Don't go in there!" at the screen? Do you flee at the first sign of trouble? Do you always trust your instincts? Then you too could be a Final Girl, a member of a very exclusive club in this epic, adrenaline-fueled thriller!
"Final Girl" is the term the media gives to the sole survivors of horror movie-like mass killings. Quincy Carpenter is a Final Girl, having lived through a massacre in the Pine Cottage cabin in a forest in Pennsylvania, in which her college friends, as well as the perpetrator, were killed. There's also Sam, who survived The Sack Man motel attacks near Tampa, and Lisa, who escaped a sorority house bloodbath. Despite the plights of each of the girls being well publicized, the girls never meet.
Years later, Quincy is living a quiet, somewhat normal life. She has a successful food blog, a loving boyfriend, and when she needs to talk about her past, she confides in Coop, the police officer who rescued her from the homicidal maniac. But when she learns that one of the other Final Girls has taken her own life, and another one shows up at her doorstep in distress, Quincy is thrust back into reliving her ordeal as she tries to find out the truth of her past.
Holy cats, this is a fun, twisted thrill ride that moves at a breakneck pace! It's a slasher film, a mystery, and a survival story all rolled into one. Think Gone Girl meets American Horror Story.
I sped through the book in one sitting. With each twist and turn, I changed my mind about these girls. Are they the victim of horrific crimes, just disturbed young people, or something else entirely? The answer will shock and amaze you. Sager teases out the details of past and present just enough to keep you reading the book long into the night—and leaves you afraid to go to sleep.
Synopsis
"The first great thriller of 2017 is almost here: Final Girls, by Riley Sager. If you liked Gone Girl, you'll like this."—Stephen King
Ten years ago, college student Quincy Carpenter went on vacation with five friends and came back alone, the only survivor of a horror movie-scale massacre. In an instant, she became a member of a club no one wants to belong to—a group of similar survivors known in the press as the Final Girls. Lisa, who lost nine sorority sisters to a college dropout's knife; Sam, who went up against the Sack Man during her shift at the Nightlight Inn; and now Quincy, who ran bleeding through the woods to escape Pine Cottage and the man she refers to only as Him. The three girls are all attempting to put their nightmares behind them, and, with that, one another.
Now, Quincy is doing well—maybe even great, thanks to her Xanax prescription. She has a caring almost-fiancé, a popular baking blog, a beautiful apartment, and a therapeutic presence in Coop, the police officer who saved her life all those years ago. Her memory won't even allow her to recall the events of that night; the past is in the past. That is, until Lisa, the first Final Girl, is found dead in her bathtub, wrists slit, and Sam, the second, appears on Quincy's doorstep. Sam seems intent on making Quincy relive the past, with increasingly dire consequences, all of which makes Quincy question why Sam is really seeking her out. And when new details about Lisa's death come to light, Quincy's life becomes a race against time as she tries to unravel Sam's truths from her lies, and, most crucially, remember what really happened at Pine Cottage, before what was started ten years ago is finished.