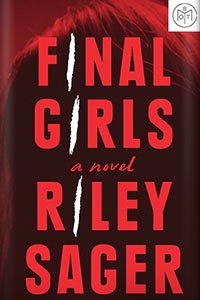 Quick take
A slasher film, a mystery, and a survival story all rolled into one. Think Gone Girl meets American Horror Story.
Why I love it
Have you ever watched a horror movie and yelled, "Don't go in there!" at the screen? Do you flee at the first sign of trouble? Do you always trust your instincts? Then you too could be a Final Girl, a member of a very exclusive club in this epic, adrenaline-fueled thriller!
"Final Girl" is the term the media gives to the sole survivors of horror movie-like mass killings. Quincy Carpenter is a Final Girl, having lived through a massacre in the Pine Cottage cabin in a forest in Pennsylvania, in which her college friends, as well as the perpetrator, were killed. There's also Sam, who survived The Sack Man motel attacks near Tampa, and Lisa, who escaped a sorority house bloodbath. Despite the plights of each of the girls being well publicized, the girls never meet.
Years later, Quincy is living a quiet, somewhat normal life. She has a successful food blog, a loving boyfriend, and when she needs to talk about her past, she confides in Coop, the police officer who rescued her from the homicidal maniac. But when she learns that one of the other Final Girls has taken her own life, and another one shows up at her doorstep in distress, Quincy is thrust back into reliving her ordeal as she tries to find out the truth of her past.
Holy cats, this is a fun, twisted thrill ride that moves at a breakneck pace! It's a slasher film, a mystery, and a survival story all rolled into one. Think Gone Girl meets American Horror Story.
I sped through the book in one sitting. With each twist and turn, I changed my mind about these girls. Are they the victim of horrific crimes, just disturbed young people, or something else entirely? The answer will shock and amaze you. Sager teases out the details of past and present just enough to keep you reading the book long into the night—and leaves you afraid to go to sleep.
Synopsis
"The first great thriller of 2017 is almost here: Final Girls, by Riley Sager. If you liked Gone Girl, you'll like this."—Stephen King
Ten years ago, college student Quincy Carpenter went on vacation with five friends and came back alone, the only survivor of a horror movie-scale massacre. In an instant, she became a member of a club no one wants to belong to—a group of similar survivors known in the press as the Final Girls. Lisa, who lost nine sorority sisters to a college dropout's knife; Sam, who went up against the Sack Man during her shift at the Nightlight Inn; and now Quincy, who ran bleeding through the woods to escape Pine Cottage and the man she refers to only as Him. The three girls are all attempting to put their nightmares behind them, and, with that, one another.
Now, Quincy is doing well—maybe even great, thanks to her Xanax prescription. She has a caring almost-fiancé, a popular baking blog, a beautiful apartment, and a therapeutic presence in Coop, the police officer who saved her life all those years ago. Her memory won't even allow her to recall the events of that night; the past is in the past. That is, until Lisa, the first Final Girl, is found dead in her bathtub, wrists slit, and Sam, the second, appears on Quincy's doorstep. Sam seems intent on making Quincy relive the past, with increasingly dire consequences, all of which makes Quincy question why Sam is really seeking her out. And when new details about Lisa's death come to light, Quincy's life becomes a race against time as she tries to unravel Sam's truths from her lies, and, most crucially, remember what really happened at Pine Cottage, before what was started ten years ago is finished.
Member thoughts
Cedar Grove, WI

Mesmerizing! The plot twists were BIG and I didn't see them coming. Great story, exceptionally well written. Another wonderful Sager novel. Would highly recommend to those who enjoy horror. ⭐️⭐️⭐️⭐️⭐️

Arvada, CO

I was hooked from page one. Every book I read by Riley Sager is amazing, I love his writing style it's very engaging and I never see the twists coming. This book was spectacular! ⭐️⭐️⭐️⭐️⭐️

The pacing was great. I loved the no frills approach to a survivor's point of view. It was scary, but not overly so. I read it I like two days because I couldn't stop ????reading. Ten/ten would recommend

This book sucked me in with it's first sentence. Every time I thought I had everything figured out, I'd find out that I was way off. It was fantastic! Definitely kept me guessing til the last chapter.

Joliet, IL

A great thriller that reads like watching a classic horror movie, like Halloween or Scream. I loved the strong main character & how it demonstrated that you never know what's beneath someone's surface

Weatherford, TX

This is the third Riley Sager book I've read this year and the best one by far! It reads just like a slasher/horror movie and even though I was waiting for a twist, I didn't see it coming. Great read

Fort sam houston , TX

This is the third book that I've read by Riley Sager and I'm again left speechless. He will always have you thinking you know the ending and then completely switch it up. I love the suspense+mystery

Englewood, CO

I couldn't put this down! It was a quick read with perfect amounts of detail. One line describes a man's skin as similar to uncooked chicken fat, and it's such a great line that I show my students!

Cedar Falls, IA

I was intrigued as soon as I learned what a Final Girl was. The middle was a little rocky, and I got confused on how I felt. But it didn't last long. Sager knew what he was doing, and he does it well.

Cadillac, MI

Riley is such a talented writer. I absolutely love how he has you thinking all over the place, like oh so maybe this happened and then nope, you think something else and you're left guessing until end

Goose Creek , SC

What. Just. Happened?! I had about a 25 different theories and NONE of them were correct. There's very few things that I will stay up past my bedtime for, and Final Girls was one. This was fantastic.

Final Girls was a great read! It took me only 24 hours to get through this book. I couldn't put it down. I love the way the author told a story within a story and I couldt wait to see what happened next

Burbank , CA

Loved it! Could not put this down and was not disappointed by the end. It was an innovative version of the "girl runs through the woods covered in blood chased by a serial killer" brand of horror.

Springfield, MO

While I found some of the portraits of women somewhat unrealistic, Final Girls was a great read. The twists and turns were surprising and I constantly found myself wondering which characters to trust.

FLORISSANT, MO

This was a really fun book to read it had twists and turns galore and and an ending that I didn't see coming. It's definitely got 80s horror movie vibes but I wish there was more of that. Read it up yo

Milton, NY

Wow! I had to intentionally pace myself so I didn't finish reading it in one sitting. Keeps you on your toes the entire time. The storyline is excellent - the reveal completely shocked & saddened me.

This is a thrilling book. I could have never expected the ending and it left me hanging at the edge of my seat. The author spins the tale into something so haunting and mysterious. I was left shocked.

Lodi, CA

I really enjoyed trying to follow the clues of this book. I became angry when it started to almost become predictable and was wonderfully surprised at the ending. I highly enjoyed trying to solve one.

Chicago, IL

Thrilling, & a bit slasher. Story takes on some twists & turns that you don't see coming. Loved the main character. I'd like to think that I, too, would be a Final Girl. Riley Sagar has become my fav!

I have all the books that came out after this from this author and can't wait to start them. I love the strong protagonist and I thought I knew what the twist was from the start, but there was more!