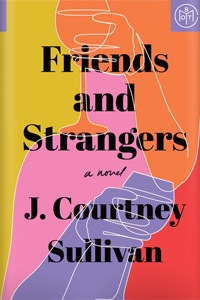 Contemporary fiction
Friends and Strangers
Quick take
A long, hard look at motherhood, privilege, and what happens when an unlikely female friendship grows complicated.
Good to know
400+ pages

Famous author

Female friendships

Suburban drama
Why I love it
Jenna Bush Hager
Co-host, TODAY with Hoda & Jenna
Friends and Strangers is a book about living an authentic, fulfilling life. Told through the alternating perspectives of two women, the novel presents two coming-of-age stories: one of a young mother and another of her college-aged nanny. It's a compelling book that takes on modern issues surrounding adulthood, motherhood, and class.
From the outside, Elisabeth seems to have it all. She has a beautiful baby, a loving husband, and a three-book publishing deal. But when she and her family move from Brooklyn to her husband's hometown in upstate New York, her well-maintained façade cracks. Lonely, exhausted, and unable to find time to focus on her next book, Elisabeth hires a part-time nanny, Sam. What follows is the formation of an unlikely friendship that changes the course of the two women's lives.
Friends and Strangers ultimately reveals that happiness comes from authenticity and purpose, rather than wealth, success, or secrets. Sullivan's clever writing makes this pick the perfect summer read—delicious and compelling through the last word.
Synopsis
Elisabeth, an accomplished journalist and new mother, is struggling to adjust to life in a small town after nearly twenty years in New York City. Alone in the house with her infant son all day (and awake with him much of the night), she feels uneasy, adrift. She neglects her work, losing untold hours to her Brooklyn moms' Facebook group, her "influencer" sister's Instagram feed, and text messages with the best friend she never sees anymore. Enter Sam, a senior at the local women's college, whom Elisabeth hires to babysit. Sam is struggling to decide between the path she's always planned on and a romantic entanglement that threatens her ambition. She's worried about student loan debt and what the future holds. In short order, they grow close. But when Sam finds an unlikely kindred spirit in Elisabeth's father-in-law, the true differences between the women's lives become starkly revealed and a betrayal has devastating consequences.
Preview
Get an early look from the first pages of Friends and Strangers.