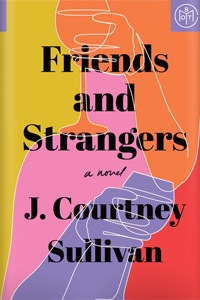 Contemporary fiction
Friends and Strangers
Quick take
A long, hard look at motherhood, privilege, and what happens when an unlikely female friendship grows complicated.
Good to know
400+ pages

Famous author

Female friendships

Suburban drama
Why I love it
Jenna Bush Hager
Co-host, TODAY with Hoda & Jenna
Friends and Strangers is a book about living an authentic, fulfilling life. Told through the alternating perspectives of two women, the novel presents two coming-of-age stories: one of a young mother and another of her college-aged nanny. It's a compelling book that takes on modern issues surrounding adulthood, motherhood, and class.
From the outside, Elisabeth seems to have it all. She has a beautiful baby, a loving husband, and a three-book publishing deal. But when she and her family move from Brooklyn to her husband's hometown in upstate New York, her well-maintained façade cracks. Lonely, exhausted, and unable to find time to focus on her next book, Elisabeth hires a part-time nanny, Sam. What follows is the formation of an unlikely friendship that changes the course of the two women's lives.
Friends and Strangers ultimately reveals that happiness comes from authenticity and purpose, rather than wealth, success, or secrets. Sullivan's clever writing makes this pick the perfect summer read—delicious and compelling through the last word.
Synopsis
Elisabeth, an accomplished journalist and new mother, is struggling to adjust to life in a small town after nearly twenty years in New York City. Alone in the house with her infant son all day (and awake with him much of the night), she feels uneasy, adrift. She neglects her work, losing untold hours to her Brooklyn moms' Facebook group, her "influencer" sister's Instagram feed, and text messages with the best friend she never sees anymore. Enter Sam, a senior at the local women's college, whom Elisabeth hires to babysit. Sam is struggling to decide between the path she's always planned on and a romantic entanglement that threatens her ambition. She's worried about student loan debt and what the future holds. In short order, they grow close. But when Sam finds an unlikely kindred spirit in Elisabeth's father-in-law, the true differences between the women's lives become starkly revealed and a betrayal has devastating consequences.
Preview
Get an early look from the first pages of Friends and Strangers.
Member thoughts
Salinas, CA

Absolutely loved this book and will be reading more from this author. Her characters are so believable and the relationships between them are so interesting and illustrate the complexities of them. ❤️

Cypress , TX

This book covered so many issues. Motherhood, what constitutes real friendship and how it's affected when you are also an employee, the growing divide between the haves and have nots and much more.

Chicago, IL

I saw myself (at different times in my life) in both main characters. I would have like the epilogue to have been a little longer and a bit fuller. I think there was still more story left to tell :)

Cumberland, VA

I was predisposed to like this novel, because I myself am a nanny, similar to Sam's character in the book. I didn't expect to love it. The characters are complex and the story isn't predictable.

Hollywood, MD

There wasn't anything big happening in the book but I loved it anyway. It was more just the lives and problems of 2 different people at 2 different places in life. I resonated with both characters.

Georgetown, KY

Maybe this was a case of "right book, right time." I found myself wanting to highlight certain sentences because Sullivan was so on point with her understanding of complex relationships. A great read.

Baltimore, MD

This one went quickly! I found both Elizabeth and Sam to be familiar and relatable in their own ways. The ending was quite abrupt, but I thought that was believable - how we walk away from hard things

Kenova, WV

At first, I was unsure of the book. As I read, I could see myself in both Elizabeth & Sam. Loved the different relationships of friends and family. I think Elizabeth found herself in a small town.

Topsfield, MA

Love Sullivan's books & this one didn't disappoint. Elisabeth & Sam walk the fine line between peer and employer/employee. Both hide their true selves, which begs the Q can they be real friends?

Grand Rapids, MI

A masterful and compassionate character study that felt remarkably true to life. I cried at the end, remembering similar relationships with love and a little sadness. Nuanced and tender. Brilliant.

Brighton, MA

Such an amazing story about two very normal people. I was so drawn into both of their stories, blown away by Sullivan's detailed accounts of both their lives, and felt so connected to them both!

Englewood, CO

I identified in (perhaps too many) ways with both Elisabeth and Sam making this book solidly for me. This novel may not be for everyone, but the relatability made me feel seen and left me thinking.

Hoschton, GA

A new favorite, though I wouldn't recommend it to everyone. I adored the writing, was so invested in the characters, and enjoyed how it explored motherhood, marriage, class, privilege, and more.

Mount Rainier, MD

An engrossing character study about a pivotal moment in time in each woman's life. The dual narrative perfectly portrays the bittersweet beauty of a bond that is only meant to last for a moment.

Gloucester, MA

One of my favorite authors, J. Courtney Sullivan always comes through with a story that compels and is thought provoking. I always get invested in the characters and feel sad when it's over.

Clayville, NY

Love the realities in this book. Read well and I really enjoyed all the different stories as you followed the characters. The relationship with Elisabeth and Sam made me sad in the end though.

Huntington Beach , CA

Slower paced novel that explores several different relationships and themes. I liked the relationship between Sam and George the best. Every character learns more about themselves by the end.

Midland City, AL

I loved everything about this book except the abrupt ending. The epilogue did bring some closure but I felt it was still a bit too open ended. Definitely loved it up until that point though!

Morehead City, NC

While this is not what I would usually read I did enjoy it. It takes a deep look at females, friendships, different life stages, and most importantly how we compare ourselves with others.

Suffolk, VA

From every relationship, you either learn what you should avoid in future or what you should embrace. This book is a great analysis of the effects people have on each other. I loved it!