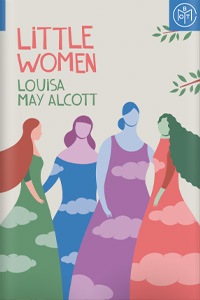 Literary fiction
Little Women
Quick take
Read this English class staple before you see the movie. Its follow-your-dreams feminist themes still hold true.
Good to know
Emotional

400+ pages

Famous author

Family drama
Synopsis
Grown-up Meg, tomboyish Jo, timid Beth, and precocious Amy. The four March sisters couldn't be more different. But with their father away at war, and their mother working to support the family, they have to rely on one another. Whether they're putting on a play, forming a secret society, or celebrating Christmas, there's one thing they can't help wondering: Will Father return home safely?
Member thoughts
I first read 'Little Women' in elementary school, so I wanted to reread it and see how my perspective has changed now that I'm older. Let me tell you: 8 years later, and I'm still in love with it!

Colorado Springs, CO

I've loved this book for as long as I can remember. The older I get, the more I appreciate such a strong female character fighting for what she wants. And there's nothing like the love of a sister!

la verne, CA

Great novel and such a staple and beautiful time piece. Everyone must read little women as it is such a classic that was way ahead of it's time. It has romance, drama, and a little bit of everything.

Chico, CA

Little Women is one of my favorite books of all time. I love all the "little women" so much and following along with their lives is always heartwarming. Also the cover of this edition is stunning!

A classic highlighting the inner lives of young women, their joys & sorrows, hopes & dreams. I read this every summer as a kid, and found myself identifying with all four sisters in various ways. Love

Fort Worth, TX

Such a great book! I read it in middle school but appreciated it with a brand new light after picking it up again. The four sisters with unbreakable bonds through all walks of life is worth the read.

Farmington Hills, MI

I LOVED this book! I waited too long to read it. All of these characters experience the truest values in life - love, loss, strength, friendship, family, and honesty. Simply beautiful and timeless.

Denver , CO

I got this book to reread it for the first time in 20 years and it did not disappoint. Now that I'm older, I got to see the feminist subtext so much more clearly. Plus, the cover art is gorgeous.

Belford, NJ

I have not read Little Women for years and rereading it as an adult has given me a new appreciation for it. Little Women is the ultimate cozy read that will probably become an annual retreat.

Stow, OH

I loved this classic! While a difficult read, it was one of substance with tons of take-aways that left me feeling warm and fuzzy inside. And the strong female leads are forever role models.

Bronx , NY

Emotions high and feelings all sorts of way. But I definitely took many beautiful life lessons and notes from this classic book. I see myself rereading this one to see what other gems I find

Discovery Bay, CA

What is there to say? It's a classic for a reason and has been a favorite of mine for many years. If you haven't read it before I'm envious because you get to enjoy it with fresh eyes.

Fort Worth, TX

This book is a classic for a reason and I can't believe that I have not read it before. It was predictably nice in all the right ways and was a read that reassures one's faith in people.

Cleveland , OK

I absolutely adored the first half, enjoyed the second half, once the sisters were grown. I was a bit put off by the domestic goddess aspirations of Meg, but it absolutely fit the times.

Spring , TX

Fell in love with these girls!!! I would think about them during the day and couldn't wait to see what would happen next. So amazed at how this classic has withstood the test of time!

Kissimmee, FL

Wow. I wish I'd read this when I were younger. This book feels like almost the entire human experience. I will cherish the characters and story of this book forever, like many before me.

Anchorage, AK

This book is the best! I read it as a child and was obsessed with the older movie, and when the new movie came out I was excited to read it again as an adult. It's such a good story!

Fort Collins, CO

One of the best books ever written. This is a timeless classic that has been well loved and cherished in our family for 4 generations. Thanks for the opportunity to get a new copy.

Rexburg, ID

This is a classic! I forgot how much I love it. It has the strong female leads, but each much different from the other. The characters have compelling stories, that draw you in.

Bryan, TX

So sweet and hartwarming. Really captures the love between sisters and how that love can grow and change. I loved following along all the sister's paths and getting to know them.