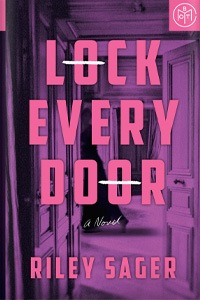 Horror
Lock Every Door
3peat author
Riley Sager is officially a 3-time author at BOTM, which is a pretty big deal!
Quick take
From the author of Final Girls and The Last Time I Lied, a horror story about that too-good-to-be-true Craigslist job.
Good to know
Fast read

Scary

Creepy

Whodunit
Why I love it
Let's twist again, like we did last summer: Riley Sager is back with a dark, suspenseful novel about a house-sitting job from hell! It's the must-read summer thriller that will have your little gray cells twerking up a storm!
Jules Larsen is having bad luck. Suddenly jobless and homeless, she's over the moon when she's hired to be an apartment sitter at the Bartholomew, a famously mysterious and prestigious NYC apartment building. One thousand dollars a week to live in a huge, fancy apartment? It sounds too good to be true! Spoiler: That's because it is. Shortly after her arrival, she hears strange noises, and learns some upsetting stories about the building's past. Ruh-roh, Shaggy! And just when Jules discovers that the last woman to stay in the apartment disappeared under mysterious circumstances, another sitter goes missing, leaving Jules to wonder if she'll make it out of the Bartholomew alive.
Look, I've read enough mysteries to know that there are always twists, and that you can't trust any of the characters. What was fun was trying to figure out just who was telling the truth. Sager does an excellent job of bringing the creep to an old-school scary mystery that will keep you turning pages—and checking your locks.
Synopsis
No visitors. No nights spent away from the apartment. No disturbing the other residents, all of whom are rich or famous or both. These are the only rules for Jules Larsen's new job as an apartment sitter at the Bartholomew, one of Manhattan's most high-profile and mysterious buildings. Recently heartbroken and just plain broke, Jules is taken in by the splendor of her surroundings and accepts the terms, ready to leave her past life behind.
As she gets to know the residents and staff of the Bartholomew, Jules finds herself drawn to fellow apartment sitter Ingrid, who comfortingly, disturbingly reminds her of the sister she lost eight years ago. When Ingrid confides that the Bartholomew is not what it seems and the dark history hidden beneath its gleaming facade is starting to frighten her, Jules brushes it off as a harmless ghost story ... until the next day, when Ingrid disappears.
Searching for the truth about Ingrid's disappearance, Jules digs deeper into the Bartholomew's dark past and into the secrets kept within its walls. Her discovery that Ingrid is not the first apartment sitter to go missing at the Bartholomew pits Jules against the clock as she races to unmask a killer, expose the building's hidden past, and escape the Bartholomew before her temporary status becomes permanent.
Preview
Get an early look from the first pages of Lock Every Door.