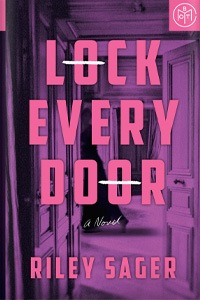 Horror
Lock Every Door
3peat author
Riley Sager is officially a 3-time author at BOTM, which is a pretty big deal!
Quick take
From the author of Final Girls and The Last Time I Lied, a horror story about that too-good-to-be-true Craigslist job.
Good to know
Fast read

Scary

Creepy

Whodunit
Why I love it
Let's twist again, like we did last summer: Riley Sager is back with a dark, suspenseful novel about a house-sitting job from hell! It's the must-read summer thriller that will have your little gray cells twerking up a storm!
Jules Larsen is having bad luck. Suddenly jobless and homeless, she's over the moon when she's hired to be an apartment sitter at the Bartholomew, a famously mysterious and prestigious NYC apartment building. One thousand dollars a week to live in a huge, fancy apartment? It sounds too good to be true! Spoiler: That's because it is. Shortly after her arrival, she hears strange noises, and learns some upsetting stories about the building's past. Ruh-roh, Shaggy! And just when Jules discovers that the last woman to stay in the apartment disappeared under mysterious circumstances, another sitter goes missing, leaving Jules to wonder if she'll make it out of the Bartholomew alive.
Look, I've read enough mysteries to know that there are always twists, and that you can't trust any of the characters. What was fun was trying to figure out just who was telling the truth. Sager does an excellent job of bringing the creep to an old-school scary mystery that will keep you turning pages—and checking your locks.
Synopsis
No visitors. No nights spent away from the apartment. No disturbing the other residents, all of whom are rich or famous or both. These are the only rules for Jules Larsen's new job as an apartment sitter at the Bartholomew, one of Manhattan's most high-profile and mysterious buildings. Recently heartbroken and just plain broke, Jules is taken in by the splendor of her surroundings and accepts the terms, ready to leave her past life behind.
As she gets to know the residents and staff of the Bartholomew, Jules finds herself drawn to fellow apartment sitter Ingrid, who comfortingly, disturbingly reminds her of the sister she lost eight years ago. When Ingrid confides that the Bartholomew is not what it seems and the dark history hidden beneath its gleaming facade is starting to frighten her, Jules brushes it off as a harmless ghost story ... until the next day, when Ingrid disappears.
Searching for the truth about Ingrid's disappearance, Jules digs deeper into the Bartholomew's dark past and into the secrets kept within its walls. Her discovery that Ingrid is not the first apartment sitter to go missing at the Bartholomew pits Jules against the clock as she races to unmask a killer, expose the building's hidden past, and escape the Bartholomew before her temporary status becomes permanent.
Preview
Get an early look from the first pages of Lock Every Door.
Member thoughts
Ripley, TN

I was very excited to get this book, and it didn't dissapoint. Just when I think, "well this is predictable," it takes a twist I wasnt expecting! I read this is one sitting, I couldnt put it down! ❤️

This book is the second one I've read by Riley Sager! It was soooo good! Definitely a page turner and the ending wasn't what I expected. Glad I picked this as my July 2019 BOTM! Finished it 2/19/20 ❤️

Riley Sager is one of my FAVORITES and this might be my favorite yet - if you're a fan, don't miss out on this read that will make you feel like you're running through the building with the character.

Tulsa , OK

This book was really good the creep factor was way up on this book also when you get toward the end and find out what is really going on omg it was little surprising i definitely wasn't expecting the ending

Denver, CO

Woah! This was so disturbingly good! I usually have a feeling and can spot the "bad guy" pretty early on. The last 100 pages or so kept me holding my breath! So twisted and unlike anything i've read!

Columbus, MS

This book had me addicted from the first page! It's exciting, dark, and unpredictable! I couldn't put it down from the time I picked it up. If you love fast-paced, suspenseful stories, you'll love it!

Seattle, WA

I can easily say that I'm a Riley Sager super-fan, and was thrilled for his third book. I enjoyed the homage paid to classic horror with this novel, especially with the 'Rosemary's Baby' influence.

Tallahassee , FL

I was blessed with a massive storm the day I read this which made for some excellent atmosphere. Couldn't put it down and I loved the ending. It wasn't what I expected. Can't wait for the next one.

Crandall , TX

Read this in the dark (obviously use a lamp, I mean we don't have cat eyes) it'll make your skin crawl and add to the reading experience. The twists are awesome. I hope she makes a sequel about Jane.

Conger, MN

I loved Riley Sager's first two books and I was so exciting and looking forward to Lock Every Door. I gotta say, I did enjoy this book and I thought it was good, I just didn't enjoy it as much as his

Bloomington , IN

This book.... was amazing! I didn't want to put this book down! I loved every single page and every single turn. I am definitely going to read the author's other books now. I highly recommend thi

Riley Sager, YOU HAVE DONE IT AGAIN! I'm in a complete book hangover status after this one! This book was completed in one sitting. From the first page to the very last, the words controlled me! That'

Nixa, MO

There's not an emoji to even describe how much I loved this book!! I literally couldn't put it down. The possibilities of who and why are endless and the twists this author takes you on are amazing!!

Indianapolis, IN

I absolutely love Riley Sanger's books. The story sets up so well to make you think it's going one way, only to switch it up when you least expect. The characters are so well written. A stellar read!

⭐️⭐️⭐️⭐️☆ Great read! I docked one star because I would have liked a bit faster pace and more jumpy moments in the first half. But the second half was a crazy creepy shocking wild ride!

Cahokia, IL

Wow. This book was a page Turner from the start. The more you read the better the book gets, the ending has such a twist to it. Although some of it was predictable. I highly recommend this great thriller

I have read a lot of thrillers and this one did not disappoint. The main character was relatable. There was a little bit of predictability, but not enough to make the story uninteresting. And that twist!

Pelham, AL

I've read a LOT of thrillers lately where I've figured out the plot twist 1/3 of the way into the book. Not with this one! This book kept me guessing until the end. And I never saw the twist coming!

Lafayette, LA

This was one that I couldn't put down. Normally, I see the plot twist coming, or have some hint of what is about to happen. Not with Lock Every Door. I was pleasantly surprised about this ending.

Auburn, NY

Ok...reading this book was beyond amazing! There were parts that had me jumping out out of my chair and screaming at the book "don't do that! You'll get yourself killed! "???? i absolutely lthiloves it!