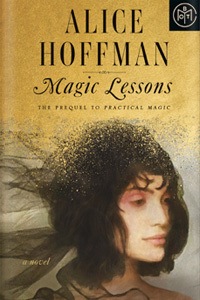 Historical fiction
Magic Lessons
3peat author
Alice Hoffman is officially a 3-time author at BOTM, which is a pretty big deal!
Quick take
Travel back to 1600s Salem in this standalone prequel to The Rules of Magic and Practical Magic.
Good to know
Romance

400+ pages

First in series

Magical
Why I love it
Sara Sligar
Author, Take Me Apart
I'm a sucker for magic. I'll happily spend hours discussing the movements of the zodiac, and I never met a tarot deck I didn't want to own. I also love brilliant genre fiction and complicated female characters—so basically, Alice Hoffman's new novel, Magic Lessons, had me at hello.
If Magic Lessons were a potion, its recipe might look something like this: Start with equal parts family saga, feminist creed, and love story. Combine them in the cauldron of 17th-century America (maybe, say, the Salem witch trials?). Add a whole lot of magic and folklore. Sprinkle with revenge. And voilà: the story of Maria Owens, a young witch whose quest for justice takes her into the dangerous world of the Massachusetts Bay Colony, where she lays down a curse that will stalk her family for generations.
I adored this book. The prose is so lyrical it feels like an incantation, and Hoffman makes a distant historical moment seem as real and immediate as the present day. It's a prequel to Hoffman's bestselling Practical Magic and The Rules of Magic, and it showcases the same seamless blend of magic and reality. But you definitely don't have to have read those books to be riveted by Maria's story. Magic Lessons is a universal tale about love and survival. Any reader craving a dose of the impossible will be spellbound by this tender, powerful book.
Synopsis
Where does the story of the Owens bloodline begin? With Maria Owens, in the 1600s, when she's abandoned in a snowy field in rural England as a baby. Under the care of Hannah Owens, Maria learns about the "Unnamed Arts." Hannah recognizes that Maria has a gift and she teaches the girl all she knows. It is here that she learns her first important lesson: Always love someone who will love you back.
When Maria is abandoned by the man who has declared his love for her, she follows him to Salem, Massachusetts. Here she invokes the curse that will haunt her family. And it's here that she learns the rules of magic and the lesson that she will carry with her for the rest of her life. Love is the only thing that matters.
Preview
Get an early look from the first pages of Magic Lessons.
Member thoughts
Another of Alice Hoffman's triumphs! The third book in the series and the beginning of the trilogy, I've taken to wearing my red boots again! Women, witchcraft, and claiming one's own power and love

Omaha, NE

I really enjoyed this book! Maria's story is captivating. I think it's the best in the series! It also works very well as a standalone novel if you haven't read the sequels that were published before.

This book made me cry and feel things. Which in my case means that this is a good book. Also again, I'm such a huge Alice Hoffman fan, so it's hard for me to not like her books! This one is a fav ♥️

Griffith, IN

I usually don't read this genre but I loved the different perspectives and the storyline kept my attention throughout. I most loved the main character's true desire to always try to do the right thing

Middleburg, FL

I tend to judge my enjoyment of books by how easily I get into them, and this one didn't grab me right away. But upon reflection, Magic Lessons did make me want to read the other 2 books, so "love!"

Fairfield, CA

This series gets better and better with each book. It's so different than the other books, but similar in its treatment of its characters, environment, and overall prose. Slow start, but so beautiful.

Roseville , CA

After reading (and being disappointed by) Addie LaRue, I had low expectations for Magic Lessons, but it certainly delivered! I loved Maria's spirit and conviction. One of the this year's best books.

Salt Lake City, UT

I knew right away that I'd love this book. The writing alone pulls you in page one. The characters keep you there. And the plot never disappoints. I felt like a child again, falling in love w/reading.

Knoxville , TN

Hoffman has a way of telling you a great story. I loved this book so much. I have yet to read a book by her that I didn't like. Fantastic writer and great books. u come across any book by her grab it

Hinesburg, VT

Being a huge Hoffman fan, this is the book I've been waiting for! I remember reading Practical Magic as a teenager & wishing I knew the family history. This book brought all those feels back, loved it

Albany , OR

This was an incredibly intriguing book. While some of the story seems to be missing big gaps, it's easy to get lost in the mystical parallels that are drawn, while evoking sadness for the lives lost.

Atlanta, GA

Perfect reading for the spooky October fest! It's not just about witchery. It is also about love and life. And it was so easy for me to be immersed in the 1600s Salem, brilliantly described by Hoffman

Somersworth, NH

Prequel of Maria, a witch who must come to terms with her past to set forth on a future. Story builds when she's accused of being a witch and her daughter is taken, what a mothers endures to protect.

Berwyn, PA

I loved this book so much, I immediately read the two previous ones. This one is still my favorite, and I love how Maria makes her own way. I'm also a sucker for an unexpected, deserved happy ending!

Greenville, NC

Alice Hoffman never disappoints. I was so happy to learn of how things began for the Owens' women. I could read so many more books about this family and their trials, such great stories and history.

Baltimore , MD

Several intriguing characters, good plot development and loved the overall concept of life as witches in the late 1600s. Too much description for my taste, could've been shorter and just as good. 4/5

Weirton, WV

Absolutely loved this book! Immediately ordered the first 2 books after, then read them backwards (which was chronologically since they're prequels lol). My favorite book this year. Highly recommend!

Massapequa Park, NY

Utterly captivating story of the Owens' women and their special skills in the Nameless Art—witchcraft. These strong women navigate 17th century England, NY &Salem. Magic is in the power of words.

Austin, TX

This book is a beautiful, magical, very special story that I didn't want to put down. It's about love of all kinds, courage, and the power of women. It's one of my favorites I've read at BOTM.

Cynthiana, KY

This book was the perfect prequel to the story of the Owens women. To finally learn how it all began, has left my heart happy and such a sense of satisfaction with the story. I love this book so much!