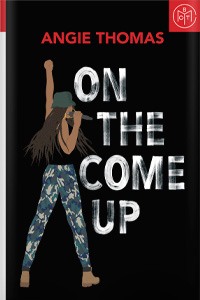 Young adult
On the Come Up
Quick take
A teen rapper will do whatever it takes to make it big in the latest from the author of The Hate U Give.
Good to know
400+ pages

Social issues

Teens

Buzzy
Why I love it
You don't have to be a fan of hip hop music to be captivated by this book about a 16-year-old girl who dreams of being a rapper. Angie Thomas writes with such heart, perceptiveness, and authenticity that it's impossible not to be drawn in.
Bri Jackson wants to become a major voice of hip hop—as herself, not the daughter of an underground legend who died when she was a toddler, and definitely not a stereotype. (She's black and from the Garden, but she's not a gun-carrying, drug-dealing gang member and has no intention of being typified as such.) When Bri is branded a "hoodlum" at school, she vents her emotions in a song that quickly goes viral—but for all the wrong reasons. Suddenly, Bri finds herself discredited and surrounded by violence.
At its heart, On the Come Up is a gripping story about a girl's struggle to remain true to herself when life pushes her to compromise, but it's so much more than that: an impassioned demand for greater understanding of the challenges facing African-American youth today, a love letter to family, and a tribute to the undeniable art and poetry of hip hop.
Synopsis
Sixteen-year-old Bri wants to be one of the greatest rappers of all time. Or at least make it out of her neighborhood one day. As the daughter of an underground rap legend who died before he hit big, Bri's got big shoes to fill. But now that her mom has unexpectedly lost her job, food banks and shutoff notices are as much a part of Bri's life as beats and rhymes. With bills piling up and homelessness staring her family down, Bri no longer just wants to make it—she has to make it.
On the Come Up is Angie Thomas's homage to hip-hop, the art that sparked her passion for storytelling and continues to inspire her to this day. It is the story of fighting for your dreams, even as the odds are stacked against you; of the struggle to become who you are and not who everyone expects you to be; and of the desperate realities of poor and working-class black families.
Preview
Get an early look from the first pages of On the Come Up.
Member thoughts
Hinesville, GA

This book was just as amazing as Thomas's debut novel. Her writing is poignant and kicks you right in the feelings. Just know, do not expect THUG. These are different chapters with their own stories.

I absolutly adored the rap apsect and how it was incoporated into the story! Music plays such a huge role in my life personally and this book just gives music/rap life in a way I haven't seen before!

Kent, WA

I loved this book! Bri's story is so real for many people and her lifestyle and what she faces everyday as an African America is eye opening. People need to be aware of what African Americans go through

ANGIE THOMAS IS AN AMAZING AUTHOR! She makes the reader feel emotions they probably don't encounter in their everyday lives. And yet it is so easy to relate her writing to today's society!Just Great

This book allowed me to explore the mind of an inner city girl who only wants on thing, to make it out of her current circumstance. This novel could help combat microaggressions that society overlooks

Richmond, VA

I read this book during flights last week and finished it before my second flight even took off. I couldn't put it down, it was engaging and tough and I loved it. No such thing as the sophomore slump!

Irmo, SC

Angie Thomas is a master at crafting believable characters and sharing black culture! This one is slower than her debut but still becomes a page turner as you wonder how Bri can get out of this mess!

My new favorite book! From the first chapter, I was sucked into the life of Bri. My upbringing was so different than Bri but the author connected me to her life in a way that I've never experienced.

Columbus, OH

This book was excellent! Angie Thomas has a gift for creating authentic characters & exposing raw emotions. I loved this book more than THUG, keep doing what you're doing Angie! Favorite BOTM so far.

Milwaukie, OR

I completely consumed this book and immediately handed it to a student. It's made it through two other students that I know of since then. I don't think I'll ever see this book again, and I'm so glad.

Brandon, FL

Different from THUG, but still engaging, thoughtful, and well written. LOVED the main character Bri! She is so smart and flawed in all the ways you'd expect of a 16 year old. Believable and lovable.

Lithia Springs, GA

Angie's sophomore novel is definitely not a slump. This book is every bit as good as THUG, though a little less in-your-face activism. I loved that it's in the same neighborhood with THUG easter eggs.

Brooklyn, NY

Great follow-up to THUG. This story is wholly original and well-crafted. I can't help but root for Bri, even when she makes bad decisions. Honestly, those decisions make her so much more believable.

Austin, TX

Like Angie Thomas' other book, The Hate U Give, it was extremely thought-provoking, & allowed insight into an experience that I haven't had. Could have been stronger, but good overall. Worth reading!!

Ft polk, LA

My daughter really loved reading this and i loved the message that it sends. My daughter is 12 and finding books that reflect current society that are appropriate can be difficult, this book was great

Shelby, NC

I may be in the minority here, but I liked this more than The Hate U Give and I loved that book. Bri is flawed and real, trying to find her voice and be heard in a world where she is often overlooked.

Salt Lake City , UT

The swift, witty tongue of the writer thru the main character had me hooked. Told thru the lens of a strong, intelligent young Black woman. This book stayed with me even after it was done. Excellent.

Lewisville, TX

While not as good as The Hate You Give, I very much enjoyed this book. Angie Thomas has so much to say in her work, and I always finish her books feeling inspired. A truly enjoyable hip-hop read.

Chicago, IL

This is a great book for any adult, especially those grown up with privilege, to see what the rest of the population deals with.I am currently teaching this culturally relevant book and my kids love!

This book is really thought provoking and forces you to think about how your image reflects other people's reactions. I loved this book because it had a great story and the message was so important!