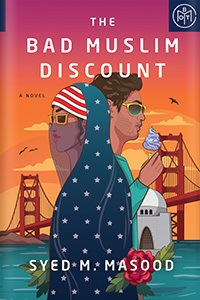 Contemporary fiction
The Bad Muslim Discount
Quick take
Brimming with heart and biting humor, a novel chronicling the lives of two Muslim immigrant families in San Francisco.
Good to know
Romance

Family drama

Forbidden love

LOL
Why I love it
Siobhan Jones
BOTM Editorial Team
Readers who dip into the YA world may recognize the name of Syed M. Masood, author of a young adult rom-com that came out last year. Now Masood is quickly back with his adult debut: the charming, serious, hotly anticipated book, The Bad Muslim Discount.
This is a story that follows two young people from their preteen years to adulthood. Anvar, a son of Muslim-American immigrants (and a self-titled "Bad Muslim"), is a young man doing his best to juggle classic coming-of-age issues (girls, school, etc.) with his parent's expectations. Azza, a young woman growing up in Baghdad, is facing her own trials: a strict father, a bad suitor, and their eventual move to the United States. Soon their paths cross, which is when the book—already a page-turner—really takes off.
Emotionally insightful, occasionally ironic, and full of warmth for its characters, Masood tells two stories in parallel while also crafting a sharply observed narrative about Islamophobia, sexism, and violence. The result is a book about love, identity, and family that is honest, incisive, and unforgettable.
Synopsis
It is 1995, and Anvar Faris is a restless, rebellious, and sharp-tongued boy doing his best to grow up in Karachi, Pakistan. As fundamentalists in the government become increasingly strident and the zealots next door start roaming the streets in gangs to help make Islam great again, his family decides, not quite unanimously, to start life over in California. The irony is not lost on Anvar that in America, his deeply devout mother and his model-Muslim brother are the ones who fit right in with the tightly knit and gossipy Desi community. Anvar wants more.
At the same time, thousands of miles away, Safwa, a young girl suffocating in war-torn Baghdad with her grief-stricken, conservative father will find a very different and far more dangerous path to America. These two narratives are intrinsically linked, and when their worlds come together, the fates of two remarkably different people intertwine and set off a series of events that rock their whole community to its core.
Preview
Get an early look from the first pages of The Bad Muslim Discount.
Member thoughts
Louisville, CO

Was first drawn in by the cover, thinking it was a YA read. Pleasantly surprised that it turned out to be more than that! Loved how the characters' stories intertwined +enjoyed the Muslim/American POV

Carlsbad, CA

Loved it. The title/cover made me think it was going to be a vapid immigrant rom com but it's not that at all. It's heavy, thought-provoking, educational, and interesting. Witty and funny at times.

Bethel Park, PA

Don't let the unusual title or YA-like cover art fool you, this is one incredible book! Masood's writing is beautiful and the characters are so realistic. It's not as easy read, but so worth it!

Lakewood , CO

I love a good read where I get to learn about other cultures. It brought to light Muslims who grew up in America vs Muslims from other countries and how their location has shaped their lives

New York City, NY

This book was captivating and heart breaking. You want things to go differently than they do but the characters seem to get what they deserve.. to a certain extent. Love this book, highly recommend.

El Cajon, CA

Anvar became my most favorite character that I have ever read EVER. Was intrigued by the woman whom he shares the lead w/ her life was very violent and sad and eye opening. You want the best for them.

Walhalla, SC

This debut rarely stumbles telling a story of life, love, loss, hope, power, & more; of the difference in being alive & living; of enduring pain & appreciating joy within the human condition. 5 stars!

Rocklin, CA

I loved so much about this book. I giggled at the hilarious sense of humor Anvar, His family and friends all have. I loved the glimpses of Muslim heart and how their beliefs aren't so unlike mine.

ALBUQUERQUE, NM

Well written- loved Anvar's snarky commentary. Interesting to see the different stories/POV of all of the Muslim characters. Very poignant and timely piece w/ current US events. Deeper than expected!

Newtown, PA

This was a wonderfully written book with complex characters who struggled with religion and family. The author had a great sense of humor that punctuated the heavier topics in the best way. 5 stars!

Dallas , TX

I really enjoyed this story. I appreciate people who question everything and Anvar and Sawfa brought a lot of questions. Though their experiences may be different, I'm glad they found each other.

Fort Wayne, IN

Bold characters, emotional insight & irreverent humor are the brilliant centerpieces to this perfectly set table. A testament to #OwnVoices writing featuring Muslim community & religion. Must read!

Westport, NY

A good novel until the last quarter, where it became GREAT. A beautifully written take on religion, family, duty, righteousness, and love. With a heavy dose of wit and sarcasm. TW: domestic assault

Bensalem, PA

I loved this story! The author did a great job balancing the serious aspects of the book with humour. Found myself genuinely laughing to many parts of the story. The characters were well written.

SOUTH EASTON, MA

One of my top 2021 reads. As someone who is also a "bad Muslim", the main characters' relationships w/ their conservative families was relatable - as well as their own individual struggles.

Fort Walton Beach, FL

I love the way this author writes, but would have liked less current political commentary. The author has a humorous take on culture and family, but the plot line was quite serious. A good pick!

North Providence, RI

I adored this book. Killer sense of humor. Characters and a story that that captured me. I learned about a culture that is unfamiliar to me. So happy with my book pick! 5 enthusiastic stars!!!!

Brownsburg, IN

The tags romance and forbidden love turned me off from picking up the book at first because that's not my type of book, but it is so well written I can't wait to read another book by this author

Cincinnati, OH

More introspective than I was expecting - examining complex relationships with family, place, and religion. The pacing was sometimes inconsistent, but the thoughtful articulation kept it moving.

Tampa, FL

I enjoyed the narration by Anvar, his humor, outlook, and general view on the state of events. So much of Safwa's story was heartbreaking, but shed light on continued struggles of Muslim women.