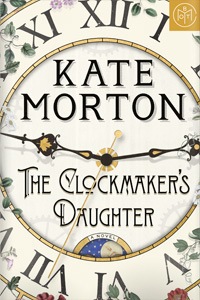 Historical fiction
The Clockmaker's Daughter
Quick take
A satchel, a sketchbook, and a photograph connect the lives of a present-day archivist and a mysterious Victorian woman in this sweeping tale told across a century.
Good to know
400+ pages

Multiple viewpoints

Slow build

Forbidden love
FYI
Nonchronological plot
Large cast of characters
Slow pace to start
Why I love it
I have this condition. I call it "falling-for-a-book-so-hard-I-stay-up-all-night-reading" (can someone please suggest a better name?). I'm always on the hunt for a book that gets me so hooked that I physically can't put it down. So, bear with me while I sleepily tell you about a book that might just be an insomniac's dream.
The Clockmaker's Daughter is centered on two lives lived 150 years apart. First there's Elodie, a 20-something-year-old archivist who discovers a mysterious century-old leather bag. Then there's the mysterious woman depicted in a portrait found inside. It's clear that the women are connected—they've both suffered the loss or abandonment of a parent, and there's this old sketch of a house they both seem to know. As the plot thickens, you, reader, are soon grappling not only with the secret identity of the lady in the photograph, but also with a murder and a missing diamond. So, you know, the stakes are high.
Sleep deprivation notwithstanding, this was the perfect book to get lost in. Two strong female characters navigating timeless questions about love, betrayal, and ambition, and a mystery? The gradual unspooling of plot twists is just icing on the cake. I dare you not to love this book as much as I did.
Synopsis
In the summer of 1862, a group of young artists led by the passionate and talented Edward Radcliffe descends upon Birchwood Manor on the banks of the Upper Thames. Their plan: to spend a secluded summer month in a haze of inspiration and creativity. But by the time their stay is over, one woman has been shot dead while another has disappeared; a priceless heirloom is missing; and Edward Radcliffe's life is in ruins.
Over one hundred and fifty years later, Elodie Winslow, a young archivist in London, uncovers a leather satchel containing two seemingly unrelated items: a sepia photograph of an arresting-looking woman in Victorian clothing, and an artist's sketchbook containing the drawing of a twin-gabled house on the bend of a river.
Why does Birchwood Manor feel so familiar to Elodie? And who is the beautiful woman in the photograph? Will she ever give up her secrets?
Preview
Get an early look from the first pages of Kate Morton's The Clockmaker's Daughter.