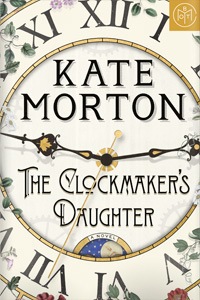 Historical fiction
The Clockmaker's Daughter
Quick take
A satchel, a sketchbook, and a photograph connect the lives of a present-day archivist and a mysterious Victorian woman in this sweeping tale told across a century.
Good to know
400+ pages

Multiple viewpoints

Slow build

Forbidden love
FYI
Nonchronological plot
Large cast of characters
Slow pace to start
Why I love it
I have this condition. I call it "falling-for-a-book-so-hard-I-stay-up-all-night-reading" (can someone please suggest a better name?). I'm always on the hunt for a book that gets me so hooked that I physically can't put it down. So, bear with me while I sleepily tell you about a book that might just be an insomniac's dream.
The Clockmaker's Daughter is centered on two lives lived 150 years apart. First there's Elodie, a 20-something-year-old archivist who discovers a mysterious century-old leather bag. Then there's the mysterious woman depicted in a portrait found inside. It's clear that the women are connected—they've both suffered the loss or abandonment of a parent, and there's this old sketch of a house they both seem to know. As the plot thickens, you, reader, are soon grappling not only with the secret identity of the lady in the photograph, but also with a murder and a missing diamond. So, you know, the stakes are high.
Sleep deprivation notwithstanding, this was the perfect book to get lost in. Two strong female characters navigating timeless questions about love, betrayal, and ambition, and a mystery? The gradual unspooling of plot twists is just icing on the cake. I dare you not to love this book as much as I did.
Synopsis
In the summer of 1862, a group of young artists led by the passionate and talented Edward Radcliffe descends upon Birchwood Manor on the banks of the Upper Thames. Their plan: to spend a secluded summer month in a haze of inspiration and creativity. But by the time their stay is over, one woman has been shot dead while another has disappeared; a priceless heirloom is missing; and Edward Radcliffe's life is in ruins.
Over one hundred and fifty years later, Elodie Winslow, a young archivist in London, uncovers a leather satchel containing two seemingly unrelated items: a sepia photograph of an arresting-looking woman in Victorian clothing, and an artist's sketchbook containing the drawing of a twin-gabled house on the bend of a river.
Why does Birchwood Manor feel so familiar to Elodie? And who is the beautiful woman in the photograph? Will she ever give up her secrets?
Preview
Get an early look from the first pages of Kate Morton's The Clockmaker's Daughter.
Member thoughts
Bakersfield , CA

I picked this as my Bookclub pick. I so wanted to throw this book off my balcony through the first half of the book until, my friend told me to pay attention to the way the chapters are numbered. ♥️♥️♥️

The Clockmaker's Daughter took me a little while to read, but it was worth it. Reading this book was like putting together a mind puzzle—it was all in the details. Nice break from reality. Loved it!

Astoria, NY

The first part was a bit misleading (I thought there'd be more payoff to Elodie's story), but the bulk of it was a beautifully interwoven history of a lost gem, a haunted house & a mysterious woman.

It's a slow build. I thought I had the twist determined pretty early on, but I'm pleased to say that it went a different way I didn't see coming. The multiple story lines are interwoven beautifuly

Santa Maria, CA

It's a slow build kind of book and when I first finished it, I thought that I was done with it. Surprisingly, it's actually one that I keep coming back to and appreciating every little detail of it.

Timeless. Spellbinding. Heartbreaking. Multiple perspectives interweave in this tale of love and loss, one louder than the others— Birdie: the model, the thief, the lover, the clockmaker's daughter.

This author is AMAZING. I have since bought her other books. She tells the story from multiple perspectives, and each time unravels the mystery- I can't put her books down, each chapter I need more!!!

Cumming, GA

I love all of Kate Morton's books! Her style of writing is beautiful. This book did have a lot of characters and was a little slow in the beginning but the way they intertwine is genius. Great ending!

I found this book to have had a twist I didn't see coming and it was well written. Kinda hard to follow at first until you understand the way it reads and the different sections. I absolutely loved it

Denver, CO

Morton works in romantic gothic cliches, but it's fun to indulge in it. The narrative is VERY complex, the characters so interconnected over so many decades. It's remarkable but at times confusing.

Glen Burnie, MD

There's not enough space to enable me to express how much I LOVED this book. Many of the books I have read from this club have been trash. This book has renewed hope that some writers can still write.

A bit slow to develop in the beginning but once enough of the story line is laid out it's addicting to start putting all of the pieces together. Many unexpected turns in the story, absolutely loved it

North Haledon , NJ

Several storylines/characters over the course of 100+ years woven together by a narrator that were all connected by the house and it's history. Really enjoyed this book, take note of how chapters #ed

An intricate and gorgeously written story with multiple characters and plot lines. This was historical fiction, mystery, and romance with paranormal and magical elements. A story I won't soon forget.

Reston , VA

This was a wonderfully spun yarn. As pieces fell into place for the big reveal, I kept thinking "oh no, not that!" The story is both heartbreaking and hopeful, brimming with delightful characters!

Fort Atkinson , WI

It took me a couple chapters to really get invested in the story, but once I did...WOW! loved the countless number of characters and their storylines that somehow intertwined with each other by the end

Houston, TX

This book had a supernatural element that I don't usually love, but it was enthralling and well written and I stayed up reading because I had to know what happened. I found myself loving this story.

Bellefonte, PA

As soon as I finished the last page, spellbound by the brilliant storytelling, I started rereading. Don't rush this - trust the intricate puzzle comes together beautifully and enjoy being swept away.

Falls Church, VA

So good! Morton's words are just beautiful & the way she weaves together the different stories of her characters is flawless. I love the way she goes back and forth through time. I will be rereading!

Oneida, TN

Wow! What can I say to do this book justice? I struggled at first. There's a lot of characters lives going on simultaneously but don't give up. There's a great story in there just waiting to be heard.