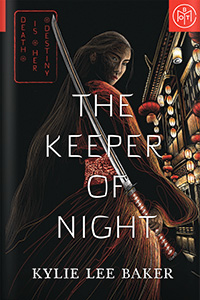 Young adult
The Keeper of Night
Debut
We love supporting debut authors. Congrats, Kylie Lee Baker, on your first book!
Quick take
Ren Scarborough is on a journey to impress the Goddess of Death in this riveting story of monsters, magic, and Reapers.
Good to know
400+ pages

International

Magical

Underdog
Why I love it
Rachael Burlette
BOTM Editorial Team
Young adult fantasy has always had a special place in my heart. When I was younger it was the first genre that truly captured my attention and made me fall in love with reading. Even now as an adult, I make space on my bookshelf for young adult fantasy writers that stand out. The Keeper of Night has certainly earned a spot on my shelf. Equal parts magical and terrifying, Kylie Lee Baker has created a world that I never want to leave.
Half-British Reaper and half-Japanese Shinigami, Ren has been collecting the souls of the dead for centuries in London, until one day, when she is forced to leave. With nowhere else to go, Ren flees to Japan with the help of her brother to become a Shinigami and serve the Goddess of Death in the Japanese underworld. Ren is not welcomed immediately, though. The Goddess presents her with an impossible task: Kill three Yokai demons. If Ren is successful, she can stay and finally become a true Shinigami. If she fails, it could mean leaving Japan forever—or worse, death.
The Keeper of Night is wonderfully written and I couldn't stop turning the pages, eager to discover Ren's fate. I loved exploring the Japanese underworld with Ren as she encountered demons, each scarier than the last. But this story is more than just a magical quest—it's also about trying to find your place in the world and discovering how far you're willing to go in order to fit in. With rich world-building and thoughtful characters, The Keeper of Night will stay with you long after you've finished reading it.
Synopsis
Death is her destiny.
Half British Reaper, half Japanese Shinigami, Ren Scarborough has been collecting souls in the London streets for centuries. Expected to obey the harsh hierarchy of the Reapers who despise her, Ren conceals her emotions and avoids her tormentors as best she can.
When her failure to control her Shinigami abilities drives Ren out of London, she flees to Japan to seek the acceptance she's never gotten from her fellow Reapers. Accompanied by her younger brother, the only being on earth to care for her, Ren enters the Japanese underworld to serve the Goddess of Death… only to learn that here, too, she must prove herself worthy. Determined to earn respect, Ren accepts an impossible task—find and eliminate three dangerous Yokai demons—and learns how far she'll go to claim her place at Death's side.
Preview
Get an early look from the first pages of The Keeper of Night.