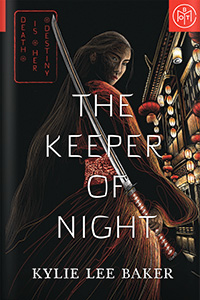 Young adult
The Keeper of Night
Debut
We love supporting debut authors. Congrats, Kylie Lee Baker, on your first book!
Quick take
Ren Scarborough is on a journey to impress the Goddess of Death in this riveting story of monsters, magic, and Reapers.
Good to know
400+ pages

International

Magical

Underdog
Why I love it
Rachael Burlette
BOTM Editorial Team
Young adult fantasy has always had a special place in my heart. When I was younger it was the first genre that truly captured my attention and made me fall in love with reading. Even now as an adult, I make space on my bookshelf for young adult fantasy writers that stand out. The Keeper of Night has certainly earned a spot on my shelf. Equal parts magical and terrifying, Kylie Lee Baker has created a world that I never want to leave.
Half-British Reaper and half-Japanese Shinigami, Ren has been collecting the souls of the dead for centuries in London, until one day, when she is forced to leave. With nowhere else to go, Ren flees to Japan with the help of her brother to become a Shinigami and serve the Goddess of Death in the Japanese underworld. Ren is not welcomed immediately, though. The Goddess presents her with an impossible task: Kill three Yokai demons. If Ren is successful, she can stay and finally become a true Shinigami. If she fails, it could mean leaving Japan forever—or worse, death.
The Keeper of Night is wonderfully written and I couldn't stop turning the pages, eager to discover Ren's fate. I loved exploring the Japanese underworld with Ren as she encountered demons, each scarier than the last. But this story is more than just a magical quest—it's also about trying to find your place in the world and discovering how far you're willing to go in order to fit in. With rich world-building and thoughtful characters, The Keeper of Night will stay with you long after you've finished reading it.
Synopsis
Death is her destiny.
Half British Reaper, half Japanese Shinigami, Ren Scarborough has been collecting souls in the London streets for centuries. Expected to obey the harsh hierarchy of the Reapers who despise her, Ren conceals her emotions and avoids her tormentors as best she can.
When her failure to control her Shinigami abilities drives Ren out of London, she flees to Japan to seek the acceptance she's never gotten from her fellow Reapers. Accompanied by her younger brother, the only being on earth to care for her, Ren enters the Japanese underworld to serve the Goddess of Death… only to learn that here, too, she must prove herself worthy. Determined to earn respect, Ren accepts an impossible task—find and eliminate three dangerous Yokai demons—and learns how far she'll go to claim her place at Death's side.
Preview
Get an early look from the first pages of The Keeper of Night.
Member thoughts
Memphis, TN

I haven't read a young adult fantasy literally since the Twilight series came out… BUT LET ME TELL YOU, THIS BOOK ROCKED! So much thought went into crafting the universe and I loved every second of it

Riverside, CA

This book is amazing, even if it broke my heart the whole way through. I could not read it fast enough, I had to go back because my eyes were going faster than I could read. I must find book 2 now ????

Missouri City, TX

Ren's journey from England to Japan is only part of the journey you go through in this book. You have underworld deities and people who use Ren for their own needs. I can't wait to see next book.

Weatherly, PA

Ren was something else. I loved that Neven knew something was up, and kept trying to tell Ren even though she wouldn't listen. This was a wonderful debut novel and I look forward to more from Ms Baker

PORT ORANGE, FL

As someone with both a background in English and Japanese myself, I found Ren to be a refreshingly relatable character. The sublimely beautiful imagery and accurate mythology of this book were lovely.

Virginia Beach, VA

This dark, twisted tale of monsters had me invested from the beginning. Our heroine is a grey character, and this story is both her rise and downfall. Expect gory imagery and immoral decision-making.

Alexandria, VA

This was a fantastic meshing of cultures and loved the Japanese Death lore told in this one. I loved the fact that there wasn't necessarily a happy ending, which is kinda perfect for a death story.

Ocean Springs, MS

I loved all of the Japanese folklore in the book! The yokai depicted in this book were so interesting and made for some exciting chapters! Ren's character and story were great! Cant wait for book 2!

Port Lavaca, TX

This book was just so everything. Full of darkness, love, just trying to belong. Creepy underworlds. It was pure imagination that I never thought existed. Super interesting read. 100% recommend!

Sacramento, CA

This book would make a fantastic mini series or movie. The visuals were a delight as my mind kept imaging Ren's journey and encounters with various beings of Death. Can't wait to read part 2!

San Francisco, CA

I can't wait for the next book. This story captures me immediately with the details of being a Reaper and held on to my attention as we learned about the journey and the character development.

Preston, MD

This has been one of my favorite books EVER. It was exciting, powerful, and shocking. I could relate to all the mixed emotions and was so surprised at the end. I can't wait for the 2nd book!

Lake Charles , LA

I finished it in a week! The story line was interesting, and I loved that the main character wasn't forced to "come to the light" and continued to have her flaws through to the end.

Lehighton , PA

Love love loved. Beautifully written, dark and unique - this is one of my favorite reads all year. The incorporation of Japanese mythology/folklore was perfect. Loved. Read it. Seriously.

Mt. Prospect, IL

HOW IS THIS A DEBUT?! World Building. Characters. Dialogue. Demons. Vivid Imagery. ALL OF IT IS UNMATCHED. one of my all time favorite fantasies for sure. sooo glad it's a series!

Wallingford, CT

Thrilled that there is going to be more to Ren's story. She is an anti-hero throughout most of the story. She's volatile and horrible but somehow I was rooting for her to win.

Nanuet, NY

Mixed mythology is one of my favorite sub genres, and Baker nails it beautifully. You'll ache for Ren and everything she can't have and will lose. I cannot wait to read more.

Dublin, OH

This was such a unique fantasy. I was also impressed that the author was not afraid to take her story and characters to extremely dark places, both physically and emotionally.

CHANDLER, AZ

My absolute favorite botm I've read this year! ❤ Brilliant story and world building. I felt connected to all of the characters with thier flaws and all. Highly recommend!

Sarasota , FL

I have been a member for years and this was by far my absolute most favorite one and I'm so excited that she's going to come out with a sequel and I can't wait!