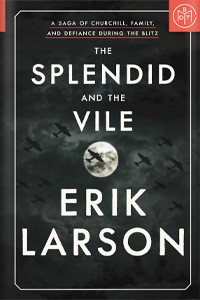 History
The Splendid and the Vile
Quick take
A meticulous deep dive into the incredible moves (and quirky moods) of Britain's top player during the Blitz.
Good to know
400+ pages

Famous author

Slow build

Academic
FYI
This is a doorstopper with a lot of detail about Winston Churchill's government. History enthusiasts encouraged ;)
Why I love it
Jennifer Morrison
Actress, This Is Us
"Never in the field of human conflict has so much been owed by so many to so few." —Winston Churchill
I lean toward fiction in my reading taste, but The Splendid and the Vile, Erik Larson's captivating and inspiring story about the twists and turns of Winston Churchill's first year as Prime Minister in 1940, grabbed me from page one. The tactics that Churchill employed truly changed the course of history. He spoke with total authority of "the essential human freedoms: speech, worship, and freedoms from want and fear." The leadership and courage that Churchill displayed in this year of his life was inspiring. His diplomatic and eloquent letters to President Roosevelt encouraging American support were incredibly insightful and proved to be the right course of action to protect the world from Hitler. He was bold enough to counterattack Berlin and not wait for the war to ravage his home. He invited the English to find their courage with one awe-inspiring speech after another.
Reading this book, you feel the rush and desperation for human connection during war time. You feel the internal pressures and struggles that Churchill and his trusted advisors faced. You feel the courage and the leadership that it took to lead a country to stop a force of evil that threatened the whole world. Never before have I realized how critical the British resistance to Nazi Germany was to protecting the entire world from Hitler's domination. As if history could be altered, my heart raced hoping that Hitler would change his mind and decide not to bomb London. The detailed diaries of Churchill family members and of Londoners at the time fill the book with seductive details.
I emerged from the book not only inspired by Winston Churchill and the way he protected the world, but also as a fascinated fan of his daughter, Mary Churchill, who deserves a book of her own. She turned 18 during the first year of the war, partied with friends despite the air raids, and fell in love for the first time. All this while her heart breaks watching her father carry the weight of the world on his shoulders. Through her journals, we get insights into her father that are far more personal and humanizing than history typically lets on.
We also meet the men who surrounded him at the time. When we look back on history, it is easy to forget that the men making these decisions were in fact human. For example, Churchill's most trusted advisor and confident Lord Beaverbrook tried to retire from his post of overseeing the construction of bombers over and over again, and Churchill would time and time again have to talk him back into an unbearably stressful position. Churchill's own son was a womanizer and chronic gambler that made enemies easily. There were family struggles to manage even within the horrors of the war.
My heart raced as I journeyed through Erik Larson's expertly researched pages of The Splendid and the Vile and my heart melted as I experienced the courage of the soldiers, the civilians, and Mary Churchill as she came of age watching her father become a heroic leader. As Larson's story comes to an end, it seems almost impossible that it is all in fact true. If it were fiction, I would say it was too convenient: "Against all odds, Britain stood firm, its citizens more emboldened than cowed. Somehow through it all, Churchill had managed to teach the art of being fearless."
When Churchill was told that the best thing he had done was give people courage, his response was "I never gave them courage. I was able to focus theirs." The Splendid and the Vile is a beautiful reminder of what true leadership looks like, and the grace that humanity finds even in times of horrible crisis.
Synopsis
On Winston Churchill's first day as prime minister, Adolf Hitler invaded Holland and Belgium. Poland and Czechoslovakia had already fallen, and the Dunkirk evacuation was just two weeks away. For the next twelve months, Hitler would wage a relentless bombing campaign, killing 45,000 Britons. It was up to Churchill to hold his country together and persuade President Franklin Roosevelt that Britain was a worthy ally—and willing to fight to the end.
In The Splendid and the Vile, Erik Larson shows, in cinematic detail, how Churchill taught the British people "the art of being fearless." It is a story of political brinkmanship, but it's also an intimate domestic drama, set against the backdrop of Churchill's prime-ministerial country home, Chequers; his wartime retreat, Ditchley, where he and his entourage go when the moon is brightest and the bombing threat is highest; and of course 10 Downing Street in London. Drawing on diaries, original archival documents, and once-secret intelligence reports—some released only recently—Larson provides a new lens on London's darkest year through the day-to-day experience of Churchill and his family: his wife, Clementine; their youngest daughter, Mary, who chafes against her parents' wartime protectiveness; their son, Randolph, and his beautiful, unhappy wife, Pamela; Pamela's illicit lover, a dashing American emissary; and the advisers in Churchill's "Secret Circle," to whom he turns in the hardest moments.
Preview
Get an early look from the first pages of The Splendid and the Vile.