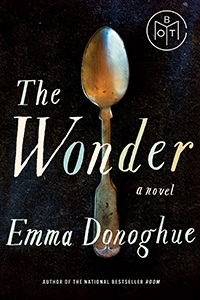 Historical fiction
The Wonder
Quick take
At the heart of the novel is the question of faith... The kind of faith that allows you to take that ultimate leap into the future with no guarantee of where you might land.
Why I love it
Nina Sankovitch
Bestselling Author
Set in the midlands of Ireland in the late 1800s, Emma Donoghue's new novel is worlds away from her bestseller Room but just as perfect in capturing events that escalate, slowly and surely, to a heart-thumping crisis. And once again, Donoghue has created two heroines, a child and an adult, who must overcome terrible barriers—this time set by rules of society and of religion—to find their way home. I mean home in a figurative sense, as a place where safety and peace are offered, and where faith and reliance are rewarded. At the heart of the novel The Wonder is the question of faith—religious faith, faith in community, but most importantly, faith in self. The kind of faith that allows you to take that ultimate leap into the future with no guarantee of where you might land.
Lib Wright is a Florence Nightingale-trained nurse arrived back from the blood-soaked fields of the Crimea when she is hired to oversee a private patient. The commission is vague but well paid and Lib does not hesitate before taking on the new job. I had the feeling there was more to Lib's eagerness to travel away from London than just a paycheck—and I was right. When Lib arrives in the rural backwater, she finds a village in awe of a young girl —the wonder—who turns out to be Lib's patient. Can the girl, who reportedly hasn't required food for months, perform miracles?
The book had me rooting for miracles but not of the religious sort. When Lib understands that the secrets she has carried to Ireland parallel the secrets harbored by just about everybody in the small village, the strength—and the faith—that she has to summon to protect both herself and her patient will change her life, and the lives of all the villagers, forever.
Take the leap, and read this wonder of a book.
Member thoughts
Charlottesville , VA

From start to finish this book was intriguing. It's set in a different country and time,beautifully described by the author. I immediately was immersed in the story and was satisfied at the end. Loved

I must admit I didn't like Lib's skepticism about everyone's motives all the time. Her questions got on my nerves after a while. That said I still LOVED how the book ended. I've always loved Donoghue!

Fairfield, CT

Lib's goal to foil the O'Donnell's plot to hoodwink the town turns into a fight to save Anna at all costs. Her transformation is subtle and stunning, as she realizes how Anna truly needs to be saved.

Panama City, FL

Another wonderful novel by Emma Donoghue! I will read everything this author writes. She is simply a genius with words and knows how to pull the reader into the story! I could not put this book down.

Really liked the writing and the perspective of this one.Post-famine Ireland in the 1800's is not a genre that I've dabbled in before.Some may think it's slow moving, but I think the ending is worthit

While the story line is a little slow, you will love the detail in this book if you enjoy historical fiction. Emma Donoghue paints a picture of what it was like to live in this time period. Loved it!

Lucas , TX

Loved it. Intriguing, mysterious, damp...haha! I love a dreary setting. That coupled with the strong characters and emotional topics made for an excellent book. I could see myself reading this again.

As a nurse, I related all too well with Lib. This book took me by surprise, and wasn't at all what I thought it would be. It twisted, and turned, and in the end left me satisfied. Horribly wonderful.

As a victim of childhood incest this truly left an impact on me. Well- defined characters give it real strength. Another glaring example of the psychological damage caused by childhood sexual abuse.

Omro, WI

I wasn't sure if this was a case of biased narrator, or how exactly it would all turn out. As a catholic and a Student Nurse, I was captivated by all facets of this story. This is another gift book.

Reston, VA

This is part of the magic of BOTM, finding books I love that I would not have taken the chance on without that extra push. The story was captivating throughout, but the ending was everything for me!

Los Angeles, CA

I had been wanting to read this for a while, since I saw a recommendation in Time magazine so when I saw it in BOTM i was ecstatic. It definitely live up to the hype and I always love a clear ending

Pluses for me in this story? Anna and Lib. Their relationship and growth in the story was very real and good to "watch". The awkward story-line twists were hard to read (content wise) but well done

Tulsa, OK

I loved this book completely. BUT I can easily see why it won't be for everyone - in truth, plot moves a bit slow - but I was totally engrossed in the atmosphere. Emotional and a bit disturbing.

This book made me think and evaluate so many big questions regarding life, worth, religion, and honesty. It made me feel for all the characters, even when I wanted to hate them for what they doing.

Los Angeles, CA

Donoghue dove into the mysterious, cult culture of fundamentalist belief and kept me intrigued throughout- I wasn't quite sure if each character was innocent or guilty until the end. A great read!

Austin, TX

This book had me guessing until the end. It was also heartbreaking what this poor girl was going through. The author did a masterful job of character development and I fell in love with the story.

Loved the writing style! This book does a good job bringing to light the dangers of fanatical religions. It keeps you guessing until the end, although I will say the ending was a BIT too neat.

Seriously so good! The questions & battle between science & faith fill you with a sense of wonder (pun intended), of what makes this young girl so spectacular. It grips you from start to finish.

Loved everything about this! The slowly unfolding pace of the story, the mystery at the center, the time period, the religious commentary, it was just magical to me. One of my favorites all year.