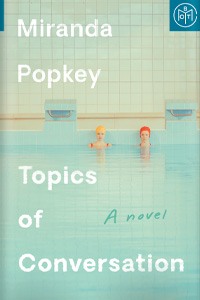 Literary fiction
Topics of Conversation
Debut
We love supporting debut authors. Congrats, Miranda Popkey, on your first book!
Quick take
Dive into snapshots of a woman's most intimate thoughts as she tries to make sense of the relationships in her life.
Good to know
Psychological

Female friendships

Cerebral

Salacious
FYI
This is a very short book that is more about ideas and less about plot.
Why I love it
Cristina Arreola
BOTM Judge
Topics of Conversation is my worst nightmare come true: a book in which my darkest, most shameful, most secret thoughts are laid bare on the page. The title of this brisk, slim novel hints at its atypical structure—in lieu of a conventional plot, this novel takes us through twenty disparate years of the unnamed narrator's life.
Each chapter of this debut is a different conversation taking place during the unnamed narrator's life, from college years to newlywed status to motherhood. These conversations, primarily with other women, are usually unrelated to one other, but all are about sex, fear, motherhood, power, and disgust. It is a feast of intimacies that I gulped up greedily.
This is a provocative novel that pulses with curiosity, and it flows like actual conversations—moving from the mundane to the profane to the profound all within a few sentences. As the narrator tells us in the very first chapter, "I am never more covetous than when someone tells me a story, a secret…" As you race through this novel, you'll understand exactly what she means. You might feel a little uncomfortable, like you're overhearing a conversation that has become far too vulnerable. But you won't turn away.
Synopsis
Miranda Popkey's first novel is about desire, disgust, motherhood, loneliness, art, pain, feminism, anger, envy, guilt—written in language that sizzles with intelligence and eroticism. The novel is composed almost exclusively of conversations between women—the stories they tell each other, and the stories they tell themselves, about shame and love, infidelity and self-sabotage—and careens through twenty years in the life of an unnamed narrator hungry for experience and bent on upending her life. Edgy, wry, shot through with rage and despair, Topics of Conversation introduces an audacious and immensely gifted new novelist.
Preview
Get an early look from the first pages of Topics of Conversation.