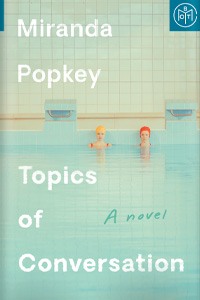 Literary fiction
Topics of Conversation
Debut
We love supporting debut authors. Congrats, Miranda Popkey, on your first book!
Quick take
Dive into snapshots of a woman's most intimate thoughts as she tries to make sense of the relationships in her life.
Good to know
Psychological

Female friendships

Cerebral

Salacious
FYI
This is a very short book that is more about ideas and less about plot.
Why I love it
Cristina Arreola
BOTM Judge
Topics of Conversation is my worst nightmare come true: a book in which my darkest, most shameful, most secret thoughts are laid bare on the page. The title of this brisk, slim novel hints at its atypical structure—in lieu of a conventional plot, this novel takes us through twenty disparate years of the unnamed narrator's life.
Each chapter of this debut is a different conversation taking place during the unnamed narrator's life, from college years to newlywed status to motherhood. These conversations, primarily with other women, are usually unrelated to one other, but all are about sex, fear, motherhood, power, and disgust. It is a feast of intimacies that I gulped up greedily.
This is a provocative novel that pulses with curiosity, and it flows like actual conversations—moving from the mundane to the profane to the profound all within a few sentences. As the narrator tells us in the very first chapter, "I am never more covetous than when someone tells me a story, a secret…" As you race through this novel, you'll understand exactly what she means. You might feel a little uncomfortable, like you're overhearing a conversation that has become far too vulnerable. But you won't turn away.
Synopsis
Miranda Popkey's first novel is about desire, disgust, motherhood, loneliness, art, pain, feminism, anger, envy, guilt—written in language that sizzles with intelligence and eroticism. The novel is composed almost exclusively of conversations between women—the stories they tell each other, and the stories they tell themselves, about shame and love, infidelity and self-sabotage—and careens through twenty years in the life of an unnamed narrator hungry for experience and bent on upending her life. Edgy, wry, shot through with rage and despair, Topics of Conversation introduces an audacious and immensely gifted new novelist.
Preview
Get an early look from the first pages of Topics of Conversation.
Member thoughts
Youngwood, PA

Expertly experimental. It's a stream of the narrator's thoughts, meant to be a conversation with the reader. It's a great message the narrator is sending without saying—it makes readers do the work.

Was smitten with the dark and honest portrayal of self-indulgent thought and the highly intelligent prose, effusive and confessionary like having unfettered access to (wo)mankind's deepest skeletons.

Roeland Park, KS

Such a poignant and unsettling story. The narrator is unreliable and unlikable, but I found myself identifying with her anyway. She's saying things I've only ever thought, but never dared to speak.

Virginia Beach , VA

Definitely a love it or hate it book. The main character isn't likable, but that's not the intent. It gives insight of different types of conversations a woman has with others. It's raw and real.

Norman, OK

Alternate title:The Big Book of Unseemly Longings—threaded throughout with themes of effort and of want and of having to choose, there were more passages of uncomfortable recognition than I wanted ;)

Sardinia, NY

I haven't read a book like this since my early 20s-the last one was probably some trumped up book for a lit class- but this one, was magic. There was power, and fear mixed with mistakes and triumphs.

Pittsburg, KS

It's pretty much in stream of conscience so that makes it a bit more challenging to read. Also the characters aren't super likeable...like at all. But I really liked the look into the women's thoughts

Key Largo, FL

Not for everyone, but I adored it. Magnetic, honest, raw. There is an underlying current of desire running through every sentence. Highly recomend if you are interested in books about unlikable women.

Brooklyn, NY

Popkey takes what is essentially short stories and combines into a beautiful narrative of growth, pain, and crisis. The narrator isn't lovable for any other reason then reflecting us at our most human

Yukon, OK

I chose this on a whim and I was not disappointed! The way Popkey talks about motherhood, feminism, and loneliness (among other things) is just one reason I kept reading. I couldn't put the book down!

Definitely one of the most unique books I've read. Probably not for everyone, but I found the writing so poignant and beautiful; it made you feel like you were living through these women's experiences

Popkey's narrator isn't likable but is honest in her flaws. This book highlights the strife of womanhood, pulling back the shade on moments often left unseen and unspoken of. Hard read, but worth it.

Grand Rapids , MI

Not often am I so absorbed into a book that I read it in one sitting, cover to cover, but Topics of Conversation achieved just that. I couldn't put it down & inhaled the words, absolutely loved it.

While difficult to get into, once it clicked - it was impossible to put down. And that last sentence, wow! Completely gut wrenching, raw & unique. Well done, Popkey. Looking forward to what's next.

Olympia, WA

I loved this book. My first 5-star read of the year. This book is about female identity and desire and power dynamics. The writing is natural and I strongly recommend this debut about self-discovery.

Jacksonville, FL

I actually really loved this book. I think if you line experimental and Ottessa Moshfegh then you'll enjoy it. It's weird & you'll hate every character, but it says something about our darker sides.

This is a wonderful stream-of-conciousness style novel with so much said & unsaid. I found myself revisiting sections of this book obsorbing all I could from the heartbreaking, anger-filled passages.

Brooklyn, NY

Although I wasn't a fan of the style of the writing, I loved this book. It is a book about stories: women's stories. The kind that we all instinctually know and recognize but don't always talk about.

Queens, NY

The writing style is a bit odd, the narrator is unlikable, and it's a little pretentious. Yet, I couldn't stop thinking about this book! I personally enjoyed this, but it is a hard one to recommend.

Oberlin, OH

For a woman talking about everything that's wrong with her - and everything she forces to go wrong - the narrator is incredibly sympathetic, and raises good points about the world modern women face.