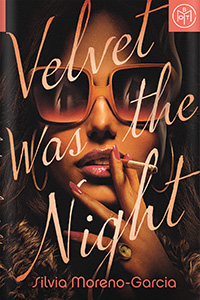 Historical fiction
Velvet Was the Night
Quick take
A woman pursues her missing neighbor and discovers a seedy underworld in this noir set in 1970s Mexico City.
Good to know
Slow build

Movieish

Whodunit

70s
Why I love it
Velvet Was the Night is like a Russian nesting doll. The intricacies of the human heart, political unrest, sensuality, and identity exist inside each other and are revealed layer by layer in this visceral, provocative novel.
The book follows Maite, a secretary whose quiet life is upended when her mysterious neighbor, Lenora, goes missing. As Maite sets out to find the missing woman, her investigation draws her into the student activism scene of 1970s Mexico. Soon she encounters Elvis, a lonely, regretful criminal who shares her wounded heart and love of rock 'n' roll. As the pair come closer and closer to finding Leonora—and with killers and spies nipping at their heels—they uncover secrets more dangerous than they could have imagined.
Silvia Moreno-Garcia is a writer who has an infallible ear for dialogue and an artist's eye for atmosphere that envelopes the reader page after page. Set against the backdrop of a volatile Mexico City circa 1971, this noir novel of lonely people, each with their own desires, is not to be missed!
Synopsis
1970s, Mexico City. Maite is a secretary who lives for one thing: the latest issue of Secret Romance. While student protests and political unrest consume the city, Maite escapes into stories of passion and danger.
Her next-door neighbor, Leonora, a beautiful art student, seems to live a life of intrigue and romance that Maite envies. When Leonora disappears under suspicious circumstances, Maite finds herself searching for the missing woman—and journeying deeper into Leonora's secret life of student radicals and dissidents.
Meanwhile, someone else is also looking for Leonora at the behest of his boss, a shadowy figure who commands goon squads dedicated to squashing political activists. Elvis is an eccentric criminal who longs to escape his own life: He loathes violence and loves old movies and rock 'n' roll. But as Elvis searches for the missing woman, he watches Maite from a distance—and comes to regard her as a kindred spirit who shares his love of music and the unspoken loneliness of his heart.
Now as Maite and Elvis come closer to discovering the truth behind Leonora's disappearance, they can no longer escape the danger that threatens to consume their lives, with hitmen, government agents, and Russian spies all aiming to protect Leonora's secrets—at gunpoint.
Velvet Was the Night is an edgy, simmering historical novel for lovers of smoky noirs and anti-heroes.
Preview
Get an early look from the first pages of Velvet Was the Night.