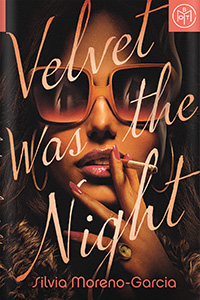 Historical fiction
Velvet Was the Night
Quick take
A woman pursues her missing neighbor and discovers a seedy underworld in this noir set in 1970s Mexico City.
Good to know
Slow build

Movieish

Whodunit

70s
Why I love it
Velvet Was the Night is like a Russian nesting doll. The intricacies of the human heart, political unrest, sensuality, and identity exist inside each other and are revealed layer by layer in this visceral, provocative novel.
The book follows Maite, a secretary whose quiet life is upended when her mysterious neighbor, Lenora, goes missing. As Maite sets out to find the missing woman, her investigation draws her into the student activism scene of 1970s Mexico. Soon she encounters Elvis, a lonely, regretful criminal who shares her wounded heart and love of rock 'n' roll. As the pair come closer and closer to finding Leonora—and with killers and spies nipping at their heels—they uncover secrets more dangerous than they could have imagined.
Silvia Moreno-Garcia is a writer who has an infallible ear for dialogue and an artist's eye for atmosphere that envelopes the reader page after page. Set against the backdrop of a volatile Mexico City circa 1971, this noir novel of lonely people, each with their own desires, is not to be missed!
Synopsis
1970s, Mexico City. Maite is a secretary who lives for one thing: the latest issue of Secret Romance. While student protests and political unrest consume the city, Maite escapes into stories of passion and danger.
Her next-door neighbor, Leonora, a beautiful art student, seems to live a life of intrigue and romance that Maite envies. When Leonora disappears under suspicious circumstances, Maite finds herself searching for the missing woman—and journeying deeper into Leonora's secret life of student radicals and dissidents.
Meanwhile, someone else is also looking for Leonora at the behest of his boss, a shadowy figure who commands goon squads dedicated to squashing political activists. Elvis is an eccentric criminal who longs to escape his own life: He loathes violence and loves old movies and rock 'n' roll. But as Elvis searches for the missing woman, he watches Maite from a distance—and comes to regard her as a kindred spirit who shares his love of music and the unspoken loneliness of his heart.
Now as Maite and Elvis come closer to discovering the truth behind Leonora's disappearance, they can no longer escape the danger that threatens to consume their lives, with hitmen, government agents, and Russian spies all aiming to protect Leonora's secrets—at gunpoint.
Velvet Was the Night is an edgy, simmering historical novel for lovers of smoky noirs and anti-heroes.
Preview
Get an early look from the first pages of Velvet Was the Night.
Member thoughts
Paterson , NJ

Moreno-Garcia knows how to transform her writing into different genres. This was a very well written '70s noir that also taught me about Mexican history. Her use of the Macguffin was perfectly noir.

Salt Lake City, UT

So many aspects make this a compelling read. Mexico in the 70s? Noir? Anti-heroes? Pulled me along just as much as Mexican Gothic, with better writing. What a fun read! Pulpy, dark, and unexpected.

Fort Wayne, IN

A darkly romantic noir set in 1970s Mexico. Moreno-Garcia's exceptional character building, infallible dialogue and visceral atmosphere make for a sensational mystery. Don't sleep on this one!

Woodland , WA

Moreno-Garcia did it AGAIN. This book is beautiful, suspenseful, and real. The details to every day life and complex, flawed characters make it even better. I can't wait for her next book!

Ridgecrest, CA

It's a slow build, like all her books, but so worth reading it. She gives you the right amounts of plot twists and character development through the entire book. Silvia is a genius.

Byron, GA

It's the characters and the setting that I always find extraordinary about her books. The plot is fine, but the rest is unforgettable. Maite is a character that sticks with you.

West Des Moines, IA

This was great. Initially, Maite was a detractor to the story for me, but the more I sat with it, the more I realized she was actually a damn good fit for the style.

Duarte, CA

I thought it was so retro cool. As usual Silvia Moreno-Garcia has hooked me into her delectable world. The character building and sensational mystery was awesome!

Springfield, MO

Rich writing, horrific history, and an action packed ending! This was definitely a slow burn and I almost had to put it down, but once it picked up, I was hooked!

Oak Park , IL

really fun and interesting time period to learn about. This could have been messy but I found it easy to track all the characters and how they were related etc.

Twisty noir, with unlikable characters and a fascinating historical setting, lots of violence, and an undercurrent of music. I couldn't put this down.

This book is soooo good!! I love the history backdrop of it, but just the prose and the complex characters suck you in and leave you wanting more!

Jefferson, GA

This was such an interesting book. It seems simple but I was not expecting the twists. I was captivated by the setting and the characters.

San Diego, CA

I just love her writing. This is another intriguing novel with original characters set during a volatile time period.

Budd Lake, NJ

Lucious, vivid old-school noir. It's like a boa constrictor, slowly tightening and leading to a breathless finale

New York, NY

Loved the setting. It has interesting characters and wondering how their stories will eventually overlap.

Lewisville, TX

What a great read! I literally couldn't put it down. My new favorite book by Silvia Moreno-Garcia!

Burdett, NY

A lonely woman gets unwittingly pulled into an underworld adventure in this fabulous neo-noir!

Thornton , CO

I will read anything Silvia Moreno Garcia writes. My first dip into noir did not disappoint.

Pemberville, OH

I love the plot and the setting so so so much! Noir at its finest. Hooked the whole time!