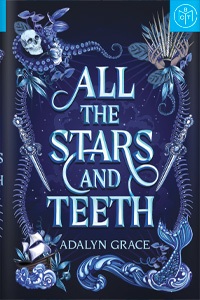 Young adult
All the Stars and Teeth
Debut
We love supporting debut authors. Congrats, Adalyn Grace on your first novel!
Quick take
Dive in to bloody battles as a mermaid and pirate make an unlikely pact to steal some magic and regain a kingdom. Nbd.
Good to know
Fast read

Action-packed

First in series

Quest
Why I love it
I'm one of those people who never knows how to describe what kind of music I like because the answer is: basically a little bit of everything. So it's no surprise that I loved the warring elements at play in All the Stars and Teeth—the glam and glitter, the gore and grit, a heroine who embraces both in the same breath without apology. All this and more came together in a multifaceted, refreshingly...
Synopsis
As princess of the island kingdom Visidia, Amora Montara has spent her entire life training to be High Animancer—the master of souls. The rest of the realm can choose their magic, but for Amora, it's never been a choice. To secure her place as heir to the throne, she must prove her mastery of the monarchy's dangerous soul magic.
When her demonstration goes awry, Amora is forced to flee. She strik...
Preview
Check out a preview of All the Stars and Teeth.
Read a sample →
See the goods.
All you need to do is create your account.