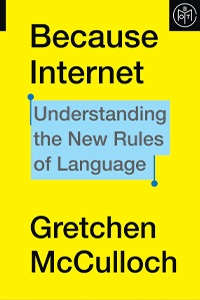 Linguistics
Because Internet
Debut
We love supporting debut authors. Congrats, Gretchen McCulloch on your first novel!
Quick take
Essential reading for any child of the internet era.
Why it's worth it
If you've ever rolled your eyes at your dad's misuse of "tbt" or wondered if your boss was being passive aggressive with her punctuation (again), you need to read Because Internet. Gretchen McCullough's smart, chatty survey of the linguistic revolution sparked by living our lives increasingly online will have you thinking "I do say that!" more times than you can count.
Part history of language, p...
Overview
Language is humanity's most spectacular open-source project, and the internet is making our language change faster and in more interesting ways than ever before. Internet conversations are structured by the shape of our apps and platforms, from the grammar of status updates to the protocols of comments and @replies. Linguistically inventive online communities spread new slang and jargon with dizzy...
Preview
Get an early look from the first pages of Because Internet.
Read a sample →
See the goods.
All you need to do is create your account.