Behind the June Selections
Background on this month's five titles
Book of the Month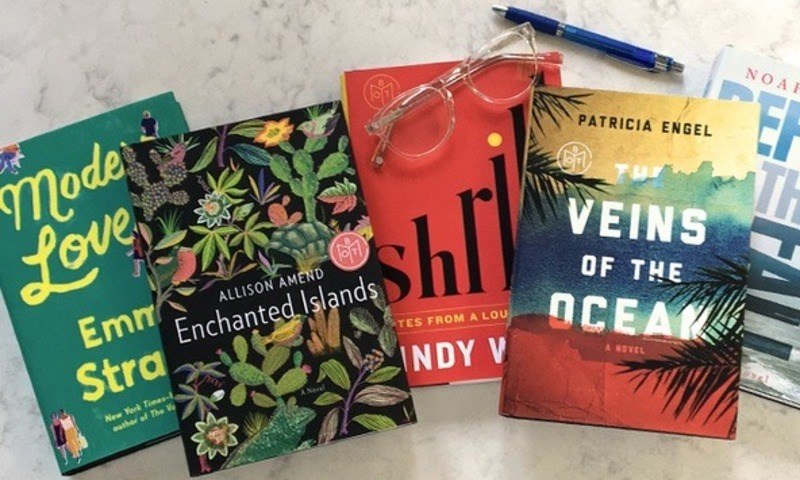 With a three-day weekend just fading from our rearview mirrors and the long summer days filled with sunscreen and mosquitos stretching out before us, making new friends might be the last thing on your mind. After all, our weekends are already jam packed with weddings or baseball practices or yard work, right? Let Book of the Month help you cultivate some new buddies with our five June selections.
Guest Judge Roxane Gay is my new favorite best friend (she may or may not know she's my best friend yet) and the very best friends are the ones that give you great book recommendations. Her pick this month has the perfect blend of atmosphere and emotion. The Veins of the Ocean is a deeply powerful exploration of family, guilt and redemption, in the vibrant coastal setting of the Florida Keys and Cuba. Plus author Patricia Engel's description of the lush environment will transport you straight to the Atlantic beaches.
Enchanted Islands takes us farther south, to the Galapagos Islands, with Frances Conway, whose story of adventure and espionage in the uncharted wilds will be one of your favorites of the summer. It's hard not to love a salty old woman who also might be a spy, but Frances is definitely a friend I want to go exploring with. Pretend that her fictional account is coming via postcard from the Galapagos and your summer wanderlust (by proxy) will be sated too.
Closer to home, the friends in Emma Straub's Modern Lovers might be the kind you secretly gossip about during book club night over glasses of sangria. But they're also the familiar kind of friends we all have - and love to speculate over - while still hoping they get their lives figured out once and for all. Set in Brooklyn at the start of summer, the story of old friends, combative spouses and teenagers falling in love is the perfect summer read, with its tongue-in-cheek, on-the-nose execution.
My other new best friend this month (aside from Roxane, obviously) is none other than Lindy West, who has already written her way into the hearts (and comment threads) of the Internet. In this hilarious memoir (even Lena Dunham says so!), her essays have titles like 'œYou're So Brave for Wearing Clothes and Not Hating Yourself!' and 'œWhy Fat Lady So Mean to Baby Men?' I mean, how could you not want to be friends with Lindy? Whether you know already her or not, you'll be smitten in the end.
Lastly, everyone's best bookish friend, Judge Liberty Hardy has very explicit instructions for her selection this month, Before the Fall: do NOT read this on a plane! Not to worry, Liberty only has your best interests at heart with a plane crash mystery, with two survivors and lots of intrigue. It's a book perfect for those summer weekends when you need to feel better about the fact that you're not going anywhere fun. Or if you're getting there by car.
See? BOTM is here to help with your #squadgoals. Five great summer friends, and you don't even have to engage in awkward small talk. You're welcome.