"Dork Shivers" with Guest Judge Ellie Kemper
10 questions with the unbreakable, "unadulterated dork"
Book of the Month, Ellie Kemper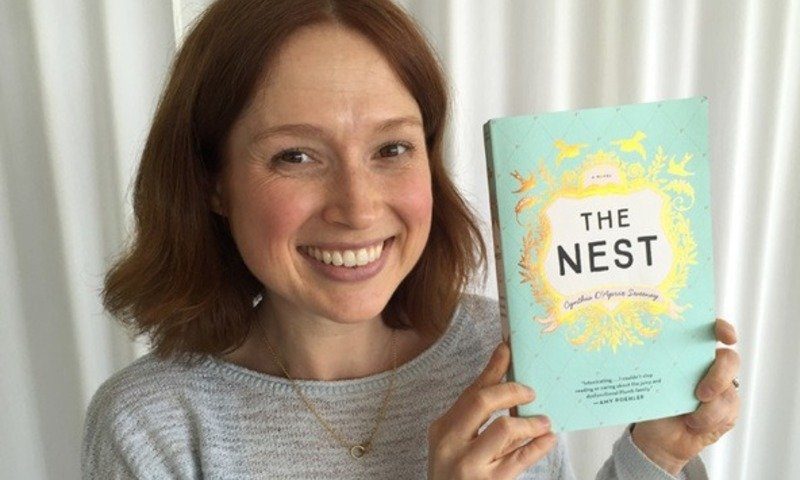 Ellie Kemper is a dream Guest Judge. She's an avid reader and lover of literature, having studied English at Princeton and Oxford. She has great book recommendations, including her April selection, 'The Nest,' which was written by her friend Cynthia D'Aprix Sweeney. And, in case you didn't know, she happens to be very funny. While you anticipate Ellie's return as Kimmy on season two of Netflix's 'Unbreakable Kimmy Schmidt,' learn more about the actress below, including proper usage of the term, the ""dork shivers."" "
The characters that you're most famous for - Erin Hannon in The Office, Becca in Bridesmaids, and Kimmy in Unbreakable Kimmy Schmidt, are all endearing, quirky characters. Some might even say dorky. Would you describe yourself as quirky, nerdy, or dorky?
My sister and I have a term called "Dork Shivers," which is what happens to you when you witness something so aggressively dorky that you involuntarily shudder to yourself. I have given myself Dork Shivers so many times that I would be an outright liar if I characterized myself as anything other than a pure, utter, and unadulterated DORK.
Where did you sit in class when you were at Princeton and Oxford - at the front of the class, middle, or at the back of the class?
Definitely the back of the class, because I was always late.
As someone with a Masters in English, which Brontë sister is your favorite?
Charlotte! Is there any greater story than Jane Eyre?
Preferred font - Helvetica or Arial?
No preference there.
Many of our members describe themselves as people who "nerd out" over books. What do you "nerd out" to?
David Letterman. I cannot be cool when talking about anything related to David Letterman.
Favorite quirky actress - Zooey Deschanel, Rashida Jones, or Aubrey Plaza?
All of those actresses are extraordinarily funny and smart '" I cannot choose just one!
Is this the age of the Nerd?
Yes, I don't know anyone who would consider "nerd" an insult at this point.
What's the "nerdiest" thing you've ever done?
Quote the movie Contact on my college application essays: "They should have sent a poet." Why?
Favorite nerdy childhood memento - floppy disk, trapper keeper, Where in the World is Carmen Sandiego?
Trapper Keeper!
What was your first screen name / AOL IM Chat name?
DaisyBO. Yes, the "BO" stood for "Body Odor." Was that my sense of humor back then? I am dork shivering as I write this.