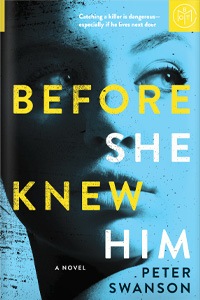 Thriller
Before She Knew Him
Quick take
The suburban neighbor's guide to dealing with the sociopath next door.
Good to know
Psychological

Multiple viewpoints

Scary

Marriage issues
Why I love it
Now that I've read Before She Knew Him, all I want to do is talk about it. Only I can't. Not because there isn't anything to say (there's plenty.) And not because the book is bad (it's so good.) I can't talk about it because I don't want to risk giving away a single one of its many surprises.
Here's what I can tell you: When Hen—short for Henrietta—and her husband, Lloyd, move into a ...
Synopsis
Hen and her husband Lloyd have settled into a quiet life in a new house outside of Boston, Massachusetts. Hen (short for Henrietta) is an illustrator and works out of a studio nearby, and has found the right meds to control her bipolar disorder. Finally, she's found some stability and peace.
But when they meet the neighbors next door, that calm begins to erode as she spots a familiar object displ...
Preview
Get an early look from the first pages of Before She Knew Him.
Read a sample →
See the goods.
All you need to do is create your account.