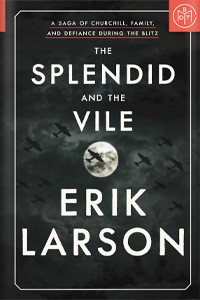 History
The Splendid and the Vile
Quick take
A meticulous deep dive into the incredible moves (and quirky moods) of Britain's top player during the Blitz.
Good to know
400+ pages

Famous author

Slow build

Academic
FYI
This is a doorstopper with a lot of detail about Winston Churchill's government. History enthusiasts encouraged ;)
Why I love it
"Never in the field of human conflict has so much been owed by so many to so few." —Winston Churchill
I lean toward fiction in my reading taste, but The Splendid and the Vile, Erik Larson's captivating and inspiring story about the twists and turns of Winston Churchill's first year as Prime Minister in 1940, grabbed me from page one. The tactics that Churchill employed truly changed the course o...
Synopsis
On Winston Churchill's first day as prime minister, Adolf Hitler invaded Holland and Belgium. Poland and Czechoslovakia had already fallen, and the Dunkirk evacuation was just two weeks away. For the next twelve months, Hitler would wage a relentless bombing campaign, killing 45,000 Britons. It was up to Churchill to hold his country together and persuade President Franklin Roosevelt that Britain ...
Preview
Get an early look from the first pages of The Splendid and the Vile.
Read a sample →
See the goods.
All you need to do is create your account.