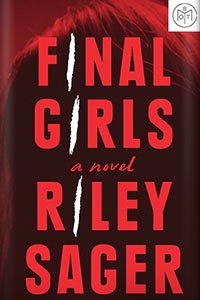 Mystery
Final Girls
Quick take
A slasher film, a mystery, and a survival story all rolled into one. Think Gone Girl meets American Horror Story.
Why I love it
Have you ever watched a horror movie and yelled, "Don't go in there!" at the screen? Do you flee at the first sign of trouble? Do you always trust your instincts? Then you too could be a Final Girl, a member of a very exclusive club in this epic, adrenaline-fueled thriller! "Final Girl" is the term the media gives to the sole survivors of horror movie-like mass killings. Quincy Carpenter is a F...
Synopsis
"The first great thriller of 2017 is almost here: Final Girls, by Riley Sager. If you liked Gone Girl, you'll like this."—Stephen King
Ten years ago, college student Quincy Carpenter went on vacation with five friends and came back alone, the only survivor of a horror movie-scale massacre. In an instant, she became a member of a club no one wants to belong to—a group of similar survivors know...
Preview
Read a sample →
See the goods.
All you need to do is create your account.