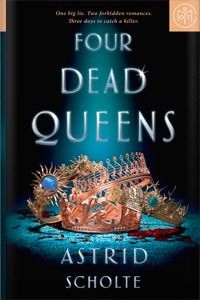 Young adult
Four Dead Queens
Debut
We love supporting debut authors. Congrats, Astrid Scholte on your first novel!
Quick take
Following the brutal murder of four queens, an accomplished pickpocket attempts to track down the culprit.
Good to know
400+ pages

Buzzy

Magical

Murder
Why I love it
When it comes to books, there is nothing better than unexpected plot twists, good intentions gone wrong, and characters who are both flawed and charismatic. Throw in a petty thief, a nation divided by values, and queens who are hiding gossip-worthy secrets, and I'm hooked.
After a reckless mistake leaves her father fighting for his life, heartbroken Keralie turns to crime, serving as a master thi...
Synopsis
Get in quick, get out quicker.
These are the words Keralie Corrington lives by as the preeminent dipper in the Concord, the central area uniting the four quadrants of Quadara. She steals under the guidance of her mentor Mackiel, who runs a black market selling their bounty to buyers desperate for what they can't get in their own quarter. For in the nation of Quadara, each quarter is strictly divi...
Sneak peek
Check out a preview of Four Dead Queens.
Read a sample →
See the goods.
All you need to do is create your account.