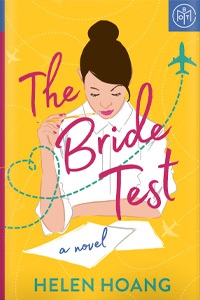 Romance
The Bride Test
Repeat Author
Helen Hoang is back at Book of the Month – other BOTMs include The Kiss Quotient.
Quick take
Liked The Kiss Quotient? This one's even better.
Good to know
Happy

Multiple viewpoints

Light read

Buzzy
Why I love it
Like so many others, I fell in love with Helen Hoang's writing while reading her first book, The Kiss Quotient, so I had high hopes for The Bride Test. Well, get excited, because Hoang has done it again! The Bride Test, like its predecessor, will make you blush, think, and smile again and again, as it proves just how complex, insightful, and current a romance novel can be.
Esme is an immigrant f...
Synopsis
Khai Diep has no feelings. Well, he feels irritation when people move his things or contentment when ledgers balance down to the penny, but not big, important emotions—like grief. And love. He thinks he's defective. His family knows better—that his autism means he just processes emotions differently. When he steadfastly avoids relationships, his mother takes matters into her own hands and returns ...
Preview
Get an early look from the first pages of The Bride Test.
Read a sample →
See the goods.
All you need to do is create your account.