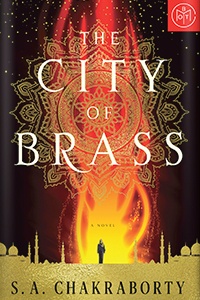 Fantasy
The City of Brass
Debut
We love supporting debut authors. Congrats, S.A. Chakraborty on your first novel!
Quick take
S.A. Chakraborty's richly detailed narrative and painstakingly imagined world building is the perfect escape from the real world, something we could all use these days.
Why I love it
Come along for a tale of magic, mystery, and adventure in this wildly enchanting debut! A dizzyingly exciting Middle Eastern-inspired novel, filled with mythology, treachery, and schemes around every corner, The City of Brass is a beautifully told fantasy book that is perfect for fans of cons and conjurers, demons, and desert worlds.
Nahri is a young con woman who knows all the tricks to stay...
Synopsis
Nahri has never believed in magic. Certainly, she has power; on the streets of eighteenth-century Cairo, she's a con woman of unsurpassed talent. But she knows better than anyone that the trades she uses to get by—palm readings, zars, and a mysterious gift for healing—are all tricks, both the means to the delightful end of swindling Ottoman nobles and a reliable way to survive.
But when Nahr...
Preview
Read a sample →
See the goods.
All you need to do is create your account.