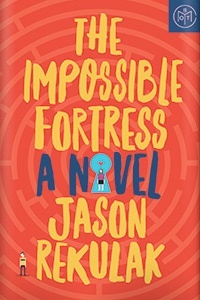 Sci-fi
The Impossible Fortress
Debut
We love supporting debut authors. Congrats, Jason Rekulak on your first novel!
Quick take
When you're trapped in the prison of adolescence, you only want to break out, like the hero of an old Atari game.
Why I love it
Being a 14 year-old, for lack of a better word, sucks. Everything seems to be changing around you and inside you. You have to worry about your future for the first time; suddenly every grade matters (even P.E.!), and everyone seems to have a test for you nearly every day, school-related or not. And then you somehow have to navigate the newly complex social circles of high school, dodging bullies a...