Contemporary fiction
One Italian Summer
Buy 5 audiobooks to earn a free credit!
Quick take
Perfect vacation-read ingredients: sun-soaked beaches, silk dresses, copious pasta & wine, your reincarnated mother...
Good to know
Romance

Emotional

International

Magical
Synopsis
When Katy's mother dies, she is left reeling. Carol wasn't just Katy's mom, but her best friend and first phone call. She had all the answers and now, when Katy needs her the most, she is gone. To make matters worse, their planned mother-daughter trip of a lifetime looms: two weeks in Positano, the magical town Carol spent the summer right before she met Katy's father. Katy has been waiting years for Carol to take her, and now she is faced with embarking on the adventure alone.
But as soon as she steps foot on the Amalfi Coast, Katy begins to feel her mother's spirit. Buoyed by the stunning waters, beautiful cliffsides, delightful residents, and, of course, delectable food, Katy feels herself coming back to life.
And then Carol appears—in the flesh, healthy, sun-tanned, and thirty years old. Katy doesn't understand what is happening, or how—all she can focus on is that she has somehow, impossibly, gotten her mother back. Over the course of one Italian summer, Katy gets to know Carol, not as her mother, but as the young woman before her. She is not exactly who Katy imagined she might be, however, and soon Katy must reconcile the mother who knew everything with the young woman who does not yet have a clue.
Why I love it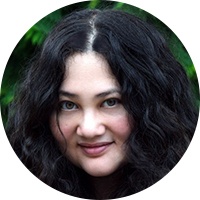 Gabrielle Zevin
Author, The Storied Life of A.J. Fikry
One Italian Summer is about love, mothers, daughters, the timelessness of Positano, and food. But mainly, love—the love between friends, the love between parents and children, the love between spouses, the love between strangers, the love of self, the loves that consume and last a lifetime, and the loves that are pleasant but fleeting. I find Rebecca Serle's vision of the world to be profoundly hopeful: love is unexpected and all around us; love can transform and transcend death.
Katy is grieving the recent death of her mother, Carol. As a young woman, Carol had spent a memorable summer in Positano, and Carol and Katy had planned to take the same trip together. Katy decides to take the trip solo, and that's where our story begins.
A particular pleasure of One Italian Summer is the way it evokes both the sensual details and the experience of travel—the way jet lag can feel like a dream state; the fullness that follows a great Italian meal; the quick intimacies one makes while on a trip; the way vacation time feels different, maybe even beyond the laws of quantum physics; the power of travel to heal, and the possibility that the traveler might reinvent herself.
I adored reading One Italian Summer—it reminded me of its author, who is my friend. Like her books, Rebecca is thoughtful, a great host and conversationalist, a little magic. And I think readers gravitate to her books because they feel like they are written by a friend. We know we will be nourished and entertained. We know our glasses will never be empty. We trust her companionship on vacation or anywhere else we might find ourselves in life.