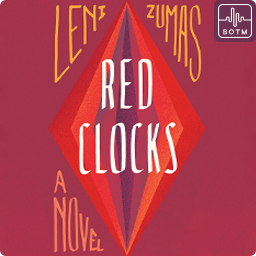 Literary fiction
Red Clocks
Buy 5 audiobooks to earn a free credit!
Quick take
In a futuristic Amerca where abortion is illegal, four women cope with the weight of these laws and societal expectations.
Good to know
Feminist

Social issues

Magical

Unsettling
Synopsis
Five women. One question. What is a woman for?
In this ferociously imaginative novel, abortion is once again illegal in America, in-vitro fertilization is banned, and the Personhood Amendment grants rights of life, liberty, and property to every embryo. In a small Oregon fishing town, five very different women navigate these new barriers alongside age-old questions surrounding motherhood, identity, and freedom.
Ro, a single high-school teacher, is trying to have a baby on her own, while also writing a biography of Eivør, a little-known 19th-century female polar explorer. Susan is a frustrated mother of two, trapped in a crumbling marriage. Mattie is the adopted daughter of doting parents and one of Ro's best students, who finds herself pregnant with nowhere to turn. And Gin is the gifted, forest-dwelling herbalist, or "mender," who brings all their fates together when she's arrested and put on trial in a frenzied modern-day witch hunt.
Red Clocks is at once a riveting drama, whose mysteries unfold with magnetic energy, and a shattering novel of ideas. In the vein of Margaret Atwood and Eileen Myles, Leni Zumas fearlessly explores the contours of female experience, evoking The Handmaid's Tale for a new millennium. This is a story of resilience, transformation, and hope in tumultuous-even frightening-times.
Why I love it
Cristina Arreola
BOTM Judge
Don't let the pink and red cover fool you. Red Clocks is no romance or "beach read." Instead, it is a frightening dystopian novel about what happens when politicians successfully manage to push back on women's reproductive rights little by little, until none are left at all.
In Lena Zumas's near-future America, The Personhood Amendment has made both abortion and in-vitro fertilization illegal, and the Every Child Needs Two Act is about to make it impossible for unmarried people to adopt children. The story is set in a small town in Oregon, where four women cope with the weight of these laws and the equally-crushing magnitude of societal expectations. There's Ro, an unmarried writer and teacher desperate to have children but who cannot get pregnant. There's Mattie, an adopted teenager who has accidentally become pregnant and is desperate for an abortion. Susan is a mother of two children who fantasizes about leaving her husband. And finally, Gin is a young "witch" who offers herbal cures to women in need of gynecological help, including abortions. Their four lives converge and intertwine in strange ways, especially when a heated trial breaks out in their town, forcing them all to grapple with this new world order.
The true power of Red Clocks lies in the distance the author creates between the women and the reader, in how she intentionally refrains from portraying their emotional states. But then, we don't need the author to explain how they're are feeling, do we? The things they feel—the desire to choose or postpone motherhood, the desire to seek fulfillment beyond motherhood, and the fear of realizing that these decisions are no longer yours'"are endemic to all women. The takeaway from Zumas's book is clear: There is no perfect way to be a woman, but it should every woman's right to choose her own path.
As I flipped the final pages of this novel, I began to contemplate how I would describe it in this review—dystopian? That is the obvious choice, and it fits. But to me, it reads a bit like horror.