Young adult
The Field Guide to the North American Teenager
Debut
We love supporting debut authors. Congrats, Ben Philippe, on your first book!
Buy 5 audiobooks to earn a free credit!
Quick take
A snarky Canadian navigates a Texas high school in this funny coming-of-age story about friendship and belonging.
Synopsis
Norris Kaplan is clever, cynical, and quite possibly too smart for his own good. A black French Canadian, he knows from watching American sitcoms that those three things don't bode well when you are moving to Austin, Texas. Plunked into a new high school and sweating a ridiculous amount from the oppressive Texas heat, Norris finds himself cataloging everyone he meets: the Cheerleaders, the Jocks, the Loners, and even the Manic Pixie Dream Girl. Making a ton of friends has never been a priority for him, and this way he can at least amuse himself until it's time to go back to Canada, where he belongs.
Yet, against all odds, those labels soon become actual people to Norris. Be it loner Liam, who makes it his mission to befriend Norris, or Madison the beta cheerleader, who is so nice that it has to be a trap. Not to mention Aarti the Manic Pixie Dream Girl, who might, in fact, be a real love interest in the making. He even starts playing actual hockey with these Texans.
But the night of the prom, Norris screws everything up royally. As he tries to pick up the pieces, he realizes it might be time to stop hiding behind his snarky opinions and start living his life—along with the people who have found their way into his heart.
Why I love it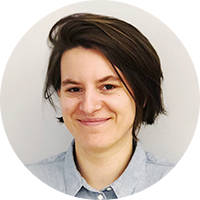 Siobhan Jones
BOTM Editorial Team
At least half a dozen people told me I had to read this book before a copy landed on my desk, but little did any of them know that I was already predisposed to like it. It takes place in Austin, Texas, where I went to college. Its inclusion of teenage archetypes like cheerleaders, jocks, and manic pixie dream girls evokes popular high school comedies like Mean Girls and 10 Things I Hate About You. And most importantly, it's about a snarky teen who uses humor to distract himself from the fact that he's lacking in social skills—that was me! What can I say, I was excited.
Meet Norris, a teenager who suddenly finds himself in Austin in the autumn of his high school career. From the get-go, he stands out: he's a black French Canadian with a passion for ice hockey—a sport his new Sun Belt comrades know little about—and he's got a rude sense of humor that doesn't win him any friends. To pass the time until he can escape back to Montreal, Norris logs attributes of high school life that he encounters—from loners and absentee dads to male bonding and drunk friends—and gradually, begrudgingly, begins to find his place.
What do I like about this book? It shows that hardly anything in life is cut and dry. Norris is cheeky and sweet. Popular kids can be jerks and good people. And uprooting your whole life and starting anew is hard … but it can also be well-worth it. Hope you dig this read.