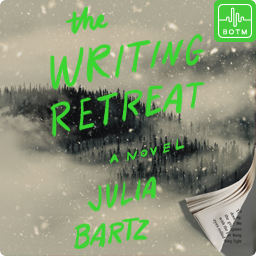 Thriller
The Writing Retreat
Debut
We love supporting debut authors. Congrats, Julia Bartz, on your first book!
Buy 5 audiobooks to earn a free credit!
Quick take
Pro-tip: read the fine print before a writer's retreat lest you end up stuck with a kooky horror writer & your ex-BFF.
Good to know
Psychological

Creepy

Rural

Writer's life
Synopsis
Alex has all but given up on her dreams of becoming a published author when she receives a once-in-a-lifetime opportunity: attend an exclusive, month-long writing retreat at the estate of feminist horror writer Roza Vallo. Even the knowledge that Wren, her former best friend and current rival, is attending doesn't dampen her excitement.
But when the attendees arrive, Roza drops a bombshell—they must all complete an entire novel from scratch during the next month, and the author of the best one will receive a life-changing seven-figure publishing deal. Determined to win this seemingly impossible contest, Alex buckles down and tries to ignore the strange happenings at the estate, including Roza's erratic behavior, Wren's cruel mind games, and the alleged haunting of the mansion itself. But when one of the writers vanishes during a snowstorm, Alex realizes that something very sinister is afoot. With the clock running out, she's desperate to discover the truth and save herself.
Why I love it
Clear your schedule. Turn off your phone. Guzzle some coffee right before bed—once you start this book, you won't want to stop. I was beyond lucky to read an early copy of The Writing Retreat last year, and I have not shut up about it since. To say I'm obsessed would be an understatement.
Aspiring author Alex gets the opportunity of a lifetime when she's invited to a writing retreat led by her favorite horror writer, Roza, at the author's luxurious estate. So what if Alex's ex-bestie is there too? It's all about the writing, after all. In fact, it turns out that the retreat participants are all competing for a massive publishing deal . . . as long as they can write a novel within a month. That's stressful enough, but soon the vibe in the house becomes deeply unsettling, even sinister. As tensions rise, Roza's behavior grows increasingly strange, and it's abundantly clear there are secrets hidden within the estate. And that's all before someone disappears.
This masterful debut is packed with eerie atmosphere, suspicious characters, and shocking twists. It chilled me to the bone, and as a writer who previously found the idea of a writing retreat to be both appealing and idyllic (not anymore!) I will forever be haunted by this story.