Contemporary fiction
When We Were Bright and Beautiful
Buy 5 audiobooks to earn a free credit!
Quick take
In this gripping story set in the shadows of New York's elite, one family begins to unravel in the wake of scandal.
Good to know
Family drama

Legal thriller

Unsettling

NYC
Synopsis
You can have everything, and still not have enough.
Cassie Quinn may only be twenty-three, but she knows a few things. One: money can't buy happiness, but it's certainly better to have it. Two: family matters most. Three: her younger brother Billy is not a rapist.
When Billy, a junior at Princeton, is arrested for assaulting his ex-girlfriend, Cassie races home to Manhattan to join forces with her big brother Nate and their parents, Lawrence and Eleanor. The Quinns scramble to hire the best legal minds money can buy, but Billy fits the all-too-familiar sex-offender profile—white, athletic, and privileged—that makes headlines and sways juries.
Meanwhile, Cassie struggles to understand why Billy's ex Diana would go this far, even if the breakup was painful. And she knows how the end of first love can destroy someone: Her own years-long affair with a powerful, charismatic man left her shattered, and she's only recently regained her footing.
As reporters converge outside their Upper East Side landmark building, the Quinns gird themselves for a media-saturated trial, and Cassie vows she'll do whatever it takes to save Billy. But what if that means exposing her own darkest secrets to the world?
Content warning
This book contains mentions of sexual assualt and child abuse.
Why I love it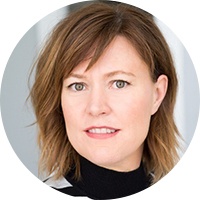 One of a novelist's most difficult—and rarest—achievements is to write a book so richly layered it spans multiple genres. When We Were Bright and Beautiful, the fifth novel by the uber-talented Jillian Medoff is just that.
Is it a family saga? A courtroom drama? A domestic thriller with a gasp-inducing twist that will make you question everything you just read? Yes, yes, and yes.
The novel is structured around the criminal trial of Billy Quinn, a star athlete at Princeton accused of rape by an ex-girlfriend. But the story really belongs to Cassie, Billy's older sister, who serves as narrator. Twenty-three years old and whip-smart, Cassie rushes to join her family in defending her brother. She controls this story, telling us only what she wants us to know, from the details of the investigation to the courtroom theatrics that grab the public's attention, to the darker side of the Quinn's glittering and glamorous life on Manhattan's Upper East Side. But Cassie is hiding a secret of her own—for years she's been involved with a married older man. The revelation not only increases the stakes, but it's where the book's cumulative power and purpose reside.
When We Were Bright and Beautiful is a masterful novel—it features the kind of propulsive storytelling that will rope you into reading it in one day. But more than that, it is also an important and daring book that will spark many lively and vital discussions about consent, wealth, power, privilege, and our preconceived ideas about how women's stories should be told.