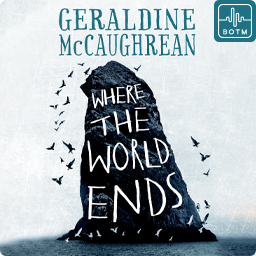 Young adult
Where the World Ends
Buy 5 audiobooks to earn a free credit!
Quick take
Abandoned on a Scottish island in the 1700s? It's brutal. But it's also based on a true story, if you can believe it.
Good to know
Slow build

International

Critically acclaimed

Rugged
Synopsis
Every summer Quill and his friends are put ashore on a remote sea stac to hunt birds. But this summer, no one arrives to take them home. Surely nothing but the end of the world can explain why they've been abandoned?cold, starving and clinging to life, in the grip of a murderous ocean. How will they survive such a forsaken place of stone and sea?
This is an extraordinary story of fortitude, endurance, tragedy and survival, set against an unforgettable backdrop of savage beauty.
Why I love it
Diane Magras
Author, The Mad Wolf's Daughter
I read historical fiction for the windows it opens to the past. But I'm tough on this genre. I want historical accuracy, fast-paced plots with tension and imagination, and characters who feel real. Where the World Ends is the rare historical novel that hits every mark.
It's 1727, and a group of nine boys and three men are dropped off on a sea stac—an uninhabited column of stone—some miles near the island of Hirta in northern Scotland. They're harvesting sea birds for two weeks, an important annual tradition. Two weeks pass, and the bags are full of birds, but there's no sign of the boat. Then three weeks pass, then four. Then months. The novel shifts from a coming-of-age tale of friendship and bullies to a dire survival story in which each boy and man must decide who he is and what makes life worth living.
I love the setting with its bone-chilling cold, the many smells of the ocean, and the constant sense of dread. I love the characters' dreams and courage. And I love the warmth that permeates this bleak true story, which Geraldine McCaughrean makes vivid, even funny at times, and ultimately satisfying.