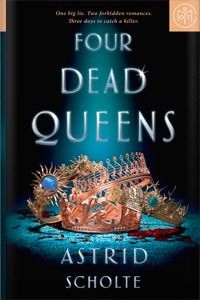 Young adult
Four Dead Queens
Debut
We love supporting debut authors. Congrats, Astrid Scholte, on your first book!
Quick take
Following the brutal murder of four queens, an accomplished pickpocket attempts to track down the culprit.
Good to know
400+ pages

Buzzy

Magical

Murder
Why I love it
Christine Manzari
BOTM Ambassador, @xenatine
When it comes to books, there is nothing better than unexpected plot twists, good intentions gone wrong, and characters who are both flawed and charismatic. Throw in a petty thief, a nation divided by values, and queens who are hiding gossip-worthy secrets, and I'm hooked.
After a reckless mistake leaves her father fighting for his life, heartbroken Keralie turns to crime, serving as a master thief for a childhood friend. But when she's ordered to steal a comm chip that happens to contain a plot to kill the nation's four queens, Keralie finds herself at odds with her employer—and running for her life. Now Keralie, who's always relied on her ability to lie to survive, must place her trust in the messenger she stole from in order to catch the culprit.
This book is an epic fantasy with elements of science fiction, but at its core it's about seeking truth and questioning long-held rules and traditions. Even in a world like Quadara, divided by its differences and core beliefs, Keralie discovers that it is love and sacrifice that truly matter. I love getting lost in worlds that are nothing like real life—and if you do too, you'll love this book about a magical nation and the four endangered rulers fighting to uphold the values of their people.
Synopsis
Get in quick, get out quicker.
These are the words Keralie Corrington lives by as the preeminent dipper in the Concord, the central area uniting the four quadrants of Quadara. She steals under the guidance of her mentor Mackiel, who runs a black market selling their bounty to buyers desperate for what they can't get in their own quarter. For in the nation of Quadara, each quarter is strictly divided from the other. Four queens rule together, one from each region:
Toria: the intellectual quarter that values education and ambition Ludia: the pleasure quarter that values celebration, passion, and entertainment Archia: the agricultural quarter that values simplicity and nature Eonia: the futurist quarter that values technology, stoicism and harmonious community
When Keralie intercepts a comm disk coming from the House of Concord, what seems like a standard job goes horribly wrong. Upon watching the comm disks, Keralie sees all four queens murdered in four brutal ways. Hoping that discovering the intended recipient will reveal the culprit – information that is bound to be valuable bartering material with the palace – Keralie teams up with Varin Bollt, the Eonist messenger she stole from, to complete Varin's original job and see where it takes them.
Preview
Check out a preview of Four Dead Queens.
Member thoughts
Archer, FL

I loved this book. It was written from the view point of the different main characters. So each chapter would be a different character. I was surprised to find out the assassin was & who was behind it

Albuquerque, NM

This book reminded me that I'm super gay. Read this book if you want a mystery to solve. If you hate corrupt power. If you love female hero with character so vibrant you could pluck her off the page.

Coraopolis, PA

This was a fast read that I really enjoyed! I liked a book packed with complex and powerful female characters, that I think the author could expand upon and add to each queens story. POVs were great!

Spokane, WA

I read this book the month it came out but never left reviews back then. I truly enjoyed this book. I generally read series so it was a nice break from that, but I'll be honest, I wish there was more

Mesa, AZ

This book was a very fast read for me. It is definitely geared toward the young -adult readers, and as such isn't very complex. But, if you works like a light, read with a new story, this is for you.

Woodbury , NJ

I knew going into it that its YA. I knew it would be romance & teenagers wild things. Despite all of coming true, I enjoyed this book. I loves the world that Scholte painted & the character Varin.

West Newton, PA

I have read so many books that are alternative worlds/kingdoms etc. but this one was interesting and different enough that it felt new. I felt like it was some ancient world mixed with sci-fi. Fun!

Grand Rapids, MI

I loved the characters in this story. I also thought the length was perfect. It could have easily been a book series but I've read enough of those. I like that the story was finished up neatly.

Oh my gosh this book was surprising and fun! I expected a fantasy but what I got was a really entertaining murder mystery. If every mystery novel was like this one, I'd read more of them.

I almost didn't read this and that would have been a shame. The story is very easy to get lost in, just keep reading and you'll feel like you're there. Every aspect was intact. 5 stars!

Oconomowoc , WI

I LOVED this book. I liked this new word and the idea of the four queens ruling as one to balance it out. I liked the characters and storyline and can't wait to read it again!

Mesa, AZ

I loved this book. You really grew to care about the main character and really dislike the antagonists. I loved the world built around them. Sounds like a very interesting place.

Hinesburg, VT

A great heavy character driven tale, every chapter from a different point of view. Little surprises here & there. All in all, another author I can't wait to read more of!

I really enjoyed the different view points and the small twists just made me want to keep reading. The ending was great! Overall I would definitely recommend this book

Ishpeming, MI

This book is highly underrated! Loved the different characters and how the kingdom was run. Plot twist was somewhat predictable but still enjoyed this book so much!

Virginia Beach, VA

Loved how this was written! It kept you guessing the whole time.I was very surprised by who the assassin was and how they were doing it! Highly recommend this one!

Platteville, WI

Adored the style of this book, the uniqueness of the court ruling system, the chase of the plot, and the development of the characters. Well done Astrid Scholte!

I loved that this book never had me bored. Even at the very beginning it was super engaging. The plot kept moving and always keeps you on your feet. I loved it!

Great premise. A few surprising twists. The ending was a bit underdeveloped, but satisfying. Even with the one line stolen directly from the movie Ever After.

An intricate, genre-bending world, and raw, complex characters. I couldn't turn the pages fast enough. The series of plot twists at the end were amazing!