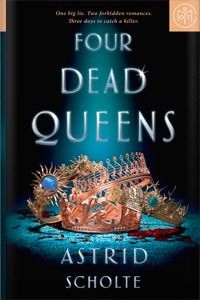 Young adult
Four Dead Queens
Debut
We love supporting debut authors. Congrats, Astrid Scholte, on your first book!
Quick take
Following the brutal murder of four queens, an accomplished pickpocket attempts to track down the culprit.
Good to know
400+ pages

Buzzy

Magical

Murder
Why I love it
Christine Manzari
BOTM Ambassador, @xenatine
When it comes to books, there is nothing better than unexpected plot twists, good intentions gone wrong, and characters who are both flawed and charismatic. Throw in a petty thief, a nation divided by values, and queens who are hiding gossip-worthy secrets, and I'm hooked.
After a reckless mistake leaves her father fighting for his life, heartbroken Keralie turns to crime, serving as a master thief for a childhood friend. But when she's ordered to steal a comm chip that happens to contain a plot to kill the nation's four queens, Keralie finds herself at odds with her employer—and running for her life. Now Keralie, who's always relied on her ability to lie to survive, must place her trust in the messenger she stole from in order to catch the culprit.
This book is an epic fantasy with elements of science fiction, but at its core it's about seeking truth and questioning long-held rules and traditions. Even in a world like Quadara, divided by its differences and core beliefs, Keralie discovers that it is love and sacrifice that truly matter. I love getting lost in worlds that are nothing like real life—and if you do too, you'll love this book about a magical nation and the four endangered rulers fighting to uphold the values of their people.
Synopsis
Get in quick, get out quicker.
These are the words Keralie Corrington lives by as the preeminent dipper in the Concord, the central area uniting the four quadrants of Quadara. She steals under the guidance of her mentor Mackiel, who runs a black market selling their bounty to buyers desperate for what they can't get in their own quarter. For in the nation of Quadara, each quarter is strictly divided from the other. Four queens rule together, one from each region:
Toria: the intellectual quarter that values education and ambition Ludia: the pleasure quarter that values celebration, passion, and entertainment Archia: the agricultural quarter that values simplicity and nature Eonia: the futurist quarter that values technology, stoicism and harmonious community
When Keralie intercepts a comm disk coming from the House of Concord, what seems like a standard job goes horribly wrong. Upon watching the comm disks, Keralie sees all four queens murdered in four brutal ways. Hoping that discovering the intended recipient will reveal the culprit – information that is bound to be valuable bartering material with the palace – Keralie teams up with Varin Bollt, the Eonist messenger she stole from, to complete Varin's original job and see where it takes them.
Preview
Check out a preview of Four Dead Queens.