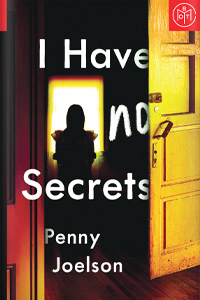 Young adult
I Have No Secrets
Quick take
A voice for the voiceless, literally. It'll make you think about how to better listen to those who can't speak.
Good to know
Emotional

Fast read

Social issues

Family drama
Why I love it
Siobhan Jones
BOTM Editorial Team
"If I were you, I'd kill myself. Listen, if you ever want a little help, I could —"
Jemma is a sixteen-year-old girl with cerebral palsy, unable to speak or move without assistance. Her world is mainly her home—her mom, an aide, and the aide's ever-present boyfriend, Dan. Outwardly, Dan is charming and kind, but secretly, he's a bully: the kind of person who whispers horrible things to Jemma, like the above … and the fact that he's a murderer.
Dan knows his secret is safe with Jemma. That is, until a scientific breakthrough gives Jemma the chance to communicate and tell all she knows. Suddenly, she's no longer a passive bystander to a crime. Suddenly, her life is on the line.
This is a seriously creepy read with an ending you won't see coming. Jemma is a clear-eyed heroine with some truly long odds to overcome, and you'll root for her as she fights for her life against an off-kilter killer unafraid to strike again. Thank you, Penny Joelson, for this unique read—but no thanks for freaking us out so much! ;)
Synopsis
Jemma knows who the murderer is. She knows because he told her.
He thought his secret was safe because Jemma can't speak or move.
But Jemma observes all kinds of things about everyone around her. His secret is just one of them.
And when a new technology means she may be able to communicate and reveal all she knows, Jemma no longer feels powerless in the face of this deadly secret. It's a race against time before the killer acts again...or tries to stop her.
Preview
Check out a preview of I Have No Secrets.
Member thoughts
New Britain, CT

This was a tough read - the author does an incredible job of making you feel like you're in Jemma's head, so much so that it was uncomfortable at times. Incredibly well done and a compelling story.

Normally, I don't go for PC books. This is the exception. Beautifully and uniquely written, Joelson crafts an awesome thriller through the eyes of a very disabled girl, who my heart went out to.

This book was a different type of mystery because from the beginning, we already know what happens, but what we dont know is how- or if- itll be communicated, and I loved every minute of it.

Parkerford, PA

This was a quick read, but I loved it. I predicted a lot of it, but I loved the characters and the plot. It proves that we need to be more mindful of how we treat the handicapped.

Beavercreek, OH

Interesting point of view! Although the story line seemed kind of basic and seemed like I knew what would happen, I still wanted to finish it. I loved every piece of it.

Throckmorton, TX

AMAZING! I loved the short chapters. My heart went out to the foster kids. I can't imagine not being able to speak. The book was well written. A definite page turner.

This one is a fast-paced thriller that left me on the edge of my seat. I loved the cerebral palsy rep and the way the plot threads all came together effortlessly.

Bothell , WA

I got this for my daughter who literally read it between getting out of school and dinner starting. She liked it a lot, but it hasn't been a reread for her.

Washington, DC

I loved reading from Jemma's perspective as a person with CP who cannot speak -- her sensory experience was so viscerally represented. What a cool thriller.

Redlands, CA

What a wonderfully written, eye opening YA novel! I finished it in one sitting and found the content very appropriate and necessary for YA readers.

Washington, IL

A novel I could not put down! Jemma's voice comes through so clearly, even though she doesn't speak, and I felt like I was part of the family!

aspinwall, PA

Finished this book in 2 sittings. While the murderer isn't the mystery I still was sucked in on the why and how.

Sandusky, OH

Such a great story told from the point of view of someone that could not talk and had physical disabilities.

Pittsburgh, PA

A quick read! The book does have a mystery element to it but it offers so much more than a cheap thrill.

Coral Springs, FL

This book I devoured in a few days. I loved the author's note and purpose behind writing the book.

Pine Mountain Club, CA

A compelling mystery novel with a unique protagonist. The character development was outstanding.

SO GOOD! Loved the storyline and it was a quick read that I just couldn't seem to put down.

I loved the way Penny Joelson represents the protagonist. I loved the twists and turns.

Wendell, NC

A quick read. It gives you a great point of view from the main character.

Absolutely one of my new favorite books. I couldnt put it down!