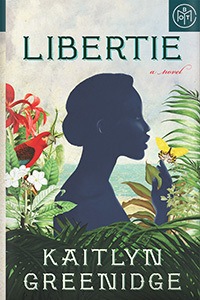 Historical fiction
Libertie
Quick take
Tired of everyone telling you how to live your life? Libertie's fight to shape her future in 1800s NYC is for you.
Good to know
Slow build

Family drama

Literary

Critically acclaimed
Why I love it
Siobhan Jones
BOTM Editorial Team
"I saw my mother raise a man from the dead. 'It still didn't help him much, my love,' she told me. But I saw her do it all the same. That's how I knew she was magic."
So begins the transporting novel Libertie, a moving and literary story about a mother, her daughter, and the weight of the expectations that pass back and forth between them.
Born just before the Civil War in what is now New York City, Libertie is the free-born daughter of a successful and gifted female physician who expects her to take up, if not extend, the legacy of their family. Contrary to her mother's plans, Libertie wonders whether her life may follow a different path. So it comes as little surprise to the reader that when a suitor asks for her hand in marriage—with the promise that she will be his equal in his home country of Haiti—she accepts. (You can imagine her mom's reaction.)
This is no ordinary coming-of-age tale—it's also a tribute to real figures from the historical archive and an existentialist account of one woman's search for freedom. Libertie is an absolute achievement: a wonderful story about a young woman who—against the clamor of opinions on who she should be—dares to listen to her own voice.
Synopsis
Coming of age as a freeborn Black girl in Reconstruction-era Brooklyn, Libertie Sampson is all too aware that her purposeful mother, a practicing physician, has a vision for their future together: Libertie is to go to medical school and practice alongside her. But Libertie, drawn more to music than science, feels stifled by her mother's choices and is hungry for something else—is there really only one way to have an autonomous life? And she is constantly reminded that, unlike her mother, who can pass, Libertie has skin that is too dark. When a young man from Haiti proposes to Libertie and promises she will be his equal on the island, she accepts, only to discover that she is still subordinate to him and all men. As she tries to parse what freedom actually means for a Black woman, Libertie struggles with where she might find it—for herself and for generations to come.
Inspired by the life of one of the first Black female doctors in the United States and rich with historical detail, Kaitlyn Greenidge's new and immersive novel will resonate with readers eager to understand our present through a deep, moving, and lyrical dive into our complicated past.
Preview
Get an early look from the first pages of Libertie.
Member thoughts
Montgomery Village, MD

It started slow for me and then couldn't put it down. Libertie is struggling with living to her Mom's expectations, being a woman of color in the Civil War era, finding her way in relationships…Wow!

Don't want to give away the ending but I loved how it ended! Also loved the mother-daughter bond, struggles and everything in between and how Libertie dealt with expectations and freedom for herself.

Pflugerville, TX

A gut wrenching portrait of what it means to search for freedom when you're unsure of who you are. I wanted everything wrapped up in a bow, but love it even more that it wasn't. Likely to reread.

This is not the type of book I typically read- both style wise and content- but I really enjoyed it. It is very beautifully written, thought provoking. I was pulled in.. I stayed up late to finish it.

Fort Worth, TX

Great historical fiction following the life of a young African American woman in the time of the civil war and the choices she makes along the way. Separated into longer sections, I liked the quotes!

Seattle, WA

For me this was all about how difficult the mother daughter relationship can be. Moms wanting the best for their daughters, and daughters who want to be true to themselves but scared of disappointing.

Harrisburg , PA

Easy & enticing read. The story is both simple and very powerful. It follows the journey of complicated relationships, love and forgiveness and learning how to stay true in the journey of finding you

Whittier , CA

Just—wow. This is a powerful story of Libertie's inner battle to be free (in so many ways), and to fulfill expectations of those she loves. The writing is beautiful and really hums off the page.

OGDEN, UT

Libertie was a frustrating character, but her inconsistency and lack of self made her a perfectly imperfect human. All the characters were extraordinarily difficult, embedding the story in reality.

Ellicott City, MD

What an incredible book. The story, the characters, and the emotions were so lovely. I identified so strongly with Libertie's relationship with her mother and her desire to live on her own terms.

Windsor, CO

Moving exploration of the true meaning of freedom. Loved the depictions of Haiti and Haitian culture. I was very happy with the decision Libertie made at the end but wish there had been an epilogue!

Seattle, WA

The characters are truly human, flawed and uncertain in themselves. This book teaches an invaluable lesson about what it is to be a woman. How lost we can be on our own, even with a man beside us.

Chicago, IL

The writing was beautiful and poetic. I appreciated how letters were used to flesh out characters while Libertie was still the main focus of the story. The structure and themes are tightly written.

Gainesville, VA

I loved reading about a woman living through the Reconstruction Era, growing up in the "fields of Brooklyn" as the daughter of the first Black woman to become a doctor in the state of New York.

Los Angeles, CA

On a very personal note, some of the main character's reflections made me feel so seen. Transcending time, space, and race, the author made my own situation less lonely. Grateful for this book.

Niagara Falls, NY

We've all hit bumps along the road in life that subtly or irrevocably change the path we thought we were on. The freedom to make those mistakes is liberty, those waiting to catch us are family.

Cincinnati , OH

This was so good. Love is so often presented as romantic, but the love between a mother and daughter is enough for me; I wanted to hug my mom and my daughter 47,689,453 times after reading this.

Holly Springs, NC

Sometimes we run in search of ourselves but it was right there all along. Libertie left her mother in order to find herself, only to realize what she searched for was in her all along.

Temple Terrace, FL

So many themes! Northerners vs southerners. American vs Haitian. Black vs White. Light skin vs dark skin. Moms desires vs daughters immaturity. Educated vs non educated. Loved it!

Such a moving and powerful story that makes you think about the meaning of freedom. The character development is beautifully done! I loved this book and couldn't put it down!