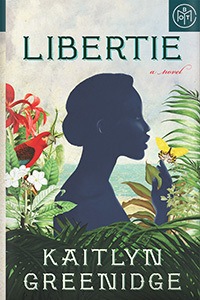 Historical fiction
Libertie
Quick take
Tired of everyone telling you how to live your life? Libertie's fight to shape her future in 1800s NYC is for you.
Good to know
Slow build

Family drama

Literary

Critically acclaimed
Why I love it
Siobhan Jones
BOTM Editorial Team
"I saw my mother raise a man from the dead. 'It still didn't help him much, my love,' she told me. But I saw her do it all the same. That's how I knew she was magic."
So begins the transporting novel Libertie, a moving and literary story about a mother, her daughter, and the weight of the expectations that pass back and forth between them.
Born just before the Civil War in what is now New York City, Libertie is the free-born daughter of a successful and gifted female physician who expects her to take up, if not extend, the legacy of their family. Contrary to her mother's plans, Libertie wonders whether her life may follow a different path. So it comes as little surprise to the reader that when a suitor asks for her hand in marriage—with the promise that she will be his equal in his home country of Haiti—she accepts. (You can imagine her mom's reaction.)
This is no ordinary coming-of-age tale—it's also a tribute to real figures from the historical archive and an existentialist account of one woman's search for freedom. Libertie is an absolute achievement: a wonderful story about a young woman who—against the clamor of opinions on who she should be—dares to listen to her own voice.
Synopsis
Coming of age as a freeborn Black girl in Reconstruction-era Brooklyn, Libertie Sampson is all too aware that her purposeful mother, a practicing physician, has a vision for their future together: Libertie is to go to medical school and practice alongside her. But Libertie, drawn more to music than science, feels stifled by her mother's choices and is hungry for something else—is there really only one way to have an autonomous life? And she is constantly reminded that, unlike her mother, who can pass, Libertie has skin that is too dark. When a young man from Haiti proposes to Libertie and promises she will be his equal on the island, she accepts, only to discover that she is still subordinate to him and all men. As she tries to parse what freedom actually means for a Black woman, Libertie struggles with where she might find it—for herself and for generations to come.
Inspired by the life of one of the first Black female doctors in the United States and rich with historical detail, Kaitlyn Greenidge's new and immersive novel will resonate with readers eager to understand our present through a deep, moving, and lyrical dive into our complicated past.
Preview
Get an early look from the first pages of Libertie.