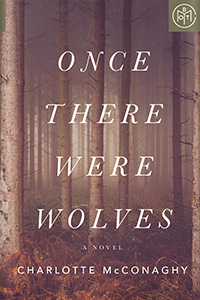 Contemporary fiction
Once There Were Wolves
Quick take
A woman journeys to Scotland determined to save the wilderness—but tragedy bites just as her new life starts to settle.
Good to know
Psychological

Forbidden love

Whodunit

Rugged
FYI
This book contains plot points about and depictions of violence and sexual assault.
Why I love it
Alexandra Chang
Author, Days of Distraction
It's so rewarding to encounter a book that not only propels you forward with plot—I need to find out what happens!—but simultaneously makes you feel for and think deeply about the lives on the page. Charlotte McConaghy has done just that in this evocative novel that asks big questions about our responsibility to others, not only the people around us, but the animals and nature with which we share this earth.
The story is narrated by Inti Flynn, a biologist leading a project to rewild Scotland's Cairngorms National Park with wolves. She arrives, with her twin sister Aggie, to find the locals not entirely welcoming to the project's endeavor. Just as things are starting to look up for the wolves and for Inti, conflicts deepen both within the town and within Inti herself. A farmer turns up dead in the woods and it's unclear who or what is to blame. Inti wants nothing more than for the wolves to survive and thrive, but traumas from her and Aggie's past continue to haunt them. Who can she trust? Who needs her protection? How can she ensure not only her own safety, but the safety of those she loves?
McConaghy writes landscapes—both external and internal—beautifully. When I finished this book, I felt more alert and awake to the world around me. That's the kind of reading experience I think we all need more of.
Synopsis
Inti Flynn arrives in Scotland with her twin sister, Aggie, to lead a team of biologists tasked with reintroducing fourteen gray wolves into the remote Highlands. She hopes to heal not only the dying landscape, but Aggie, too, unmade by the terrible secrets that drove the sisters out of Alaska.
Inti is not the woman she once was, either, changed by the harm she's witnessed—inflicted by humans on both the wild and each other. Yet as the wolves surprise everyone by thriving, Inti begins to let her guard down, even opening herself up to the possibility of love. But when a farmer is found dead, Inti knows where the town will lay blame. Unable to accept her wolves could be responsible, Inti makes a reckless decision to protect them. But if the wolves didn't make the kill, then who did? And what will Inti do when the man she is falling for seems to be the prime suspect?
Propulsive and spell-binding, Charlotte McConaghy's Once There Were Wolves is the unforgettable story of a woman desperate to save the creatures she loves—if she isn't consumed by a wild that was once her refuge.
Preview
Get an early look from the first pages of Once There Were Wolves.
Member thoughts
Wichita Falls, TX

10/10!! The narrative from instinctual to "civilized" thinking, or primal to more "educated" thoughts/actions are in all of us! We are all animals capable of anything, and it depicts that beautifully!

Albuquerque , NM

I struggled getting into this. At p 77, I thought… it's so highly rated, maybe it's worth it. At p 98, I finally felt hooked. And the rest? It was worth it. Big trigger warnings (see others' reviews)

Once I started, I couldn't put it down and read the whole thing in one sitting. This book is dark and though you don't always know where it's taking you, you just have to keep reading to find out.

Cando, ND

I loved the rewilding storyline of this book! Inti had such a complex development I needed to know everything! Plus it had an ending I didn't see coming. I absolutely loved everything about this book!

The first 100 pages were a bit slow, but man I got hooked uncovering each person's past and how it has been woven into the present. Very unconventional "love" story. Interesting info about wolves.

Gettysburg, PA

One of the best novels I've read recently, perhaps ever. A compelling plot and moving, fully fleshed-out characters kept me engaged to the very end. An expansive work that will make you cry and think.

Lakewood, CO

This blew me away. Not an easy read—profoundly painful at times—but I loved it. The atmosphere, the characters, the setting, the story. The injustice was realistic but balanced. The end was perfect.

Milwaukee, WI

I LOVED THIS BOOK. The story was great, The who done it aspect, the romance, the sister bond and nature! If you like Kristin Hannah books, you'll like this. In my opinion, a little better than those!

Denver, CO

This book was so beautiful & shares a good message. I loved the way it was told, flipping btwn current day & the Inti's past, & the descriptions of the setting & the wolves were absolutely gorgeous.

Hibbing, MN

4.5 ⭐️ Could not put this down! I did find some story lines cheesy but I understand why the author chose to include them. I also called the major plot twist. Otherwise loved the book and wolf info!

Pontoon Beach, IL

While the ending felt rushed and a bit predictable, I found this to be completely enthralling. Gorgeous worldbuilding, good pacing, and mysterious in the right ways. Pages 66-68 slayed me!! 5/5 ⭐️

I was expecting a standard murder mystery but omg this was so different - gets very emotional, and has a twist I didn't expect. Loved the naturalist/conservationist elements. Note heavy DV triggers.

Tilton, IL

I loved the conservation aspect throughout this story. It reinforces my love for nature and spurs me to take action. The only think I don't like is the mirror touch and sometimes the writing style.

Apex, NC

This novel was a great August 2021 pick for my book of the month!! I love a novel that portrays true factual relevancy - wolves, in this book. The main characters are beautifully well-written as well!

I thoroughly enjoyed this story. This book makes you appreciate the wilderness and the animals, specifically wolves that make it up. The author does an incredible job of making you feel every emotion.

Asheville, NC

Maybe one of my favorite books this year. The depth in characters, the mulitple stories that were woven together perfectly, the beautiful writing. This book left me with goosebumps I still can't shake

WOW. This book made me feel all of the feelings. It is hard to put into words, but the author has a way of making you feel as if you are a character in the book walking alongside Inti. WORTH THE READ!

Crisfield , MD

I wasn't excited about any of the choices for August and picked this one because it sounded like it would be ok. I was blown away--really good book that makes you think about climate and people. Wow

I was unsure of how I would rate this book by the end, however, I was blown away by the way everything was beautifully wrapped up. It's a wonderful story of strength & learning to become vulnerable!

Mount Pleasant, SC

While this one was slow to get started, the ending was absolutely wonderful. I wasn't sure I was "loving" it until I was two-thirds of the way in, and then I realized the author had me totally hooked!