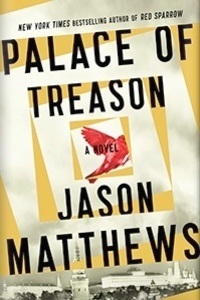 Thriller
Palace of Treason
Quick take
The closest thing written recently to the best work of John LeCarre. And for good reason — the author is a retired CIA guy.
Why I love it
Leigh Haber
O, The Oprah Magazine
As I look back, I realize that it's possible my obsession with espionage novels began in childhood, when I first discovered Harriet the Spy and Nancy Drew. At the time, I don't think most girls dreamed of having lives of adventure — cowboys, astronauts, river boat captains — those were not female fantasies. But using intelligence and curiosity to solve mysteries, hiding inside dumbwaiters and recording stealth observations in a journal, piling into a convertible with pals to go and investigate a spate of burglaries — now THAT was interesting.
Cut to 2015, and it seems I did put that career goal of becoming a double agent on hold. But I still get a vicarious thrill from reading spy fiction, especially when the star is a woman. Enter Captain Dominika Egorova of the Russian Intelligence Service, who's now secretly working for the other side (i.e., our side). She's the heroine of Jason Matthews' Palace of Treason, a book I inhaled in an afternoon. It's the closest thing written recently to the best work of John LeCarre. And for good reason — the author is a retired CIA guy. I guess they didn't make him sign one of those "do not disclose" forms.
I don't go in for most "genre" books, but I am always on the hunt for a suspenseful, well-written mystery/thriller, especially when geopolitics is involved. This book is fast-paced but grounded in what's really going on in the world. And I love the fact that protagonist Dominika is smart, fearless, athletic — she's heroic!
I didn't read the author's previous book Red Sparrow, but that's next up for me. When I find a writer I can count on, I hang on for dear life. So I hope you'll check out this fabulous new novel. I'm hoping there will be one every year from here on out.
Member thoughts
Searcy, AR

Matthews offers incredibly rich insight into the dark,dangerous world of counterintelligence spycraft in this exhilarating novel that had me wanting to check my six as I fitfully raced thru its pages.

Red Sparrow was a hard book to follow, and Palace of Treason actually surpassed it. You feel that these characters and events actually happened. The human behavior was up to part.

Marina del Rey, CA

Crazy that situations like this exist! Told in a way that keeps readers on their feet throughout the novel. And the ending was a perfect fit

This book was so intense the whole way through! Loved reading about the life of spies.

Tulsa, OK

Loved it and can't wait to read the third book!

Dearborn, MI

Amazing, could not put it down!

Leander, TX

West Chicago , IL

Red Bluff, CA

Cincinnati, OH

St Louis Park, MN

Royal Oak, MI

The characters are fleshed out and believable, and the plot startlingly contemporary. While some of the spy genre tropes are certainly present, I look forward to seeing how this series ends.