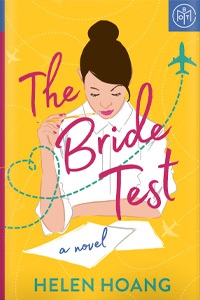 Romance
The Bride Test
Repeat Author
Helen Hoang is back at Book of the Month – other BOTMs include The Kiss Quotient.
Quick take
Liked The Kiss Quotient? This one's even better.
Good to know
Happy

Multiple viewpoints

Light read

Buzzy
Why I love it
Like so many others, I fell in love with Helen Hoang's writing while reading her first book, The Kiss Quotient, so I had high hopes for The Bride Test. Well, get excited, because Hoang has done it again! The Bride Test, like its predecessor, will make you blush, think, and smile again and again, as it proves just how complex, insightful, and current a romance novel can be.
Esme is an immigrant from Vietnam, who is desperately trying to build a better life for her young daughter and herself. Khai is a highly successful Californian who believes he's incapable of feeling love for anyone. As they navigate their uneasy relationship—brought about by Khai's meddling mother (because, of course)—they slowly begin to know one another, and end up discovering themselves in the process.
Khai and Esme's deeply personal journeys—and the courage each takes to undergo them—are really the heart of the book. As I read, I found myself thinking hard about the notions we carry about ourselves, and where those ideas come from, and how truthful they are. And on top of all of that, The Bride Test is a hot, swoony love story, and isn't that what we all want to read at this time of year?
Synopsis
Khai Diep has no feelings. Well, he feels irritation when people move his things or contentment when ledgers balance down to the penny, but not big, important emotions—like grief. And love. He thinks he's defective. His family knows better—that his autism means he just processes emotions differently. When he steadfastly avoids relationships, his mother takes matters into her own hands and returns to Vietnam to find him the perfect bride.
As a mixed-race girl living in the slums of Ho Chi Minh City, Esme Tran has always felt out of place. When the opportunity arises to come to America and meet a potential husband, she can't turn it down, thinking this could be the break her family needs. Seducing Khai, however, doesn't go as planned. Esme's lessons in love seem to be working ... but only on herself. She's hopelessly smitten with a man who's convinced he can never return her affection.
With Esme's time in the United States dwindling, Khai is forced to understand he's been wrong all along. And there's more than one way to love.
Preview
Get an early look from the first pages of The Bride Test.