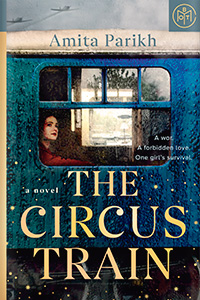 Historical fiction
The Circus Train
Debut
We love supporting debut authors. Congrats, Amita Parikh, on your first book!
Quick take
All the world's a stage in this moving WWII story about a traveling circus and finding your path in dark times.
Good to know
Inspirational

International

Movieish

Underdog
Why I love it
Kristin Harmel
Author, The Forest of Vanishing Stars
Sure, I'm a writer, but I'm first and foremost an avid reader, so I still get a little thrill when I receive a pre-publication glimpse of a wonderful book by a debut author. It means the literary world I love so much is about to get a bit brighter. That's how I felt when I read Amita Parikh's The Circus Train last spring, sobbing my way through the final chapters on a flight home. "Good book?" the woman sitting next to me inquired as she inched away, looking a bit terrified by my tears. "I loved it," I gushed, still sniffling.
You'll love The Circus Train, too. It combines the tantalizing magic and captivating illusion of a traveling circus with the heartbreak of war in a truly fascinating, original way. The icing on the cake (or the flag on the circus tent, if you will) is the powerful love story at this glittering novel's heart. Lena is the precocious daughter of a renowned illusionist, whose world at first remains small, despite the fact that she lives on a glamorous circus train that crisscrosses Europe. But when a young Jewish refugee with a talent for magic finds his way aboard in the early years of the war, Lena's life changes forever as he shows her that she alone holds the key to building a better existence for herself.
The perfectly-drawn characters and rich language shine in The Circus Train and had me enthralled. This story of hope, family, and great love, which deftly touches on issues of disability and prejudice, is an extraordinary debut.
Synopsis
At the World of Wonders, Europe's most magnificent traveling circus, every moment is full of magic, and nothing is as it seems—especially for the people who put on the show.
Lena Papadopoulos has never quite found her place within the circus, even as the daughter of the extraordinary headlining illusionist, Theo. Brilliant and curious, Lena yearns for the real-world magic of science and medicine, despite her father's overprotection and the limits her world places on her because she is disabled.
Her unconventional life takes an exciting turn when she rescues Alexandre, an orphan with his own secrets and a mysterious past. Over several years, as their friendship flourishes and Alexandre trains as the illusionist's apprentice, World War II escalates around them. When Theo and Alexandre are contracted to work and perform in a model town for Jews set up by the Nazis, Lena becomes separated from everything she knows. Forced to make her own way, Lena must confront her doubts and dare to believe in the impossible—herself.
Preview
Get an early look from the first pages of The Circus Train.