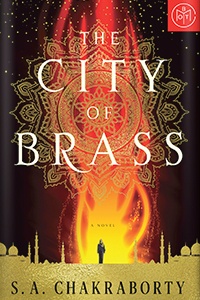 Fantasy
The City of Brass
Debut
We love supporting debut authors. Congrats, S.A. Chakraborty, on your first book!
Quick take
S.A. Chakraborty's richly detailed narrative and painstakingly imagined world building is the perfect escape from the real world, something we could all use these days.
Why I love it
Come along for a tale of magic, mystery, and adventure in this wildly enchanting debut! A dizzyingly exciting Middle Eastern-inspired novel, filled with mythology, treachery, and schemes around every corner, The City of Brass is a beautifully told fantasy book that is perfect for fans of cons and conjurers, demons, and desert worlds.
Nahri is a young con woman who knows all the tricks to staying alive and ahead of the law on the streets of 18th-century Cairo. What she doesn't know is where she came from, or why she can speak a language that no one else seems to understand.
But everything changes for Nahri during one of her cons when she accidentally summons demons—and Dara, a darkly mysterious djinn—while messing around with the language. Dara saves Nahri from the demons and tells her the tale of the legendary city of Daevabad—the City of Brass.
With still-angry demons looking for her in Cairo, Nahri decides it's best to follow Dara to Daevabad, where she becomes embroiled in schemes of political corruption when she befriends Alizayd, a young prince hoping to overhaul his father's rotten government. Will Nahri's undeniable attachment to the city help her to realize her true powers, or will the conflict and chaos consume her?
S.A. Chakraborty's richly detailed narrative and painstakingly imagined world building is the perfect escape from the real world, something we could all use these days.
Synopsis
Nahri has never believed in magic. Certainly, she has power; on the streets of eighteenth-century Cairo, she's a con woman of unsurpassed talent. But she knows better than anyone that the trades she uses to get by—palm readings, zars, and a mysterious gift for healing—are all tricks, both the means to the delightful end of swindling Ottoman nobles and a reliable way to survive.
But when Nahri accidentally summons Dara, an equally sly, darkly mysterious djinn warrior, to her side during one of her cons, she's forced to reconsider her beliefs. For Dara tells Nahri an extraordinary tale: across hot, windswept sands teeming with creatures of fire and rivers where the mythical marid sleep, past ruins of once-magnificent human metropolises and mountains where the circling birds of prey are more than what they seem, lies Daevabad, the legendary city of brass—a city to which Nahri is irrevocably bound.
In Daevabad, within gilded brass walls laced with enchantments and behind the six gates of the six djinn tribes, old resentments run deep. And when Nahri decides to enter this world, her arrival threatens to ignite a war that has been simmering for centuries.
Spurning Dara's warning of the treachery surrounding her, she embarks on a hesitant friendship with Alizayd, an idealistic prince who dreams of revolutionizing his father's corrupt regime. All too soon, Nahri learns that true power is fierce and brutal. That magic cannot shield her from the dangerous web of court politics. That even the cleverest of schemes can have deadly consequences.
After all, there is a reason they say to be careful what you wish for . . .
Member thoughts
This book is crafted with the right amount of suspense! During each chapter, I thought I could predict the outcome for the "happy ending"..not!! I read this complete novel while on a Holiday cruise.

I don't review things. Anything. I just finished this book screaming and googling "does The City of Brass have a sequel!?" This book is the best book I've ever read and I read at least 4/month!!!????

Kokomo, IN

What a fantastic novel! I cannot wait to read the rest of the trilogy! I adored everything about it! •Atmospheric world •Lush culture •Intriging magic & characters •DARA •Potential for romance ????

Obsessed! Orphan finds out she's an integral part of a secret Godlike world she didn't know existed (calling all Harry Potter fans). Full of magic, love, power struggles, stereotypes and perfection♥️

Boise, ID

It's been a while since I've read a book that I just couldn't put down. This book had everything! Beautifully written with enchanting characters and a plot to keep you guessing. Would highly recommend

Oro Valley, AZ

This trilogy is a work of art &will take its place as an epic tail next to the 1965 dune series & Issac Asimov's 1942 foundation series. It's not about space but its one of a kind, powerful &beautiful

I wasn't sure how to feel about this book as they bounced back & forth from Nahri to Ali. The book is great, but feel like it didn't pick up more till almost the end. Can't wait for the next book!

San Jose, CA

Great read!! Exotic & fast paced with well developed characters & exciting plot. It was hard to keep track of all the different types of creatures, but worth the effort. Can't wait till the next book!

This book started slow but as it picked up I could not put it down. I've learned about another culture, in another world and the love stories and mystery reeled me in! Looking forward to the trilogy!

Calexico, CA

I can't believe I have to wait over a year to read the sequel to this masterpiece. It's an amazing world to dive yourself into, characters you fall in love with and a adventure to die for. Amazing!

Laveen, AZ

Amazing read! Really transports you to a completely different world, full of possibilities & adventure at every turn. Hard to put down, strong characters, & keeps you on your toes! Amazing work! Love!

So good! Romance, race and class issues, magic, fighting, and mystical creatures! In a setting that I'm not used to reading about! I can't wait for the sequel to this book. I was so sad when it ended.

I could barely put this book down! It's one of the most captivating and original fantasy novels I've read by a contemporary author. The characters are complex and lovable. I can't wait for the sequel.

Long Beach, CA

Such a magical world has been created in this book. Beautiful writing, plus a very complex & interesting history keeps you reading. The magical qualities to the book are JUST ENOUGH, but not too much.

Really great book and can't wait for sequel. Has a glossary of different names and terms they use at end of book, but didn't realize it until I had already figured most of that out, so read glossary!

Oriental, NC

I love this book. It is so thought provoking. It deals effectively with race discrimination. It was extremely sad to see people in the story being treated like dirt because they are of a certain race.

Denham Springs, LA

City of Brass is magical & beautifully written, weaving in elements of classic fantasy while tackling race, class & gender issues. I loved it! Already counting the days until I can return to Daevabad!

This is the best book I read all year! Enchanting from page one to page 526. Likable characters, beautiful setting, witty banter, fantasy, mystery...what's not to love? I can't wait for the next one!

Great fantasy book! I loved the Middle Eastern setting and the incorporation of magic. Wish I'd realized it was a series when I started it! Now I have to wait an eternity for the next one to come out!

I loved the background of the story: the scenery and history of Egypt and the myth of the djinn are some of my favorite. And the heroine stayed consistent in her character, which often doesn't happen.