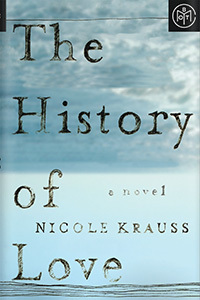 Literary fiction
The History of Love
Quick take
The History of Love changed my life...this novel made me believe all over again in the promise of love.
Why I love it
There are books that are wonderful and then there are books that change the way you look at books. The History of Love changed the way I look at books.
I got this book from one of my closest friends; a friend I met late in life but without whom I could not exist as the person I am today. There is a person in the world who understands me so intimately and so terribly well, and it is this person who gave me this book.
The History of Love works so incredibly well as a piece of literary artistry because it taps into some of the greatest tension we as readers can experience, and it makes us fall in love. Krauss creates a character in Leo Gursky who we need to understand and who is so very hard to understand. That tension between what we know and what we want to know keeps us riveted. And she creates in Alma a character so in need of being understood, and yet so beyond understanding that the tension is magnified. It is this dual tension that fuels the novel.
The story of a story unfolding is also what The History of Love is about. It is a search for an answer, and we not only go on the journey of the search but we are participants in watching the searcher search. It is the ultimate multi-dimensional novel in this sense: we watch a watcher watching. We struggle to watch a struggler struggling. We become a part of the novel without even realizing it. This book became a part of me as I read it and for a long time after.
Any novel that has twists and turns cannot really be written about; it needs to be experienced. The experience I had allowing this novel to unravel into a perfect pile of chaos and meaning was a transformative one as a reader and as a lover of literature. The process of watching a novel grow before your eyes as you turn the pages is spectacular.
The History of Love changed my life because of the way it made me believe. It made me believe in friendship all over again, and it made me believe in literature too. But mostly, this novel made me believe all over again in the promise of love.
Through history, we learn. The History of Love chronicles the way we learn to trust, to understand, and to love. In this way, we become a part of history.
Member thoughts
Georgetown, KY

I think I really liked this book but I'm still processing it. I feel like this is the kind of book the you have to swim around in and it reveals itself over time. A beautiful story of love.

Gahanna , OH

This book! I stumbled on this book from the add-ons section of BOTM. What a super amazing find. This is became one of my favorites books i have read. And apparently lots of people agreed!

Star, NC

This is probably the most convoluted, confusing book I have ever read. And, yet...when it all started coming together, I thought it was a written masterpiece.

Findlay , OH

Lovely story. Slow at first but got more interesting as it went on. I'm usually good at guessing the ending but I had no idea how this story would end.

Miami , FL

Beautifully written. Loved all the characters. A little slow at first. Alma, Bird, Gursky...i will not soon forget their stories. Sad but very real.

Los Angeles, CA

A beautiful story. A little hard to get into at first but then it starts coming together and is so well written. One falls in love with the characters.

Landrum, SC

This book is so well written! The characters will captivate you, the language will sing and the structure/style is unlike what you've ever read before!

Greensboro , NC

I wasn't sure where this book was going to lead me as I did get confused a few times but once everything began to come together I loved it.

Ambler, PA

I loved this book and can't wait to read it again. I'm sure my desire to figure out what was going on lead me to miss some important stuff.

Rockville Centre, NY

Another of my all time favorite books. Written beautifully. One of those books that will remain on my bookshelf.

Redmond, WA

Heartbreaking, hopeful, charming, witty and vulnerable. Maybe one of my all-time favorites.

This book broke my heart when I read it. The structure of it is a marvel. Beautiful book.

Los Angeles, CA

Such a beautifully written book that switched between characters and voices so smoothly

La Plata, MD

Read this years ago and still is one i recommend on a regular basis..it's beautiful

Fairview, OR

Beautiful story of two people connected through a beautiful tie. ♥️

Billerica, MA

I thoroughly enjoyed this story and loved the way the story unfolded.

Austin, TX

One of my absolute favorites of all time. A must must must read.

Fairfax station , VA

Fantastic! Hard to follow at first, but one to read again.

Coral Gables , FL

Beautiful story. Loved it. The way it all ties together

This book was my favorite choice for the year 2015.