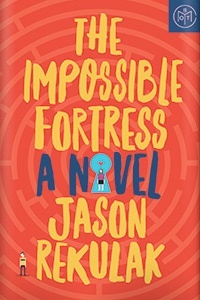 Sci-fi
The Impossible Fortress
Debut
We love supporting debut authors. Congrats, Jason Rekulak, on your first book!
Quick take
When you're trapped in the prison of adolescence, you only want to break out, like the hero of an old Atari game.
Why I love it
Being a 14 year-old, for lack of a better word, sucks. Everything seems to be changing around you and inside you. You have to worry about your future for the first time; suddenly every grade matters (even P.E.!), and everyone seems to have a test for you nearly every day, school-related or not. And then you somehow have to navigate the newly complex social circles of high school, dodging bullies and figuring out how to interact with members of the opposite sex.
Billy Marvin, the protagonist of The Impossible Fortress, is facing all of these problems head-on. And what's worse? He's doing so in 1987 at the dawn of the computer age. He can't rely on email for his communication (CompuServe messages, after all, were not instant). And as a semi-closeted computer geek, Billy has to keep much of his interests in computer programming to himself, since his best friends are too obsessed with fast-forwarding Kramer vs. Kramer to spot a brief nude scene or developing an elaborate heist to procure the coveted issue of Playboy that features a spread of Vanna White.
There's enough '80s nostalgia in The Impossible Fortress to rival Stranger Things, but Rekulak's debut novel isn't just a book for '80s babies'—it's a book for anyone who ever felt like a weirdo as a teenager. Or whose friendships were based on proximity rather than common interests. Billy's stuck there, although he does find an unexpected friend in Mary Zelinsky—a girl, sure, but someone who shares his passion for computers and building games.
As Billy and Mary teach themselves code and complete their first video game opus in order to compete in an old school programming competition. I couldn't help but remember my own teenage years. I was more into reading books than computers, but I was, like Billy, uninterested in what most of my peers liked to do (playing sports and scheming to see boobs). The Impossible Fortress makes Billy's seemingly fleeting desires and frustrations feel real and poignant. When you're trapped in the prison of adolescence, you only want to break out, like the hero of an old Atari game—even if all of that angst seems pretty hilarious in hindsight.
Member thoughts
Amazing book, literally couldnt put it down, finished it in about 5 hours. One if the most relatable books I've ever read. Really like to see more books like this available through Book of the Month.

I loved this throwback book - so many references to the 80's. I learned so much about the beginnings of the computer era and its games. I was actually inspired to learn coding after it. READ THIS BOOK

Milwaukee, WI

Suddenly it's 1987. The world of computers consists of green screens, joysticks + BASIC. The tech might be 80's specific, but the emotional experience of being a slightly awkward 14 yr old is timeless

Excellent and fun book to read. The concept of bringing back 80's technology with a unique twist was amazing. As you continue to read through the book you quickly start to think about past memories.

So cute and creative. This book dealt with a very deep issue at the end, and there was enough suspense being built up by the boys' heist in the story that it kept me reading to see what would happen.

I have not finish reading this book but so far so good. I truly love the way this book was written and how a new chapter begin with the old school computers REM. This book is funny and make me smile.

Saint Louis, MO

The best description I have for this book is if you took the kids from Stranger Things and put them in a 14 year old version of Halt & Catch Fire, where Mike and Barb start Mutiny Software together.

Jacksonville , FL

I finished the book in almost one sitting! This book was better than I thought it would be and it kept me wondering if they were actually going to go through with the break in! The book was great!

Kenosha, WI

Geeks unite! Even if you don't understand code, the nostalgia of simpler times and wondrous advances in technology mixed with a daring adventure to relay a message to the princess will suck you in!

Kendall Park, NJ

Loved the coming of age kind of story mixed in with the computer geek nostalgia. While I didn't program computers when I was young, I definitely was into using computers during this time. Love!

Durham, NC

For Rekulak's debut novel, I thought his concept was original. I loved reading about the two computer nerds, and their eventual love for each other. Looking forward to reading a new Rekulak book!

Super cute, easy read. I loved the 80's references as I grew up in that ear. We also went to the author's website and the game. Very cute read. I would be interested in knowing what happens next.

Corona, CA

I am a female who was born in the latter half of the 80s so I don't really know what it's like to be a 14yo boy of said decade, and I still loved every bit of this book- definitely a new fave.

Loved this book. I'm not a computer programmer but I am a child of the 80s so I loved all the pop culture references. The story itself was great too and I couldn't/didn't want to put it down.

It was well written of what it was like to be a 14-year-old boy in the '80s. If you are in your late 30 or 40s you will relate to this book. It was also really funny and sad and over the top.

Lexington, KY

Light, easy read filled with nostalgia and quirks. I read it in a day and loved it! Always fun to have a low key, enjoyable read to immerse yourself in when nothing's grabbed you for awhile.

So funny and smart, you'll be biting your nails and laughing out loud all at once. Twists and turns in the plot, accompanied by a hilarious narrative makes this book an incredibly fun ride.

Albany, OR

On the surface this is a simple Goonies like tale about a bunch of boys trying to steal a Playboy. But deeper down, it's about honesty, love, and chasing big dreams. I loved every minute.

Nostalgic for sure... easy read with humanized/relatable characters. It's the same joy you'd get from watching one of those very 80's/early 90's movies - just adolescent fun at its best.

Milwaukie, OR

I absolutely loved this! What a great story. A+ for nostalgia factor, and A+ for relatable, lovable characters. I was rooting for them the whole time. And that twist at the end - woah!