Mystery
The Last Equation of Isaac Severy
Debut
We love supporting debut authors. Congrats, Nova Jacobs, on your first book!
Quick take
This L.A.-set mystery about a dead patriarch, his heirs, and a missing math equation is The Westing Game for adults.
Good to know
Multiple viewpoints

Quirky

Puzzle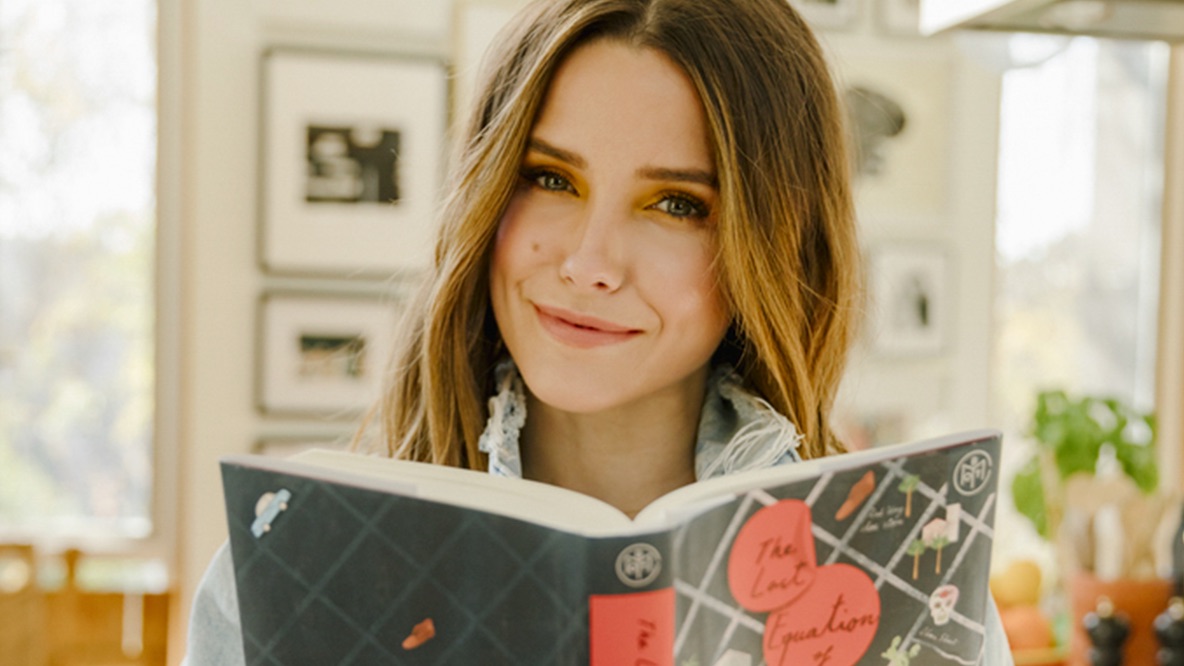 Sophia Bush is an activist and actress.
Why I love it
Everything in nature follows mathematical patterns: Planets follow elliptical orbits, flowers follow the Fibonacci sequence, and snowflakes crystallize with complex symmetrical elegance. Clues to the intricacy of the universe, if you will, and there's nothing I like better than a finely-crafted succession of clues. Which brings me to this engaging, clever book.
Never fear, this is no tale of dry mathematical theory. It's a sharp puzzle mystery, full of stimulating questions that make it impossible to stop turning the pages. Isaac Severy, the book's namesake, is dead before the story has even begun. In the first chapter, his heirs—an intelligent, quirky, and fractured Californian family—have gathered to pay their last respects. What they don't know is that, before he died, Professor Severy created a world-changing mathematical equation and left the only clue to its whereabouts with his beloved granddaughter, Hazel.
Following Hazel on her quest to find the equation is like speeding through the winding canyons of the Hollywood Hills (which does happen in this book, although no one seems to get stuck in as much traffic as I generally do). The sinister organization on Hazel's tail keeps tension high, and the love interest she may or may not be able to trust keeps us guessing. Watching her navigate the tumultuous dramas of family, fate, and formulas had me glued to the story until the end. Isaac Severy left me with the lasting realization that mathematics is a love language. Well done, professor.
Synopsis
Just days after mathematician and family patriarch Isaac Severy dies of an apparent suicide, his adopted granddaughter Hazel, owner of a struggling Seattle bookstore, receives a letter from him by mail. In it, Isaac alludes to a secretive organization that is after his final bombshell equation, and he charges Hazel with safely delivering it to a trusted colleague. But first, she must find where the equation is hidden.
While in Los Angeles for Isaac's funeral, Hazel realizes she's not the only one searching for his life's work, and that the equation's implications have potentially disastrous consequences for the extended Severy family, a group of dysfunctional geniuses unmoored by the sudden death of their patriarch.
As agents of an enigmatic company shadow Isaac's favorite son—a theoretical physicist—and a long-lost cousin mysteriously reappears in Los Angeles, the equation slips further from Hazel's grasp. She must unravel a series of maddening clues hidden by Isaac inside one of her favorite novels, drawing her ever closer to his mathematical treasure. But when her efforts fall short, she is forced to enlist the help of those with questionable motives.
Member thoughts
Nashville, TN

When I first chose this book, I wasn't quite sure what to expect. A few pages in, however, & the main character's life circumstances are so relatable that I'm hooked, & the mystery gets even better.

San Jose, CA

Love love love this book! It's quirky, whimsical, funny, & heartbreaking all at once. Well-written & with humor right up my alley, it's the best thing I've read in a while & my favorite BOTM so far!

Costa Mesa, CA

Incredible book! I love how the author plants a seed of how math and algorithms are all around us. In addition, I loved the search for the missing equation and it's actual "location" was shocking.

Boston, MA

Wow. What a different kind of fun this book was. Isaac's trail is equal parts fantastic as it is believable, and at its core is a family so wrought with characters to cling to. This will stay with me.

The mathematician in me loved every twist, turn, and reference to great mathematicians and their works. Couldn't put it down, even when work was calling. Excellently written and too engaging to deny.

Urbandale , IA

The subject matter of The Last Equation of Isaac Severy was really original! It is not often you find a book that is truly unique. I wanted to keep reading to figure out the mystery. Highly recommend!

Lewisville, TX

Once I got through the somewhat slow start, I couldn't wait to see each layer of this mathematical mystery revealed. The mystery was so detailed, & unlike Isaac, I couldn't have predicted the ending.

The Last Equation of Isaac Severy was a carefully constructed puzzle and one I loved. Bits and pieces are revealed as Hazel searches for the dangerous equation. What is it and what makes it dangerous?

Darlington, MD

Beginning this book I was a little nervous as I am not necessarily a math person. It started out a little slow for me, but then I could not put it down! This was a great mystery, loved the characters!

Interesting characters, told from three POVS, each possessing layers of mystery beyond this last equation. The math is explained well enough without making it seem technical. Definitely a page turner!

South Hamilton, MA

As someone who doesn't like or excel in math, I never felt I was reading with a learning curve. This book brings out the reader's own intellect and emotion for a mystery we feel a part of from page 1.

Convoluted premise but one that the author deftly pulls off. I tore through this book and enjoyed the many members of the Severy family and the mystery at the heart of their patriarch's recent demise.

This novel met all of my high expectations. Even though I am not a math person, I felt like a genius after reading this. It will leave you wanting more math mysteries. Nova Jacobs is an amazing writer

Loved it! Very creative and entertaining. I love mysteries such as this. The ending blew me away! A bit too much drama for me, but the storyline made up for it completely. Would definitely read again.

I absolutely loved this Twisty and spellbinding. book. From the multi-perspective storytelling which kept me on my toes since to the multi-faceted characters who fully developed throughout the book.

This was such an interesting read. I loved following the clues and trying to solve the puzzle along with Hazel. The fact that I'm not mathematically inclined and was able to keep up didn't hurt, also!

Peoria, AZ

Comes to show genetics is not everything. I like Hazel and her normal life her and her brother had a horrible foster dad but the grandpa took them in. Hazel is now in a mission to learn what happened

Loved the way math was woven in such that it was ever present, but you didn't need to be mathy to understand it. Loved the way the characters unfolded -- wanted to keep hanging with Hazel afterwards!

Mount Horeb, WI

This book totally took me by surprise, and once I got through the introductions, and relations, I was totally riveted. It would take one hell of an equation for someone to predict this books twists!

I don't normally enjoy mysteries. However, I really enjoyed this book and it's complex characters and mystery. The concept of chaos was new and thought-provoking. The ending was unexpected and fresh.